Schedule Sneak Peek: West Clermont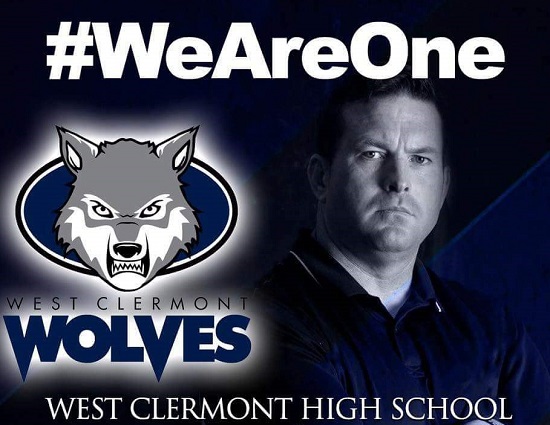 The inaugural season of West Clermont football sees the schedule filled with quality opponents. The Wolves will be a Division I, Region 4 team that will play in the Eastern Cincinnati Conference. West Clermont is the merger between Amelia and Glen Este High Schools. They will be the biggest school (enrollment-wise) in the ECC.
The first two games of the year are at home. The Wolves athleticism will be tested greatly. Princeton and Winton Woods have some of the most talented players that West Clermont will see all season. The first road contest in school history is at three-time defending Ohio Division II state champion, La Salle. Welcome to the big show, West Clermont. It is a non-conference schedule that could turn head Nick Ayers prematurely gray in a hurry.
The conference schedule opens with a pair of away games. A Week 4 matchup with Walnut Hills could be a real confidence builder after the gauntlet out of the gate. The following Friday, the grind begins again at Kings. Two weeks later The Wolves get their first taste "frenetic" on the road versus Anderson. October could be trying and as the team must avoid just going through the motions of finishing out the year.
Here is a look at the 2017 West Clermont schedule:
Fri – 08/25/17 – PRINCETON – 7:00 PM
Fri – 09/01/17 – WINTON WOODS – 7:00 PM
Fri – 09/08/17 – at La Salle- 7:00PM
Fri – 09/15/17 – at Walnut Hills – 7:00PM
Fri – 09/22/17 – at Kings – 7:00PM
Fri – 09/29/17 – WITHROW – 7:00PM
Fri – 10/06/17 – at Anderson – 7:00PM
Fri – 10/13/17 – LOVELAND – 7:00PM
Fri – 10/20/17 – TURPIN – 7:00PM
Fri – 10/27/17 – at Milford – 7:00PM
FINAL TAKE:  West Clermont is not going to back down from any challenges in year one. This schedule will be mentally and physically challenging. For a team and program that has no identity it is going to be an uphill climb. Coach Ayers must keep his kids from losing confidence and doubting themselves when things get rough. Life isn't going to be a bowl of cherries early on for the Wolves.
What will this difficult schedule teach the players? If you want to be a playoff team or be the best there is, these are teams that you will have to face and beat along the way. Even though there is no culture or identity yet at West Clermont it appears that coach Ayers has a clear vision and wants the kids in his program to be tough, have mettle and resolve. It is a philosophy that should bold well for the program and will be become more prominent as the years move on.