2017 Snapshot: St. Xavier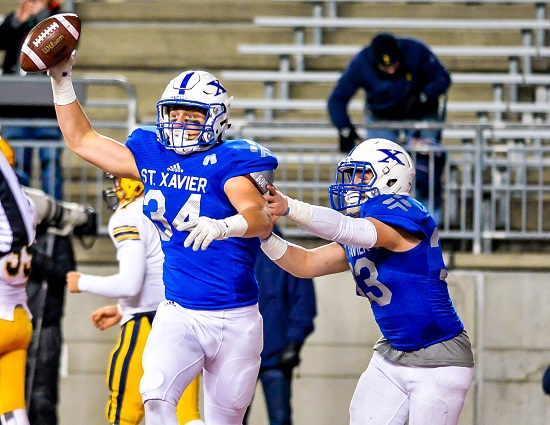 St. Xavier DL Blake Bacevich (photo by Mike Noyes/TSF)
St. Xavier had nine lives on its way to the 2016 Ohio Division I state championship. The Bombers barely got into the playoffs at 5-5 and with never say die attitude they made incredible history. St. Xavier took advantage of every opportunity and gutted out the last postseason four victories all by seven points or less including three overtime nailbiters. When the smoke cleared St. X had done the unthinkable becoming the first ever five-loss team to make the playoffs and win a title in Ohio.
The expectations for the holdovers from last year's squad are quite high. The Bombers will become the hunted on their path to a repeat. One thing is for certain these players know how to perform under pressure. St. Xavier went 6-3 in games decided by seven points or less in '16.

Head coach Steve Specht does have some holes to fill. "Our offensive line and defensive secondary are young," he states. Experience may be lacking but the talent is in there in those positions with voids.
Taking pressure off of the "newbies" will be an outstanding defensive front. Their pressure should create plenty of takeaway opportunities. St. Xavier recorded 47 sacks which led to 32 takeaways last fall.
The players at the skill positions on offense are going to take a huge load off of the o-line. The Bombers are going score points in bunches at times this fall with their ability spread the field.
An explosive offense, a tenacious defense and having already been through the rigors of a championship season are all the ingredients to make this another special St. Xavier team.
Division I, Region 4
2016 RECORD: 10-5, 2-1 GCL South (Ohio Division I State Champions)
COACH:  Steve Specht (119-45 @ St. Xavier, 13 years; 119-45 overall)
HONOR ROLL
Cameron Specht, Sr, slot – The Bombers really take advantage of his Specht's speed. He had 68 receptions for 655 yards with three touchdown catches and 1,200 all-purpose yards (546 returns) on his way to Division I Second Team All-Southwest District honors as a junior.

Blake Bacevich, Sr, DL – Long, lanky and disruptive is what Bacevich is all about. He recorded 56 total tackles, had five-and-a-half sacks, 10 tackles for losses and recovered five fumble including one three-yards for a touchdown in the state championship game last fall. That effort earned Bacevich Second Team All-GCL South acclaim. The 6-foot-4, 215 pound Bacevich has verbally committed to Cincinnati.

Chase Wolf, Sr, QB – Did a nice job of taking care of business as a junior. Wolf complete 60% of his passes for 1,291 yards, threw for 15 touchdowns, ran for 110 yards and a three scores. He has verbally committed to Wisconsin.
Bobby Jefferson II, Sr, DL – There are times when Jefferson II dominates. The coaching staff would like to see that dominance come out of him even more often as a senior. He had 53 total tackles, six sacks and 11 tackles for losses in '16.
OTHER RETURNEES
Andrew Wittrock, Sr, WR – Wittrock was a pleasant surprise with 50 receptions for 569 yards and nine touchdowns (five in the playoffs) as a junior. He had 10 games with at least three receptions.
Matthew Fox, Sr, RB – A threat both running and catching the ball out of the backfield. Fox will play a much bigger role in the offense this season.
Jared Kreimer, Jr, WR – By the end of the regular season Kreimer was just too good to keep out of the lineup as a sophomore. He had all of his 17 receptions for 209 yards and three touchdowns during the final six games (which includes the playoffs) of the year.
Evan Deters, Sr, OL – The leader of the offensive line. He will be an asset to the younger players.
Matthew Mohn, Jr, OL – Despite being just a junior, Mohn's experience is welcomed up front.
Sean Mesue, Sr, DL – Mesue really came on in the playoffs in '16. He had 17 of his 30 tackles, three of his four sacks and his only interception in the five postseason tilts. In all, Mesue also had nine tackles for losses.
Will Childs, Sr, LB – Specht loves to turn Childs loose on passing downs. He was in on 86 tackles, had six-and-a-half sacks totaling a loss of 43 yards as a junior.
Thomas Kiessling, Jr, LB – Keep an eye on Kiessling. This 6-foot-3, 220 pound ballhawk has a tremendous upside.
Johnny Marroco, Sr, DB – The secondary will look to Marroco for guidance.
NEWCOMERS
Paris Johnson, So, OT – Even though he hasn't started at the varsity level the 6-foot-7, 260 pound Johnson already has an offer from Rutgers.
Jack Kirby, So, OL – The 6-foot-2, 270 pound Kirby will compete for a starting position this fall.
PLAYOFF HISTORY
(23 appearances, 41-20 overall) – 2016 (State Champions), 2015, 2014, 2013, 2012, 2011 (Regional Champions), 2010, 2009, 2007 (State Champions), 2006, 2005 (State Champions), 2004, 2002, 2001 (State Runner-up), 2000, 1999, 1998 (State Runner-up), 1997, 1994, 1993, 1992 (State Runner-up), 1987, 1981
2017 SCHEDULE
For the most part the usual suspects are on the slate including non-conference foes Colerain, Indianapolis Cathedral, Louisville St. Xavier and Cleveland St. Ignatius. New faces will see Hinsdale Central from suburban Chicago come to Nippert Stadium for the opener in the Crosstown Showdown.  Walnut Hills and Ontario Canada's North Clarkson also make trips to Ballaban Field.
A three week stretch (Weeks 5-7) has the Bombers facing all their GCL South rivals, at Moeller followed by home affairs with Elder and La Salle. Coming out of that run at 2-1 will bode well for St. Xavier's playoff hopes.
There is very little travel with this schedule with trips to Nippert, Colerain, Moeller and Indianapolis Cathedral. The farthest jaunt is going to Cleveland St. Ignatius. That will leave this team fresh come November.
THE SACK PACK
Childs (6.5), Jefferson II (6.0), Bacevich (5.5) and Mesue (4.0) combined for 22 of the teams 47 sacks (47%) during their junior year.
RECEPTION HAUL
As a team, St. Xavier completed 274 passes last season. The quartet of Specht (68), Wittrock (50), Kreimer (17) and Fox (14) accounted for 54% of those receptions.
DOUBLE DIGIT VICTORIES
Seven times in Steve Specht's 13 seasons as head coach the Bombers have won 10 games or more.
NOT SO HIGH FIVE
In the last nine years St. Xavier has lost five games or more six times. In five of those seasons the Bombers have made the playoffs.