2017 Snapshot: Mount Healthy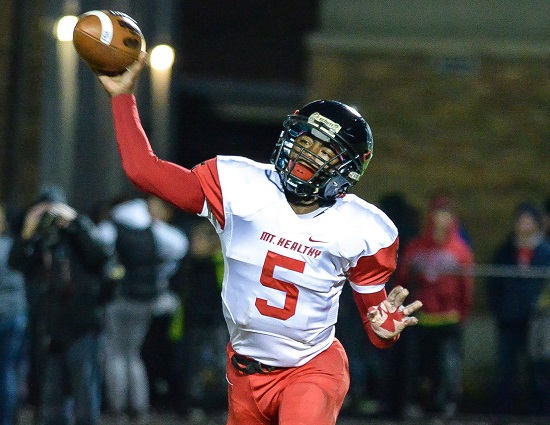 Mount Healthy QB Michael Crawford (photo by Mike Noyes/TSF)
There is unfinished business and damaged pride to be repaired for Mount Healthy after the way the 2016 season ended. Despite a school-tying fifth straight playoff appearance the Owls dropped their last three games with a porous defense that surrendered 49, 49 and 35 points in those losses. There is plenty of built-in motivation for this Mount Healthy squad.
The Owls were humbled after starting 8-0 last fall then their wings were clipped. The defense was outstanding allowing just 8.1 points and never giving up more than 14 points during the winning streak. The competition took it up two notches after that. Mount Healthy just didn't have enough horses and depth to outlast a trio of playoff teams in three defeats to end '15.
The bittersweet ending now has head coach Arvie Crouch looking to get this defense back to that high level they began last season with. "I like our overall speed and strength. We are very sound physically," Crouch says. When Mount Healthy has been very good, all of those characteristics have applied.

Athleticism and raw talent can make up for something the Owls will lack – experience. "We will have a lot of first-year starters this season," Crouch states. Good things have happened for this program in the 21st century because there has always been exciting and competent players step up when their numbers have been called.
A trying schedule will test the youth. How Mount Healthy handles a grueling non-conference slate could make or break their playoff chances. The Owls will get better each and every week but another eight-win season is going to be an uphill battle. They just need to remain focused, rack up some big wins early on and confidence will flow. If that happens a deep run in November isn't far-fetched.
Division III, Region 12
2016 RECORD: 8-3, 4-2 SWOC
COACH: Arvie Crouch (72-21 at Mount Healthy, eight years; 72-21 overall)
HONOR ROLL
Lonnie Phelps, Jr, DE/LB – The Owls top returning player on the defense Phelps was named Division III First Team All-Southwest District as a sophomore. He finished the year with 46 total tackles and nine sacks. "Lonnie is very physical and fast. He has great explosion and gets to the ball. He will be highly recruited," Crouch chimes.
Antonio Hawkins, Jr, DL – On the cusp of being a very special player. Hawkins registered 33 total tackles and had three-and-a-half sacks in '16. He earned Second Team All-SWOC accolades for the performance. This will be Hawkins' third year as a starter.
Michael Crawford, Jr, QB – Crawford amassed 1,761 yards of total offense (1,166 passing, 595 rushing) and accounted for 24 touchdowns (15 passing nine rushing) in his first-year in '16. He was named Honorable Mention All-SWOC for the work. "Michael is the best passer I've had since being at Mount Healthy. His work ethic is second to none and has really stepped into the role of a leader," Crouch says proudly.
OTHER RETURNEES
Quantarrius Moore, Sr, DL/LB – A healthy Moore is all-conference material. "Quantarrius had a great season even though he was battling through a shoulder injury all year. He's a very tough kid and we expect great things from him this year," states Crouch.
Cortez Huckleby, So, C – Huckleby joined an elite group last fall becoming one of the very few freshman offensive linemen that have ever started in SWOC history.
NEWCOMERS
Crouch is looking for a quartet of juniors, slot Jamal Kelly, slot/DB Jamel Kelly, FS Derrick Martin and WR Steffan Treadwell to step in and produce at the skill positions. An offseason in the weight room should have these guys ready for the rigors of a long varsity campaign. Jamal Kelly had 10 returns for 74 yards a year ago. He could play a huge role on special teams.
PLAYOFF HISTORY
(12 appearances, 6-12) – 2016, 2015, 2014, 2013, 2012, 2010, 2009, 2005, 2004, 2003, 2002, 2001
2017 SCHEDULE
Thr – 08/24/17 – TAFT – 7:00 PM
Fri – 09/01/17 – at Sycamore – 7:00 PM
Fri – 09/08/17 – DUNBAR- 7:00PM
Fri – 09/15/17 – LITTLE MIAMI – 7:00PM
Fri – 09/22/17 – at Ross – 7:00PM
Fri – 09/29/17 – at Campbell County (KY) – 7:00PM
Fri – 10/06/17 – at Talawanda – 7:00PM
Fri – 10/13/17 – at Northwest – 7:00PM
Fri – 10/20/17 – HARRISON – 7:00PM
Fri – 10/27/17 – EDGEWOOD – 7:00PM
STARTING A NEW STREAK
Harrison snapped the Owls 24-game winning streak versus SWOC rivals in Week 9 last fall. Edgewood also took care of Mount Healthy in the regular season finale. In the SWOC's five years of existence the Owls are a combined 23-4 against league foes.
STILL GOING STRONG
This will the 42nd year of coaching for assistant coach Scott Ungerbuehler.