2017 Snapshot: Holmes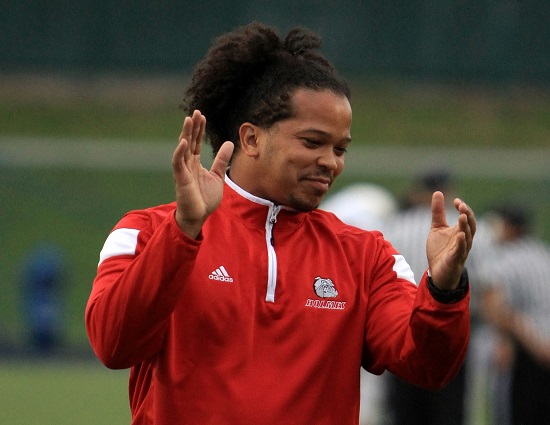 Holmes head coach Ben Nevels (photo by Mike Noyes/TSF)
There is a promising outlook to the 2017 campaign for Holmes. Things have gotten a little off track for the Bulldogs winning just 14 combined games over the last four seasons. In the four years prior to that the program accrued 28 victories. In order to get back to that success Holmes will look to rebuild that foundation one brick at a time.
"Embrace the Process, is the rallying cry for the '17 Holmes Bulldogs. This offseason we had a core group of young men commit themselves to the weight room and to doing the little things right. The growth which they experienced was tremendous. They are understanding what it takes to be true student athletes," Holmes head coach Ben Nevels states. "Our team goal is to do the little things right on and off the field, day in and day out. We feel that if we take care of this single goal all the rest will take care of itself."

There are several things that Nevels really likes about this team. "Back is a core group of young men who played a lot of varsity football last season. We are expecting that experience to blend with our youthful athleticism. The two together will pay big dividends. I like our dedication to hard work, our athleticism and drive to improve. We will have a player at each position who can run and change directions. This will enable us to be explosive on both sides of the ball and on special teams.
Nevels senses his team is already buying in. "Our young men want to get better every time they step on the field. This attitude will allow us to transform adversity into opportunities."
The Bulldogs offense has the potential to be highly entertaining but the backfield will be loaded with unproven talent. There is no one who has ever had to carry the load at the varsity level. "We should have a strong running game behind an experienced and physical offensive line. Multiple guys will touch the football and be able to produce points. We have several athletes that are a threat to score every time they touch the ball. We have a plethora of young talent that will be on display this season," Nevels laments.
On the other side of the ball, Nevels says, "our team speed defensively is always one of our strengths. Relentless pursuit and athleticism will allow us to make plays. We have a group of young men who have figured out what it takes to be a special defensive unit. Know your job, do your job, race to the ball!" But he still has concerns. "We have to continue to improve our physicality and tackling. We must get better at hitting people."
The District is winnable and Holmes is going to have a say in its outcome. If the Bulldogs can show that they can handle winning and their confidence soars it could be an interesting but fun November for the program.
Class 4A, District 7
2016 RECORD: 3-7, 0-4 Class 4A, District 7
COACH:  Ben Nevels (14-29 at Holmes, four years; 14-29 overall)
TOP RETURNEES
Stanley Niceley, Sr, OL/LB – Niceley sets the example for the rest of the team. "We will count on Stan to lead us both on and off the field. He is an excellent student and extremely hard worker in addition to being a good football player," Nevels laments.
Keeshawn Westley, Jr, OL/DL – This has all the makings of a breakout campaign for Westley. "Keeshawn has the size and skill set to be a dominant lineman. He will anchor our lines on both sides of the ball this year," states Nevels.
Raekwon Blades, Jr, RB/LB – Blades is a rising star and Nevels can't wait to see him on the field this fall. "By the end of last season Raekwon developed into a two-way starter for us. He has the potential be one of the better players in our district. We will count on him to impact the game on both sides of the ball."
Andrew Ruffin, Sr, RB/SS – The senior will play an integral role on defense. "Andrew has had an exceptional offseason. He has added strength to his impressive athleticism. Andrew will have an opportunity to be one of our defensive leaders this season," Nevels chimes.
Keshaun Simpson, Jr, RB/DB – The heart of the Bulldogs secondary, Simpson led the team with two interceptions as a sophomore.
Cortez Blassingame, Jr, SS – Part of rock solid defensive backfield, Blassingame is back for another season as a starter.
Bryzon Hicks, Jr, LB – A returning starter Hicks has great upside.
Michael Boling, Sr, OL – Boling is a returning starter on the offensive line
Richard Johnson, Jr, OL – Good things lie ahead for Johnson who has a year as a starter under his belt.
NEWCOMERS
James Walker, Jr, QB – Walker slides into the starting job under center. "James has done a great job maturing physically and mentally this off season. He is poised to take over the reins at quarterback for us. We are excited about the tools he brings to the table. They will allow us to be explosive this season on offense, States Nevels.
Hezekiah Miller, Jr, RB/DB – Look for Miller to play a larger role in the offense this fall.
Aiden Dietz, Fr, OL/DL – The 5-foot-9, 230 pound Dietz will get serious consideration for playing time as a freshman.
2017 SCHEDULE
Fri – 08/25/17 – BISHOP BROSSART – 7:00 PM
Fri – 09/01/17 – at Walton-Verona – 7:30 PM
Fri – 09/08/17 – BOONE COUNTY – 7:00PM
Fri – 09/15/17 – at Lloyd Memorial – 7:00PM
Fri – 09/22/17 – at Harrison County – 7:30PM
Fri – 09/29/17 – HOLY CROSS – 7:00PM
Fri – 10/06/17 – at Bourbon County – 7:30PM
Fri – 10/13/17 – MASON COUNTY – 7:30PM
Fri – 10/20/17 – SCOTT – 7:00PM
Fri – 10/27/17 –at Newport – 7:00PM
PLAYOFF BUMMERS
Last year's failure to make the playoffs broke a string of eight consecutive postseason appearances by the Bulldogs. The Last time Holmes won a playoff games was against East Jessamine (42-0) on November 6th, 2009. They have dropped six in a row in the postseason since that victory.