2017 Snapshot: Lawrenceburg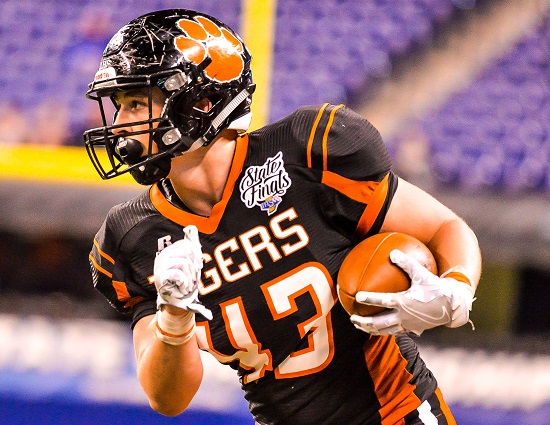 Lawrenceburg RB/LB Hunter Privett (photo by Mike Noyes/TSF)
A magical run behind the freight train of an offense led Lawrenceburg to a state runner-up finish in 2016. It marked the first time in just over two decades that the Tigers showed up in the title game. With a taste of that success but a belly hankering for more than a state runner-up finish, Lawrenceburg has its sights on satisfying its appetite this fall.
"This group of young men are hungry and feel they have more to prove in '17. We know last year means nothing. We must come ready to play every week," head coach Ryan Knigga says. "Our program has climbed to the top. It was not easy but we are there. Now the hard part is staying there."
The Tigers have some holes to fill due to the graduation of one of the programs most productive senior classes. There may be some growing pains early on as depth and experience at some key positions needs to be filled by raw but talented youngsters.
Knigga see the long term vision and has very good grasp of his troops. "This can be a team that gets better each week. We will rely heavily on our defense early on to keep us in games. This group of young men knows how to win and they have played on the biggest stage that Indiana has to offer."

Before the season even kicks off we are already beginning to see what sets Lawrenceburg apart from its peers. "This year's team will be one of the strongest teams we have had as far as weight room numbers. This team has a ton of players who have played a ton of minutes. We have leaders who lead by example. This is a very football smart and savvy team. We have had great workouts and leadership in everything we do," Knigga states.
These Tigers have built-in character. The drive, desire and dedication are in place. Lawrenceburg has plenty going for it. They will play deep into the playoffs. The ride is far from over on Route 50.
Class 3A, Sectional 31
2016 RECORD: 13-2, 3-0 Eastern Indiana Athletic Conference 3A (Class 3A State runner-up)
COACH: Ryan Knigga (50-21 at Lawrenceburg, six years; 50-21 overall)
HONOR ROLL
Mason Parris, Sr, TE/FB/ MLB – One of the best defense players in the Hoosier state. Parris was named the TriState Football Indiana Defensive Player of the Year and the EIAC 3A Defensive Most Valuable Player (for a second straight season) as a junior. He led the team with 191 total tackles (102 solo), with seven sacks, 17 tackles for losses, five forced fumbles and had six takeaways (three interceptions, three fumble recoveries).
Parris, a four-year starter, has been a stat sheet filler. He has tallied 461 total tackles (218 solo), recorded 11.0 sacks, registered 45.5 tackles for losses, forced nine fumbles with 16 takeaways (four interceptions, 12 fumble recoveries) at the varsity level. Parris is a two-time wrestling state champion in the 220-pound weight class. He has offer from FBS schools in both wrestling and football.
Jonah Rolfes, Sr, DE – Rolfes is an athletic player whose great speed allows him to be a force as a pass rusher and run stopper. It was a breakout junior campaign for Rolfes who had 51 total tackles, four sacks, 15 tackles for losses and an 85-yard pick six. He was named All-EIAC 3A for his work.
Brett Miller, Sr, OT – Being a great technician led to Miller being named All-EIAC 3A as a junior.
OTHER RETURNEES
Darin Ricketts, Sr, OL/OLB – In his first year as a starter Ricketts registered 29 total tackles with 11 tackles for losses and four sacks in '16. Ricketts is a smart football player who plays up tempo and physical.
Hunter Privett, Sr, RB/TE/ILB – A versatile player who gives Lawrenceburg quality snaps on both sides of the ball. Privett hits hard and runs hard. He averaged more than 25 yard on eight receptions and scored three touchdowns on offense as a junior. Defensively, he recorded 41 total tackles, had two sacks and six tackles for losses. He was the only Tiger to score a touchdown in last year's title tilt.
Dawson Craig, Sr, RB/OLB – Craig got better as the '16 season progressed. He is fast, explosive and a good tackler. Craig came up with the big plays in big games with interceptions in last year's Regional and Semi-State finals.
Eyan Peelman, Sr, OT – A returning starter, Peelman is good run blocker who displays a nasty disposition until the whistle.
Gavin Yoon, So, WR – As a freshman Yoon showed glimpses that he could be an impact player at the varsity level. He finished the year with 11 receptions for 123 yards and a touchdown.
Jayden Ishman, Jr, DB – A nice varsity debut for Ishman saw him get in on 29 total tackles and snare four interceptions as a sophomore.
NEWCOMERS
A pair of sophomores OL Dalton Dixon and OL/DL Jason Carroll will get a shot to make the starting lineup. Junior QB Austin Weimer has big shoes to fill but should slide into the role under center seamlessly. Classmate WR/DB Jalen Parks is a playmaker on both sides of the ball.
PLAYOFF HISTORY
(66-37 overall)
Sectional Champions (17) – 2016, 2012, 2005, 1999, 1998, 1992, 1991, 1988, 1986, 1985, 1984, 1981, 1980, 1979, 1978, 1976, 1975
Regional Champions (5) – 2016, 1985, 1984, 1978, 1975
Semi-State Champions (2) – 2016, 1985
State Champions (2) – 1978, 1975
2017 SCHEDULE
Fri – 08/18/17 – EAST CENTRAL – 7:00 PM
Fri – 08/25/17 – at Taylor (OH) – 7:00 PM
Fri – 09/01/17 – at Milan – 7:00 PM
Fri – 09/08/17 – at Greensburg – 7:00 PM
Fri – 09/15/17 – FRANKLIN COUNTY – 7:00 PM
Fri – 09/22/17 – BATESVILLE – 7:00 PM
Fri – 09/29/17 – at Rushville – 7:00 PM
Fri – 10/06/17 – at Connersville – 7:00 PM
Fri – 10/13/17 – SOUTH DEARBORN – 7:00 PM
Fri – 10/20/17 – TBD (1st round IHSAA playoffs)
RECORD SETTING OFFENSE
The Lawrenceburg offense was virtually unstoppable in '16. The Tigers amassed 6,379 yards of total offense, scored 676 points (45.1/game) and had 93 offensive touchdowns (63 rushing, 30 passing). They scored 40 points or more 10 times.
THE BUILDING OF A WINNER
Lawrenceburg went 5-6 in Knigga's first season as head coach. Since then the Tigers have had five consecutive winning campaigns and have complied a 45-15 mark in that span.