2017 Snapshot: Edgewood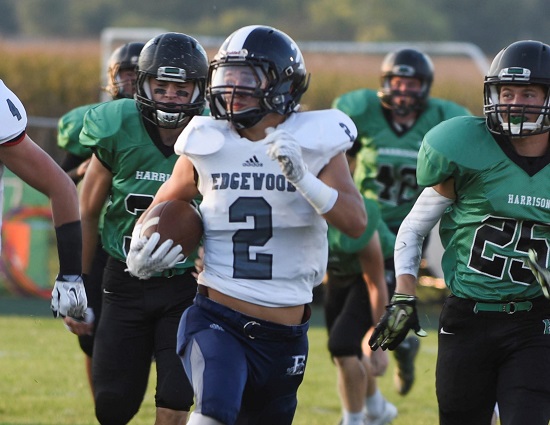 Edgewood DB DJ Whiles (photo by Tad Butler/tadbutlerphotography.com)
With eight returning starters on defense Edgewood has the nucleus to make back-to-back playoff appearances for the first time since 2007-08. The Cougars lost in the first round of the postseason last fall to eventual state champion, La Salle. Edgewood took the Lancers down to the wire. Those who return for the Cougars now they are capable of playing with anybody.
"This year's team is going to be scrappy," head coach Scott Clemmons states. "We have a great senior class with a strong junior class behind them.
That experience will be needed early on. Edgewood has to replace its entire offensive line and fill a leadership void at quarterback. The offense must grow up fast and the o-line will have to mesh as a unit," Clemmons laments about what needs to happen in order for the Cougars to be playing in November.
Repeating as Southwest Ohio Conference champions isn't out of the question. Edgewood ran the table last season they are in awe of no league rivals. Accruing SWOC victories along capitalizing on a non-conference schedule that has some valuable Harbin points up for grabs, the Cougars are sitting pretty for another playoff berth if they can take care of business.
Division II Region 8
2016 RECORD: 8-3, 6-0 SWOC
COACH: Scott Clemmons (26-26 at Edgewood, five years; 26-26 overall)

HONOR ROLL
Julian Pletz, Sr, K – One of the most competent and consistent kickers in Southwest Ohio. Pletz was a Special Mention All-Southwest Ohio performer as a junior. He has connected on 111/116 extra points and 6/9 field goals in his three years as a starter.
DJ Whiles, Sr, DB – Led the Cougars with five interceptions in '16 on his way to being named Second Team All-SWOC. Whiles also averaged 21.6 yards on 13 kickoff returns.
Evan Brown, Jr, OLB – A rising star, Brown terrorized backfields a year ago with five sacks on his way to Second Team All-SWOC honors.
Garrett Gabbard, Sr, OLB – Part of a rock solid linebacking core. Gabbard earned Second Team All-SWOC accolades as a junior.
Jake Paulsen, Sr, FB/LB – A Special Mention All-SWOC honoree in '16. Paulsen had three takeaways last fall.
OTHER RETURNEES
Julius Hayden, Jr, RB – Finished second on the team with 638 yards rushing as a sophomore. Hayden also found the end zone six times.
Nick Noble, Sr, QB/DB – Moves to quarterback after starting last season in the secondary. Noble has a big shoes to fill replacing the '16 SWOC Offensive Player of the Year, Drew Reckart.
Austin Scott, Sr, DB – A defensive back with size at 6-foot-2 and 200 pounds Scott is capable of putting a hurting on opposing skill players.
Rob Vogel, Sr, DL – A space eater with a low center of gravity in the interior of the defense makes Vogel a force.
Chris Lane, Sr, DL – The undersized, high-motored Lane should contribute even more as a senior.
CJ Broughton, Sr, DL/OL – If Broughton can get push up front it will make for a big campaign by the linebackers. That will be a very good thing for the Cougars.
Seth Phipps, Sr, OL/LB – Look for Phipps to make an impact on both sides of the ball. He has unique skills that coach Clemmons can take advantage of.
Ben Boyd, Sr, WR/DB – Getting the ball out to Boyd in open spaces on passes will allow him to utilize his speed and open up the run game.
NEWCOMERS
Open auditions begin in the trenches for Edgewood. In contention for playing time along the lines are seniors OL/DL Deric McIntyre, OL/DL Logan Young, DL Ian Bietendival, junior OL/DL Andy Weaver and sophomore OL/DL Issac Hamilton.
At the skill positions, seniors WB Dalton Lakes, RB Logen Schweder, juniors TE/OLB Justin Hiltbrand, FB Elijah Williams, RB/DB Wade Phillips
and sophomore RB/DB Lincoln Howell will get the opportunity to earn snaps.
PLAYOFF HISTORY
(12 appearances, 12-12 overall) – 2016, 2012, 2008, 2007, 2006, 2003 (2nd), 2002, 2001, 2000, 1999 (Regional Champions), 1998, 1997
2017 SCHEDULE
Fri – 08/25/17 – MONROE – 7:00 PM
Fri – 09/01/17 – at Franklin – 7:00 PM
Sat – 09/08/17 – at Badin – 7:00 PM
Fri – 09/15/17 – at Northwest – 7:00 PM
Fri – 09/22/17 – HARRISON – 7:00 PM
Fri – 09/29/17 – ROSS – 7:00 PM (Homecoming)
Fri – 10/06/17 – (COL) ST. FRANCIS DE SALES – 7:00 PM
Fri – 10/13/17 – TALAWANDA – 7:00 PM (Senior Night)
Fri – 10/20/17 – at Little Miami – 7:00 PM
Fri – 10/27/17 – at Mount Healthy – 7:00 PM
LIGHTING UP THE SCOREBOARD
Edgewood set a school record with 463 points during the regular season in '16. In five of those contests the Cougars offense scored at least seven touchdowns. They found the end zone six times on two other occasions.