2017 Snapshot: Holy Cross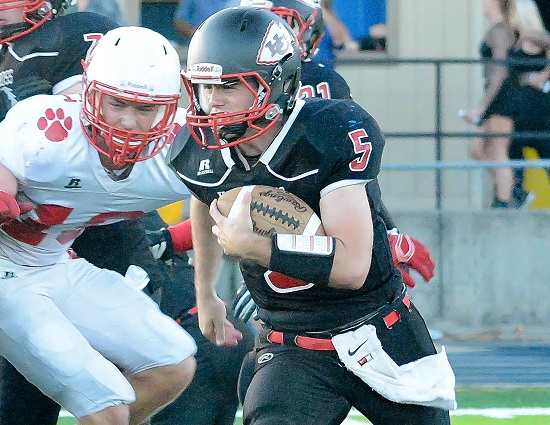 Holy Cross QB Dylan Couch (photo by Cathy Lachman/TSF)
Coming off the second best season in program history, Holy Cross will have a titanic task in trying to repeat the feat. The Indians who were a Class 2A state semi-finalist in 2016 must find a way to replace 19 seniors. A dozen of those players are going on to play in college including Derek Barnes at Purdue.
Head coach Bruce Kozerski knows the road is going to be rough but he expects his boys to man up to the challenge. "Our young offensive line must come through for (Dylan) Couch to be successful." Holy Cross will rely heavily on Couch who is the teams most accomplished player.
An intense schedule could take its toll on the Indians confidence. Kozerski has to find away from letting the rigors of this slate rattle his inexperienced troops. Losses can't get them down.
In the long run they will be better for having played such a demanding schedule. Diligence and consistency will be a must for this Holy Cross squad.
Class 2A, District 6
2016 RECORD: 10-4, 2-1 Class 2A, District 6
COACH: Bruce Kozerski (74-83 at Holy Cross, 13 years; 74-83 overall)
TOP RETURNEES
Dylan Couch, Sr, QB – Couch has many of the traits that make great quarterbacks. He is smart, tough, has a strong arm and is a good runner. Amassed 1,272 yards of total offense (866 passing, 406 rushing) and accounted for 11 touchdowns (eight passing, three rushing) in his first year as a starter in '16.
Dominic Hassert, Sr, TE/OLB – Armed with an excellent defensive skills set and a knack for the ball Hassert will be an asset on both sides of the ball.
Ben Borman, Sr, WR/DB – A healthy Borman will be an asset on offense and defense.
NEWCOMERS
Dezmond Barnes, Sr, WR/DB – Barnes returns to Holy Cross after a year in Philadelphia with family. "Barnes is a very talented player who will bring some much needed senior leadership to this team," Kozerski says.
Ben Bornhorn, So, WR/DB – Kozerski is hoping Bonhorn can step up his game to fill the void left by last year's seniors.
2017 SCHEDULE
Fri – 08/18/17 – at Pikeville – 7:30 PM
Sat – 08/26/17 – at Goshen (OH) – 1:00 PM
Fri – 09/01/17 – SCOTT – 7:00 PM
Fri – 09/08/17 – at Walton-Verona – 7:00 PM
Fri – 09/15/17 – CHCA (OH) – 7:00 PM
Fri – 09/22/17 – at Beechwood – 7:30 PM
Fri – 09/29/17 – at Holmes – 7:00 PM
Fri – 10/06/17 – NEWPORT CENTRAL CATHOLIC – 7:00 PM
Fri – 10/13/17 – NEWPORT – 7:00 PM
Fri – 10/20/17 – at Lloyd Memorial – 7:00 PM
Fri – 10/27/17 – BYE
*All home games played at Thomas More College
PLAYOFF HISTORY
(17-15 overall)
State Semi-finalist (2) – 2016, 2011
State Champions (1) – 2011
20th SEASON OF HC FOOTBALL
Holy Cross began playing football in 1998. This will be the 20th season for the Indians program. Last fall marked just the sixth time in school history that Holy Cross has finished with a record above .500. The school has an all-time marks of 95-124 (.434 winning percentage).