2017 Snapshot: Springboro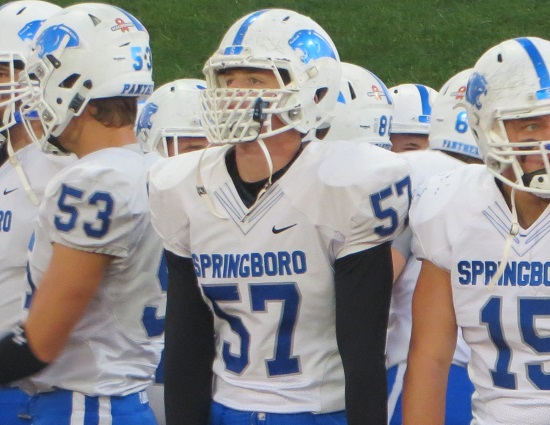 Springboro DL Quinton Webb (photo by Greg Shoemaker/TSF)
They have established a winning culture at Springboro. The Panthers made the playoffs for a fifth consecutive season in 2016. Next goal for the program is getting to and winning a regional final.
Graduate and replace. It is a system that head coach Ryan Wilhite seems to be a master at. Some players bide their time for a while but when it comes their time they are well prepared and ready to produce for Wilhite. That will be the case again this fall. The new faces will be put in spots to be successful and odds are they will be.
The defense was porous last fall. There are three First Team All-Greater Western Ohio Conference National West returnees on that side of the ball. Look for the unit to carry this squad early on and establish the Panthers identity.
A grueling October schedule will make or break Springboro and its playoff aspirations. Don't expect them to buckle under pressure. The players know what it takes and they expect, to win.
Division I, Region 4
2016 RECORD: 7-4, 2-1 GWOC National West
COACH: Ryan Wilhite (79-37 at Springboro, 11 years; 79-37 overall)
HONOR ROLL
Mike Knock, Sr, DL – The Panthers defense is one engine that is glad to have a "Knock" in it. As a junior, Knock tallied 57 total tackles and a sack on his way to First Team All-GWOC National West accolades.

Peyton Standifer, Sr, LB – Standifer had 95 total tackles over the last eight games in '16. That performance earned him First Team All-GWOC National West honors. Before transferring to Springboro Standifer was a Division II Third Team All-Ohio selection as a sophomore at Franklin.
Joe Poelking, Sr, LB – Back for his third year as a starter Poelking really broke out as a junior. He was in on 72 total tackles with three sacks, a fumble recovery and an interception. Poelking was named First Team All-GWOC National West for the work.
OTHER RETURNEES
Kris Hughes, Sr, WR – Really came on late last season with 10 of his 11 receptions over the last three weeks of the year. Hughes scored his only touchdowns in the playoff loss to Colerain.
Aaron Ervin, Sr, OL – The 6-foot-2, 270 pound Ervin will be called upon to lead the offensive line.
Quinton Webb, Sr, DL – a long lanky presence on the d-line Webb was in on 36 total tackles with two sacks, two forced fumbles and a fumble recovery in '16.
Cameron Rountree, Sr, QB – Will move to quarterback after playing a variety of roles last fall. The transition for Rountree should be seamless.
NEWCOMERS
Coach Wilhite feels a pair of sophomores RB/WR Wileon Yates and WR Josh Collins can contribute immediately at the skill positions. There will be an abundance of opportunities for the duo to take advantage of this preseason and beyond.
PLAYOFF HISTORY
(eight appearances, 4-8) – 2016, 2015, 2014, 2013, 2012, 2005, 2004, 1999
2017 SCHEDULE
Fri – 08/25/17 – MASON – 7:00 PM
Fri – 09/01/17 – at Middletown – 7:00 PM
Fri – 09/08/17 – WINTON WOODS – 7:00 PM
Fri – 09/15/17 – at Fairmont – 7:00 PM
Fri – 09/22/17 – at Centerville – 7:00 PM
Fri – 09/29/17 – BEAVERCREEK – 7:00 PM
Fri – 10/06/17 – at Miamisburg – 7:00 PM
Fri – 10/13/17 – at Fairborn – 7:00 PM
Fri – 10/20/17 – NORTHMONT – 7:00 PM
Fri – 10/27/17 – LEBANON – 7:00 PM
FINISHING THE DEAL
Springboro went 4-1 last season in games decided by eight points or less. Two of those victories were against playoff teams Miamisburg and Lebanon.

TIGHTENING UP THE DEFENSE
Perhaps one of the most amazing things about Springboro making the playoffs in '16 was that the defense allowed 31.6 points per game. They allowed 27 points or more 10 times.
SPREADING THE WEALTH
In each of the last five years the Panthers have at least one running back and at least one receiver score 10 or more touchdowns on the season.