2017 Snapshot: Sycamore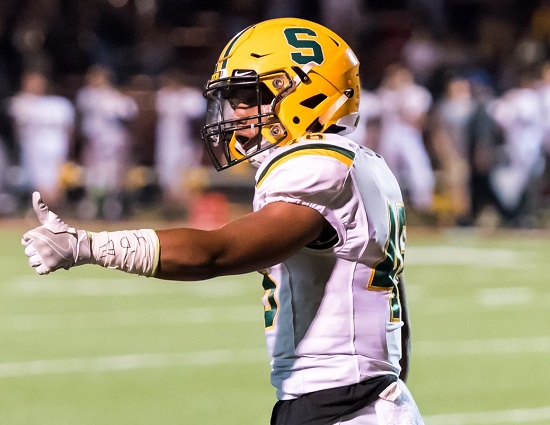 Sycamore CB Khalis Hicks (photo by Justin Sheldon/TSF)
An astounding late season run in 2016 shot Sycamore deeper into the playoffs than any other team in program history. The Aviators defeated the odds along the way to a regional runner-up finish. Barriers were broken but those who return look for even more success this fall.
The postseason overtime loss to eventual state champion St. Xavier was a tough pill to swallow for head coach Scott Dattilo and his troops. A play here, a call there and the Aviators would have been Region 4 champions. This Sycamore squad knows exactly what it is going to take to win the war. They will play with vengeance.
"We have experience and speed at the skill positions," Dattilo says. There are five First Team All-Greater Miami Conference and two Second Team All-GMC performers back for Aviators. That's good news for a team that has to replace the school's all-time leading passer and its all-time leading rusher. Sycamore will be inexperienced at quarterback and running back. Everyone will have to step up their production from a year ago.
Sometimes the class that follows one of the best to ever graduate does surprisingly well. The Aviators seniors have all of the traits that fit that mold. This group isn't going to panic under pressure they will thrive on it. Sycamore will be a tough test for opponents every Friday night.
Division I, Region 4
2016 RECORD: 8-5, 5-2 GMC
COACH: Scott Dattilo (76-42 at Sycamore, 11 years; 93-56 overall, 14 years)
HONOR ROLL
Tate Goodyear, Sr, OL/DL – One of the premier defensive players in Southwest Ohio. The 6-foot-5, 270 pound Goodyear was a First Team All-GMC selection last season after getting in on 50 total tackles and recording six sacks. He has offers from Air Force, Albany, Brown, Bucknell, Buffalo, Central Michigan, Cincinnati, Colorado State, Dartmouth, Eastern Kentucky, Harvard, Iowa State, Kent State, Marshall and Yale.
Myron Williams, Sr, WR – Williams was a First Team All-GMC honoree in '16 after averaging 22.8 yards on 25 catches with three touchdowns.
Jonathan Malek, Sr, WR – An explosive player, coach Dattilo likes to get the ball into the hands of Malek in as many different ways as possible. A First Team All-GMC performer as a junior, Malek has six career touchdowns (four receiving, two rushing) and has averaged 23.7 yards on 25 receptions.
Jonny Bothen, Sr, LB – A relentless Bothen tallied 73 total tackles and had two interceptions as a junior. He was named First Team All-GMC for the effort.
Patrick Tueimeh, Sr, FS – A fine varsity debut by Tueimeh saw him be named First Team All-GMC in '15. He finished with 58 total tackles and had a pair of takeaways.
Trey Evans, Sr, OL – A returning starter and leader on the o-line. Evans was a Second Team All-GMC pick in '16.
Kyle Fehr, Sr, LB – Fehr garnered Second Team All-GMC accolades after getting on 44 total tackles and catching two touchdown passes as a junior.
TOP RETURNEES
Christian Kelly, Sr, CB – Back for his third year as a starter, Kelly has six interceptions, 68 total tackles and a fumble recovery returned for a touchdown in his career. He will also handle kickoff and punt return duties for the Aviators.
Khalis Hicks, Sr, CB – The transfer from Mason proved to be a huge asset in the secondary. Hicks snared three interceptions as a junior. Also showed he could be a threat on special teams with an 84-yard kickoff return in the regional final against St. Xavier.
Chad Galinari, Sr, OL – A returning starter, Galinari one of the GMC's most underrated linemen.
Noah Hughes, Sr, TE – Not the biggest tight end in the league but Hicks is rock-solid as a blocker.
Edward Son, Sr, DL – Son recorded 21 total tackles as a sophomore.
NEWCOMERS
Brian Doneghy, Jr, RB – Doneghy got into six games and ran for 71 total yards and a touchdown as a sophomore.
Jordan McConnal, So, RB – Look for McConnal to share the carries with Doneghy this fall.
PLAYOFF HISTORY
(six appearances, 3-6) – 2016, 2012, 2011, 2007, 2006, 1996
2017 SCHEDULE
Fri – 08/25/17 – at Loveland – 7:00 PM
Fri – 09/01/17 – MOUNTHEALTHY – 7:00 PM
Fri – 09/08/17 – MASON – 7:00 PM
Fri – 09/15/17 – at Colerain – 7:00 PM
Fri – 09/22/17 – MIDDLETOWN – 7:00 PM
Thr – 09/28/17 – FAIRFIELD – 7:05 PM
Fri – 10/06/17 – at Hamilton – 7:00 PM
Fri – 10/13/17 – at Oak Hills – 7:00 PM
Fri – 10/20/17 – LAKOTA EAST – 7:00 PM
Fri – 10/27/17 –  at Princeton – 7:00 PM
SICK OF SEEING THEM
The Week 3 matchup versus Mason will mark the third time that the two teams have faced each other in the Aviators last seven games and the Comets last six tilts. All have been played at Sycamore Stadium. The Aviators won the regular season finale 17-10 and a second round playoff game 20-7 over Mason last fall.
GROUND KINGS
In Dattilo's 11 seasons at Sycamore the Aviators have had the GMC's regular season rushing leader six times – Mitch Allen (2006), Bud Golden ('08), Kyle Sess ('11), Greg Simpson ('12) and Bonner ('15 & '16). All had more than 1,200 yards on the ground in 10 games. Ironically three of those players – Allen, Sess and Simpson were quarterbacks.
GROUND KINGS, PART II
In Dattilo's first five seasons the Aviators averaged 20.8 rushing touchdowns per year. The last six seasons under Dattilo Sycamore has averaged 35.0 rushing touchdowns per year.