2017 Snapshot: Madeira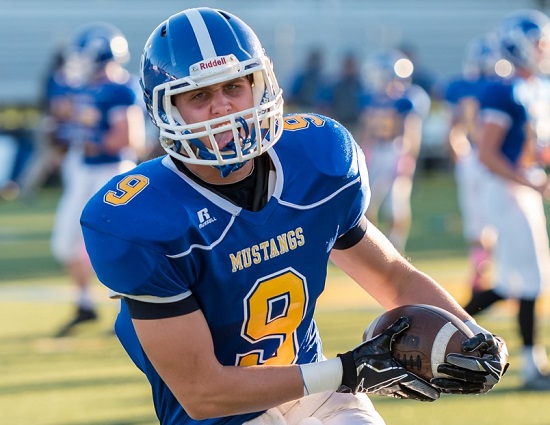 Madeira TE/DE Jack Cravaack (photo by Justin Sheldon/TSF)
Things were rolling right along last season for Madeira who was sitting at 5-1 before the wheels came off. The Mustangs were poised to make a playoff run but hit an October tailspin they could never recover from. This fall, Madeira looks for more consistency and focus after missing the playoffs in back-to-back years for the first time since 2009-10.
"We have experience at the skill positions on both sides of the ball," head coach Mike Shafer states. Those guys can play with anyone in the Cincinnati Hills League. Shafer still has concerns. "We lack overall depth at all positions." Staying healthy is key if Madeira wants to be playoff bound. An injuries to a team that doesn't have enough able bodies is like playing with a house of cards.
The schedule is rough with six of the first seven games all against squads who will be in the playoff picture. Opportunity knocks over that span. The Mustangs will have to show they won't wilt, are bigger & badder and have more mettle than they did a year ago. All of that has to come to fruition in order for Madeira to make it to the postseason. The Mustangs will be very dangerous and extremely confident if they can get to Week 11.
Division V, Region 20
2016 RECORD: 5-5, 3-4 CHL
COACH: Mike Shafer (66-39 at Madeira, 10 years; 103-72 overall, 17 years)
HONOR ROLL
Jack Cravaack, Sr, TE/DE – Over the past two seasons Cravaack has shown signs that he can dominate. The day that domination becomes more sustained and consistent, "Katie bar the kitchen door!" He is a force just waiting to happen. The 6-foot-5, 220 pound Cravaack was a First Team All-Southwest District selection as a junior. He has verbally committed to Purdue.
Matt Gelhaus, Sr, DL – A sack machine in '16. Gelhaus record 10 quarterback takedowns on his way to Second Team All-Southwest District honors.
Adam Wieczorek, Sr, WR/DB – It was a nice comeback for Wieczorek who sat out his sophomore campaign due to injury. He had 51 receptions for 759 yards, seven touchdown catches, 936 all-purpose yards, 26 total tackles and an interception on his way to First team All-CHL accolades.
Anthony Herron, Sr, DB – A bust out season for Herron saw him tally 55 total tackles as a junior. He was named Second Team All-CHL for his efforts.
Matt Megois, Jr, LB – A rising star in Region 20. Megois recorded 91 total tackles (66 solo) on his way to Honorable Mention All-CHL recognition as a sophomore.
Declan McCarthy, Sr, OL – The anchor of the Mustangs offensive line. McCarthy was an Honorable Mention All-CHL selection in '16.
OTHER RETURNEES/NEWCOMERS
Kyle Johnson, Sr, WR/DB – Moving to receiver as injuries have curtailed his time at quarterback. Super talented when healthy Johnson has thrown for 949 yards, ran for 783 yards, caught 16 passes for 92 yards, amassed 999 all-purpose yards and accounted for 17 touchdowns (nine passing, six rushing, two receiving) in just 12 varsity games since the start of '15.
Mark Manfredi, Sr, LB – In his two years as a starter, Manfredi has registered 99 total tackles. He will also be used out of the backfield on offense.
Ryan Hamm, So, WR – Got into three games as a freshman and ran for 66 yards on 10 carries in mop-up duty.
Malcolm Foster, Jr, OL/DL – Was in on 19 total tackles with a fumble recovery as a sophomore. Foster will be a factor on the o-line this fall.
2017 SCHEDULE
Fri – 08/25/17 – NORWOOD – 7:00 PM
Fri – 09/01/17 – at Aiken – 7:00 PM
Fri – 09/08/17 – WOODWARD – 7:00 PM
Fri – 09/15/17 – INDIAN HILL – 7:00 PM
Fri – 09/22/17 – MARIEMONT – 7:00 PM
Fri – 09/29/17 – at Reading – 7:00 PM
Fri – 10/06/17 – at Wyoming – 7:00 PM
Fri – 10/13/17 – DEER PARK – 7:00 PM
Fri – 10/20/17 – at Finneytown – 7:00 PM
Fri – 10/27/17 – at Taylor – 7:00 PM
OUT OF THE GATE FAST
The Mustangs have started the last seven consecutive seasons at 4-2 or better. The best beginning was at 6-0 in '11.
BREAKING A BAD HABITS
Madeira has lost its last four games in each of the past two seasons. The Mustangs have dropped eight straight October affairs.