2017 Preseason All-TSF: Offense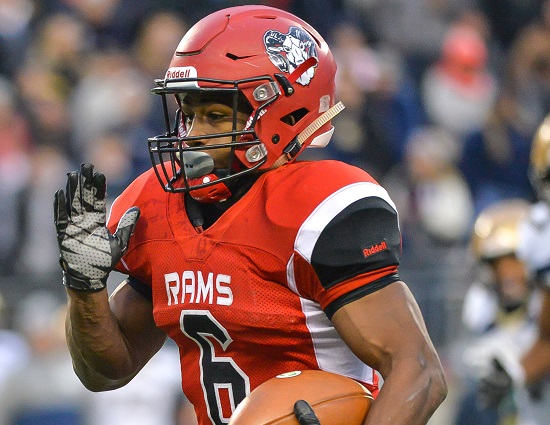 Power and explosiveness sum up what the 2017 Preseason All-TriStateFootball.com Team offense is all about. Every player on the First and Second Team has offers to or has committed to a Division I FCS school.
Headlining on the marquee is a stellar group of offensive linemen. They are a unique blend of size, mobility and nastiness. The most prized of these behemoths is Jack Carman, who has yet to make his decision on college. It won't take long for Carman to make an impact at the next level.
The imagination runs wild thinking what these skill players could do with such ginormous linemen leading the way for them.  First-Team running backs Ryan Montgomery and Raveion Hargrove would have a field day. The duo has combined for more than 8,000 yards and 102 touchdowns rushing in their careers.
The two could end up facing each other in the Division III, Region 12 playoffs this fall. Root for that match up to happen as it could be a special night.
Here is a look at the 2017 Preseason All-TSF Team offense:
FIRST-TEAM
QB: Chase Wolf (St. Xavier)
RB: Ryan Montgomery (Franklin)
RB: Raveion Hargrove (Trotwood-Madison)
WR: Joseph Scates (Dunbar)
WR: L'Christian Smith (Wayne)
TE: Josh Whyle (La Salle)
OL: Jack Carman (Fairfield)
OL: Zach Carpenter (Moeller)
OL: Zeke Correll (Anderson)
OL: Quinton Wilson (Turpin)
OL: Eric Miller (Mason)
SECOND-TEAM
QB: AJ  Mayer (Covington Catholic)
RB: Tavion Thomas (Dunbar)
RB: Isaiah Bowser (Sidney)
WR: Xavier Johnson (Summit Country Day)
WR: Meechi Harris (Xenia)
TE: Brenden Bates (Moeller)
OL: Tate Godyear (Sycamore)
OL: Isaiah Gibson (Springfield)
OL: Parker Bisek (Ryle)
OL: Jacob Hensley (Fairfield)
OL: Ryan Wichmann (CHCA)
THIRD-TEAM
QB: Andre Gordon (Sidney)
RB: Matt Sora (Mason)
RB: Jake Chisolm (Ryle)
WR: Dylan Beaugard (Wilmington)
WR: Tyler Johnson (Miamisburg)
TE: Jack Cravaack (Madeira)
OL: Dillon Stone (Hamilton)
OL: Rusty Feth (Colerain)
OL: Peyton Knippenberg (Conner)
OL: Noah Turner (Simon Kenton)
OL: Mylan Howard (Thurgood Marshall)
HONORABLE MENTIONS
QB: Josh Anderson (New Richmond), Connor Bazelak (Alter), Seth Becker (Bethel-Tate), Brayden Burch (Beechwood), Michael Crawford (Mount Healthy), Brian Erbe (Oakwood), Brady Evans (Wilmington), Matt Goodman (Norwood), Austin Hoeh (Campbell County), MyJaden Horton (Lakota West), Dashawn Lawrence (Taft), Gunnar Leyendecker (Colerain), Alex Maxwell (East Central), Kenny Mayberry (Winton Woods), Rashad McKee (Wayne), Griffin Merritt (La Salle), Mason Motter (Butler), Danny Nieman (Elder), Wally Renie (Mariemont), Matt Shearer (Simon Kenton), Lucas Smith (Turpin), Markell Stephens-Peppers (Trotwood-Madison), Sean VanNoy (Dayton Christian), Jay Volpenhein (Anderson), Danny Vanatsky (CHCA), Tate Vongsy (Miamisburg), Jamar Walker (Dunbar), Braden White (Franklin), Tim Williams (Aiken), Collin Wood (Valley View), Jacob Woycke (Oak Hills), Frankie Young (Harrison)
RB: Cole Barhorst (Tippecanoe), John Bivens III (Alter), Kyle Blaha (Anderson), Demarco Bradley (Taft), Malcom Devine (Mason County), Logan Flatt (Butler), TJ Gelter (New Richmond), Collin Genslinger (Valley View), Kyle Kelly (Newport Central Catholic), Austin Maham (Batavia), Elijah Malcolm (Belmont), Casey McGinness (Covington Catholic), Mitchell Orschell (Franklin County), Luke Patten (Little Miami), Quincy Perrin (Scott), KJ Redmon (Fairborn), Zach Stacy (Western Brown), Logan Storie (East Central), Jimmy Strunk (Goshen), Jake  Stylski (Kings), Colin Thurman (Moeller), Bailey Wallen (Brookville), Kaden Wenger (Beavercreek), Miyan Williams (Winton Woods), Nak'emon Williams (Kings)
WR: Mason Bernhardt (CHCA), Logan Castleman (Beechwood), Dallas Daniels (Trotwood-Madison), Connor Winkler (Oakwood), Danny Faillace (Elder), Wyatt Fischer (Western Brown), Hosea Harirston (Princeton), Fisher Hayden (Simon Kenton), Caleb Johnson (Springfield), Amadaz Jones (Anderson), Jonathan Malek (Sycamore), Nic Mayer (Campbell County), Jabari Perkins (Northmont), Titus Ransom (Bourbon County), Chico Robinson (Fairfield), Trey Sanders (Butler), Hayden Shrubb (Piqua), Matt Simpson (Conner), Cecil Singleton (Walnut Hills), Cameron Specht (St. Xavier), Jake Spiewak (Centerville), Chris'Seon Stringer (Taft), Kyle Trischler (Elder), Nick Venemann (Highlands), Myron Williams (Sycamore), Bobby Wilmoth (West Clermont) , Eric Wills (Moeller), Justin Wise (Kings)
TE: Erick All (Fairfield), Tommy Bauman (Kings), Caden Clark (Moeller), Jordan Cameron (Dunbar), Weston Trampler (Clinton-Massie)
OL: Conner Barton (Wilmington), Seth Bean (Connersville), Ben Bynum (Piqua), Adam Derry (Beechwood), Evan Deters (St. Xavier), Michael Dunn (Highlands), Joe Durham (Bishop Fenwick), Kody Gullett (Miamisburg), Parris Johnson (St. Xavier), Kelvin Jones (Purcell-Marian), Luke Lane (Lebanon), Logan Mears (Batesville), Brett Miller (Lawrenceburg), Tommy Peaco (Northridge), Paul Rammel (McNicholas), Kevan Ridley (St. Bernard), Steve Robbins (Norwood), Dan Troxell (New Richmond), Adam Valenti (Valley View), Michael Warden (Summit Country Day), Keeshawn Westley (Holmes), Shawn Young (Ponitz Tech)