Preview: Ryle at Covington Catholic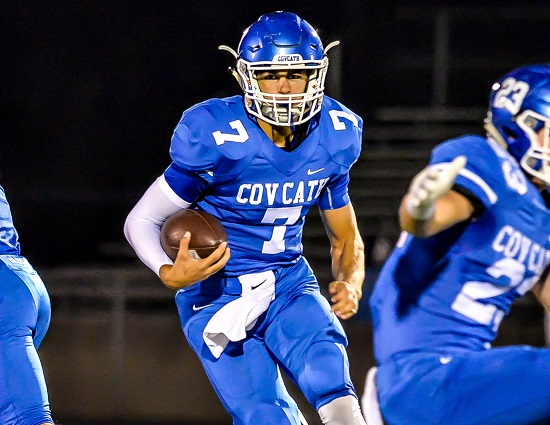 Covington Catholic QB AJ Mayer (photo by Mike Noyes/TSF)
The first game of the season is always special but Friday night's U.S. Marines Battle of the Gridiron Series promises to more than live up to the billing. It's is a historic night at Covington Catholic as they host Ryle in the first home opener under the lights at Wooten Field. The anticipation and excitement for this moment has been a long time coming for the Colonels fans, players, alums and students.
On top of all the festivities surrounding the affair it is also a matchup between TriStateFootball.com's top two ranked teams in northern Kentucky heading into 2016. Top-rated Ryle went undefeated during the regular season and finished 12-1 a year ago. They have depth, experience and know how to win.  Covington Catholic is ranked No. 2. The Colonels will be a contender for the Class 5A state title.
It will be a playoff-like atmosphere on Friday night. Perhaps the most intriguing part of the evening will be seeing who steps up on the big stage. The beauty of high school football is that the actors change from year to year. There are the marquee stars but it's up to the cast around them to perform in such a way to make the season a smash hit.
RYLE RAIDERS (0-0) at COVINGTON CATHOLIC COLONELS (0-0)
Kickoff: 7:30 p.m., Wooten Field
Radio: ESPN 1530 AM & FOX SPORTS 1360 AM
Follow on Twitter @TSFootball

PLAYERS TO WATCH: Ryle RB Jake Chisolm is a candidate for Kentucky Mr. Football. He ran for 1,681 yards, caught 31 passes for 605 yards, amassed 2,770 all-purpose yards and found the end zone 28 times (22 rushing, four receiving, two kickoff returns)  in '16. He runs behind a line that returns four starters including OT Parker Bisek. The 6-foot-4, 275 pound Bisek has verbally committed to play for the University of Toledo next fall. Secondary members DB Justin Selby and DB Zach Rytlewski combined for 141 total tackles (100 solo) as juniors. Rytlewski also had four interceptions and a fumble recovery. On special teams, K Mason Molique is a difference maker. He heads into his junior year having connected on 18-22 field goals and 159 career points kicking.
Covington Catholic boasts of two of Kentucky's best players in QB AJ Mayer and LB/TE Kam Butler. Mayer was named the Class 5A, District Player of the Year as well as a TriState Football NKY Offensive Player of the Year finalist after amassing 2,974 yards of total offense (2,461 passing, 513 rushing) and accounting for 31 touchdowns (20 passing, 11 rushing) as a junior. Classmate Butler scored three defensive touchdowns and had eight sacks as to earn First Team All-NKY honors in '16. Both have verbally committed to play for Miami (OH) a year from now. Junior RB Casey McGinness was incredibly productive racking up 2,197 all-purpose yards, 1,338 yards rushing, with 19 receptions for 313 yards while finding the end zone 16 times (14 rushing) on his way to Second Team All-NKY honors as a sophomore. On defense, seniors LB Jack Maile, DB Adam Schneider and FS/WR Malachi Pike will provide the leadership.
TEAM TRENDS: This is the third straight year that these two teams have met in the Week 0 opener. Ryle has won the previous two games and the last three in the series.
Ryle tied the school record with 12 wins in '16. The Raiders 21 combined victories over the last two campaigns are the most in a two-year span in program history.
Covington Catholic has won eight or more games five times in the last six years. For 23 straight years (since '94) the Colonels have lost at least three games. In that span CovCath has won three state titles, a district title and had six seasons of 10 wins or more.
RYLE'S KEYS TO VICTORY: An inexperienced quarterback must not telegraph passes to Chisolm in the flat.  An interception could very easily be returned for a pick six. It's those kind of game changing plays a young signal-caller must avoid and let the tools at his disposal do the work. Ryle will rely on a veteran o-line to set the tone for the game. If they get Chisolm running downhill it will be a long night for the Colonels defense.
COVINGTON CATHOLIC'S KEYS TO VICTORY: The Colonels defense will be under the microscope and on the hot seat. Covington Catholic has given up 585 and 537 yards of total offense along with 35 and 31 points in the last two losses to Ryle. The defense has to make stops and get off the field. This is a great opportunity for the Colonels to prove they can play with upper echelon opponents.
Prediction: RYLE 34, COVINGTON CATHOLIC 27