2017 Preseason All-TSF Team: Defense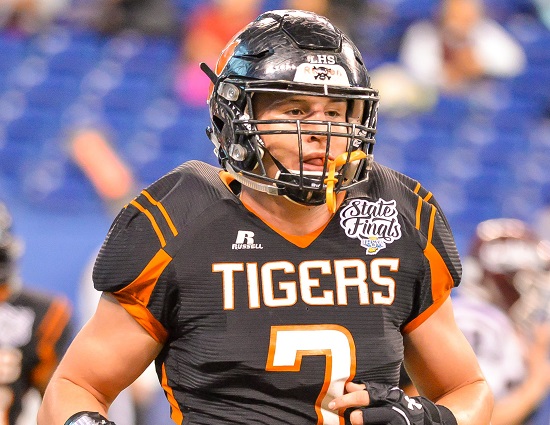 Lawrenceburg LB Mason Parris (photo by Mike Noyes/TSF)
It is the year of the defensive lineman in Southwest Ohio. A bumper crop of big men highlight the Preseason 2017 All-TriStateFootball.com Team. All 12 selections at the defensive line position have Division I FCS offers or have committed to one. The positon will be strong again next year as all four Second-Team selections are juniors.
The linebackers have plenty to beat their chest about. The eight members of the First and Second Teams all have Division I FCS offers. Kam Butler is the only one who has committed and it was to Miami (OH).
The Greater Miami Conference and Greater Western Ohio Conference come strong. Each league placed nine players between the three teams. Colerain, Wayne and Lakota West each have three players on the squads.
Here is a look at the 2017 Preseason All-TSF Team defense:
FIRST-TEAM
DL: Malik Vann (Fairfield)
DL: Aeneas Hawkins (Moelller)
DL: Alex Reigelsperger (Wayne)
DL: Blake Bacevich (St. Xavier)
LB: Kam Butler (Covington Catholic)
LB: Mason Parris (Lawrenceburg)
LB: Chris Oats (Winton Woods)
LB: Dan Bolden (Colerain)
DB: Jaden Rucker-Furlow (Belmont)
DB: Moses Douglass (Springfield)
DB: Ja'von Hicks (Colerain)
SECOND-TEAM
DL: Steven Faucheux (Lakota West)
DL: Spencer Bono (Elder)
DL: Jowon Briggs (Walnut Hills)
DL: Jalen Thornton (Indian Hill)
LB: Antwaun Johnson (Dunbar)
LB: Xavier Peters (Lakota West)
LB: Jevon Henderson (Centerville)
LB: Brody Ingle (La Salle)
DB: Demetrious Ross (Wayne)
DB: Patrick Tueimeh (Sycamore)
DB: Sam Jackson (Troy)
THIRD-TEAM
DL: Devan Rogers (Sidney)
DL: Tyler Bentley (Lakota West)
DL: Bobby Jefferson II (St. Xavier)
DL: Zaid Hamdan (Mason)
LB: Cameron Hoelscher (Springfield)
LB: Ben Schmiesing (Piqua)
LB: Ivan Pace, Jr. (Colerain)
LB: Alden Simms (Alter)
DB: Justin Schlarmann (Cooper)
DB: Justin Harris (Wayne)
DB: Kievaughn Sanks (Aiken)
HONORABLE MENTIONS
DL: Drew Ashurst (Bellbrook), Derek Black (Ponitz), Maurice Chapman (Winton Woods), Andy Combs (Reading), Tyler Courtright (Milton-Union), Stone Day (Valley View), Max Evans (Madison Senior), Jackson Gear (McNicholas), Matt Gelhaus (Madeira), Nate Glossip (Franklin), Charles Golden (Ryle), Derek Hite (Piqua), Antoine Howard (Taft), Mike Knock (Springboro), Tanner Lawrence (Campbell County), Bradley Lewis (Bethel-Tate), Tommy Lowe (Carroll), Damien Mentzer (Fairborn), Gabe Newburg (Northmont), Lonnie Phelps (Mount Healthy), Trevon Poole (Walnut Hills), Jonah Rolfes (Lawrenceburg), Nick Sanchez (New Richmond), Joah Schricker (Troy), Sam Secrest (Bishop Fenwick), Austin Silcox (Harrison), Jason Smith (Hamilton), Trey Uetrecht (Clinton-Massie), Sam Vance (Centerville), Darian Wood (CHCA)
LB: Seth Arnold (Dunbar), Garrett Bledsoe (La Salle), Jonny Bothen (Sycamore), Fred Butts (Carroll), Matt Centers (Franklin), Bryce Dugan (Milford), DeMarco Fairbanks (Aiken), Matt Garber (Tippecanoe), David  Gray (Owen County), Logan Hannah (Valley View), Isaiah Haywood (Chaminade Julienne), Matt Isemann (McNicholas), Mancini Jackson (Reading), Tyler Long (Hughes), Bryce Neuse (Beavercreek), Cam O'Gara (Wyoming), Cole Pearce (Mason), Joe Poelking (Springboro), Connor Pohl (Cincinnati Country Day), Zach Rumpke (La Salle), Trai Schlager (Badin), John Mark Shutt (Boone County), Payton Standifer (Sprinngboro), Rocky Stark (Chaminade Julienne), Nick Straw (Lebanon), Caleb Thurmond (Northwest), Alex Thurza (Scott), Joe Valentine (Ross), John Wehrkamp (Troy), Dalton Williams (Bourbon County), Max Wynn (Centerville), Tanner Yoccum (East Central)
DB: Mitch Ahr (Badin), Sammy Anderson (Trotwood-Madison), Trey Baker (Fairborn), Ryan Batsch (Loveland), Rashawn Benners (Stebbins), De'Zion Coleman (Hughes), Jordan Coovert (Alter), David Duncan (Chaminade Julienne), Griffen Durso (Turpin), Wyatt Floyd (East Clinton), Gianni Gamble (Winton Woods), Will Hausfeld (Turpin), Town Hines (Northridge), Dawson Martin (Belmont), Avi McGary (Lakota East), Elijah McKenney (Beechwood), Jack Mitchell (Butler), Tavor Mowry (Blanchester), Dom Ramsey (Centerville), Zach Rytlewski (Ryle), Jake Schaeffer (Bishop Fenwick), Justin Selby (Ryle), DJ Whiles (Edgewood), Adam Wieczorek (Madeira), Dominic Wilcoxon (Dayton Christian)