2017 Preseason All-TSF: Specialists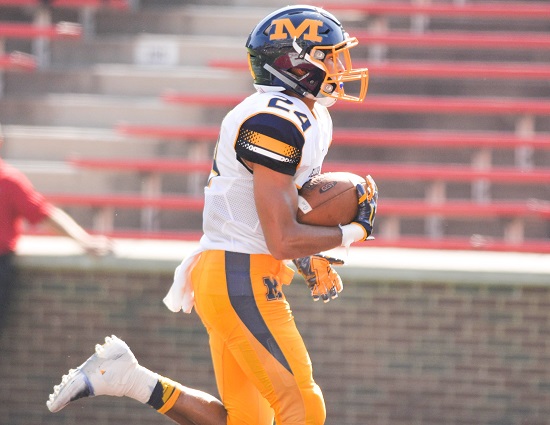 Moeller slot/RS RJ Khayo (photo by Mike Noyes/TSF)
They are a group that brings unique skills to their teams. They are the specialists. Every coach longs to have players like these who can directly make an impact on the outcome of a contest.
The Preseason 2017 All-TriStateFootball.com Team is loaded with versatile and agile players at the Athlete position. The First, Second and Third-Team selections at the athlete position are from the Greater Western Ohio Conference. Tony Clark and Devin Kenerly are both from the GWOC National West division.
The top three game-breakers at the return specialist position are as good as any group that has come before them. RJ Khayo, DJ Chambers and James Davis combined to return eight kicks for scores a year ago. Chambers only had the opportunity to return four kicks all season. He took three of them to the house.
Even though he is only a junior our First Team member at the kicker position, Mason Molique, has established himself as one of the finest legs Northern Kentucky has seen in the 21st century. Molique has connected on 105-of-107 extra-point tries and 18-of-22 field goals attempts for 159 points during his career.
First Team selection at the punter position, Marco Fiore, is the one individual who most epitomizes what specialists are all about. As a junior, Fiore he completed all four of his passes for 148 yards (37.0 yards/att) with two touchdown tosses, ran for 98 yards on nine carries (10.8/carry), had six receptions for 75 yards (12.5/rec), amassed 416 total return yards (25.5/punt return), returned three punts for scores, went 11/11 on extra-point attempts, hit his only field goal attempt, averaged 43.4 on 23 punts while landing nine inside the opponents 20-yard line, was in on 38 total tackles and had seven interceptions.
Here is a look at the 2017 Preseason All-TSF Team at the specialists positions:
FIRST-TEAM
ATH: Leonard Taylor (Springfield)
PK: Mason Molique (Ryle)
P: Marco Fiore (Indian Hill)
RET: RJ Khayo (Moeller)
SECOND-TEAM
ATH: Tony Clark (Miamisburg)
PK: Harry Sand (Turpin)
P: Thomas Capano (Moeller)
RET: DJ Chambers (Carlisle)
THIRD-TEAM
ATH: Devin Kenerly (Northmont)
PK: Matt Schneider (Franklin)
P: Eric Rosemeyer (East Central)
RET: James Davis (Beechwood)
HONORABLE MENTIONS
ATH: Jaylin Anderson (CCPA), Tywon Berry (Dayton Christian), Justin Blackburn (Ludlow), Marcus Borden (Walnut Hills), Corey Bozic (New Richmond), Cole Burdick (McNicholas), Joe Collins (Summit Country Day), JaQuan Emerson (Lockland), Bryson Flucas (Meadowdale), Jacob Hughes (Taylor), Mitch Mentzel (West Clermont), Mick  Oakes (Indian Hill), Nelson Perrin (Scott), Hunter Privett (Lawrenceburg), Pierson Rogers (Wyoming), Jake Shirey (Little Miami), AJ Shockey (Dixie), Ty Smith (Owen County), Lorenzo Sparks (North College Hill), Brady Wilson (Stebbins)
PK: Caiden Smith (Tippecanoe), Julian Pletz (Edgewood), Kyle Farfsing (Harrison), Brandon Walters (Centerville), Dillon Coleman (Milford), Matt Courter (Northwest), Gage Fosberg (Stebbins), Sergio Listo (Wyoming), Daniel Mescher (Beechwood), Garrett Russell (Wayne)
P: Jalen Watson (Trotwood-Madison), Ryan Peltier (Chaminade Julienne)
RET: Donovan Shelton (Centerville), James Jones (Hamilton), Cornell Beacham (Winton Woods), Xavier Hundemer (Dayton), Tyler Prater (Talawanda)