Beavercreek defense dominates Fairmont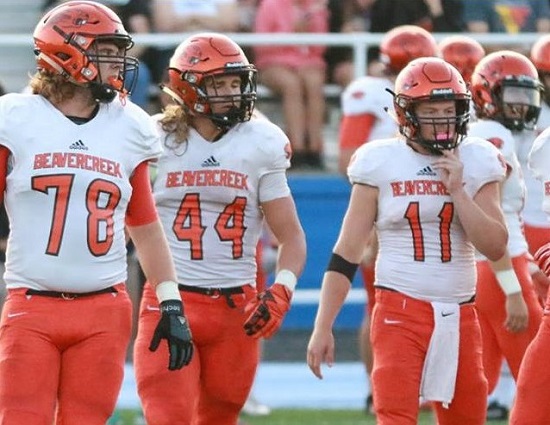 Beavercreek offense (photo courtesy of ScoutingOhio.com)
The Beavercreek defense was too much for Fairmont as they defeated the Firebirds, 14-6, Friday night at home.
Coming into the game, Beavercreek was ranked first in the GWOC in total defense, and they continued that dominance. The defensive unit held one of the best offensive teams in the conference to only 217 yards. They also were efficient in holding Fairmont to 1-for-9 on third downs.
Fairmont's offense struggled throughout the game, but managed to start the scoring on a 31-yard field goal by junior kicker Asher Rohm in the second quarter.
Beavercreek answered with two back-to-back touchdowns and that was enough to win its fifth straight game. The first touchdown came on a 57-yard run by junior Sabastian Rendon. The next score came when senior quarterback Cody Hocker scored on a 9-yard run. This is Hocker's 12th touchdown of the season.
Hocker has helped the Beavercreek offense become one of the best in the conference, scoring at least 40 points in three straight games, but Fairmont's defense was the toughest test so far. They were held to only 285 yards after averaging over 400 yards per game.
The majority of the yards from Beavercreek came from senior running back Kaden Wenger. The senior back ran for 176 yards. This was actually his lowest total since Week 2 when he only rushed for 27 yards. In the last two weeks, Wagner has rushed for 224 yards against Fairborn and 319 against Lebanon. Those totals have contributed to Wagner being ranked second in the conference in rushing yards.
Fairmont junior quarterback Braden Miller accumulated 176 of the 217 total team yards. Now Fairmont will look to rebound against Miamisburg. The Vikings are 3-2 and coming off a loss to Troy on Friday night.
Beavercreek will put their undefeated season on the line next Friday at Springboro, who lost to Centerville on Thursday night.
RECORDS: Beavercreek (5-0), Fairmont (4-1)
UP NEXT: Beavercreek at Springboro (1-4); Fairmont at home against Miamisburg (3-2)
Fairmont       0  3   0 0
Beavercreek  0 14 0 0
Fairmont: Rohm 31-yd FG
Beavercreek Rendon: 57-yd run
Beavercreek: Hocker 9-yd run