Second Half Propels Wayne to Win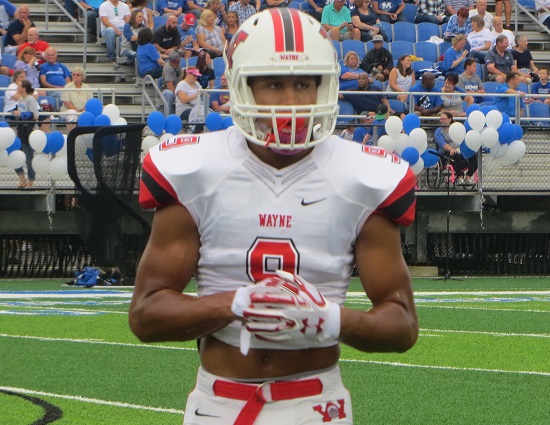 Wayne dominates Miamisburg in second half after trailing with just over one-minute left in the first half.
With the help of junior quarterback Rashad McKee's, Wayne outscored Miamisburg, 35-7, to win its first conference game of the season.
McKee contributed to six total touchdowns, with three on both ground and through the air. He completed 10 passes for 335 yards, and rushed for 57 yards.
Wayne took a commanding two touchdown lead in the first quarter when McKee threw a 75-yard strike to junior Steven Victoria on its opening drive. The junior quarterback followed that up with a 9-yard touchdown.
Miamisburg fought back and scored three unanswered touchdown to take a 21-14 lead when Tate Vongsy threw two touchdowns to senior Tyler Johnson and senior Quinn Kuehnle, and junior Jon Yerkins scored on a 5-yard run.
Wayne received the football with a minute left, and were able to drive and score on a 1-yard run by McKee to tie the game at 21 at halftime.
The Wayne Warriors came out as a different team in the second half and started capitalizing on the big plays. Senior L'Christian Smith caught a 20-yard touchdown pass to open the second half scoring, and just two minutes later McKee scored on a 24-yard run to light up the scoreboard at 35-21.
In the fourth quarter, Wayne used its athleticism to score on a 56-yard pass from McKee to Victoria, a 47-yard breakaway touchdown run by junior Trace Kinnel and a 51-yard run by sophomore Devin Nelson.
The Warriors tallied 579 total yards on the night. Victoria had 210 receiving yards, which is the most this season. Kinnel led the team with 134 yards on 12 carries to go with the fourth quarter touchdown.
After tonight's game, McKee has 10 total touchdowns and only one interception, which came in the first week against Pine Richland (PA).
Miamisburg will return home next Friday to play Troy. Wayne will look to extend its three-game win streak at Northmont, who defeated Butler Friday at home.
RECORDS: Miamisburg (3-1) , Wayne (3-1)
UP NEXT: Miamisburg hosts Troy (2-2); Wayne at Northmont (3-1)
Miamisburg 7 14 0 7
Wayne 14  7  14 21
Wayne: McKee 75-yd pass to Victoria
Wayne: McKee 9-yd run
Miamisburg: Vongsy 8-yd pass to Johnson
Miamisburg: Vongsy 5-yd pass to Kuehnle
Miamisburg: Yerkins 5-yd run
Wayne: McKee 1-yd run
Wayne: McKee 20-yd TD pass to Smith
Wayne: McKee 24-yd run
Wayne: McKee 56-yd pass to Victoria
Wayne: Clark 1-yd run
Wayne: Kinnel 47-yd run
Wayne: Nelson 51-yd run