Highlands shuts out Dixie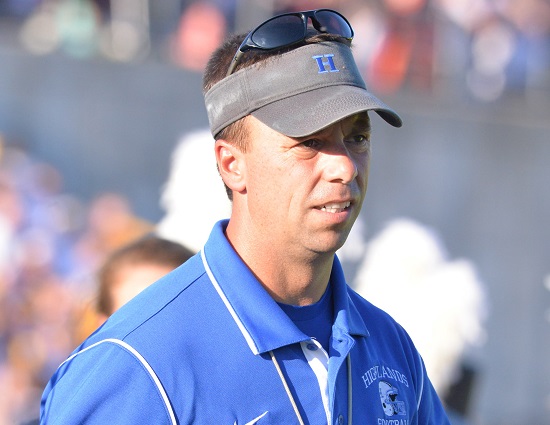 Highlands head coach Brian Weinrich (photo by Mike Noyes/TriStateFootball.com)
Nick Veneman caught four touchdown passes and finished with five receptions for 153 yards as Highlands blew out Dixie Heights, 47-0 on Friday.
Veneman hauled in 40- and 66-yard TDs in the first quarter, added an 8-yard scoring catch in the second quarter and pulled in a 30-yard touchdown after the break.
Cooper Schwalbach led the Bluebirds in rushing with 76 yards and one touchdown. Nate Roberts scored Highlands' other TD on a late 28-yard catch.
Brandon Barker rushed 34 times for 155 yards to pace Dixie Heights, which committed four turnovers.
Harrison Traylor paced the Bluebirds defensively with an interception and a fumble recovery.
Highlands, which snapped a four-game skid, travels to Covington Catholic next week while Dixie Heights heads into its bye week before playing CovCath on Oct. 20.