Clinton-Massie wears down Wyoming 28-7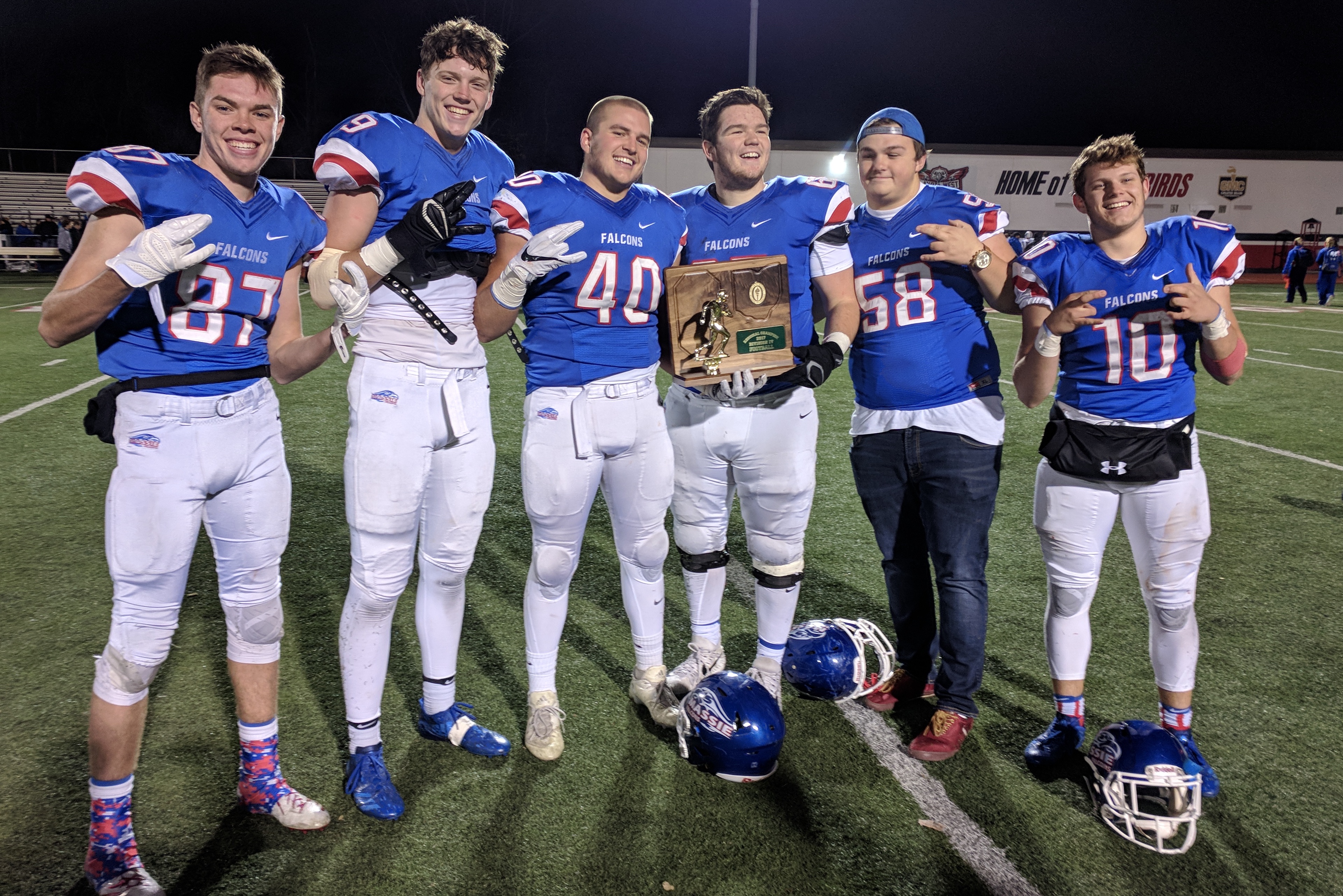 WEST CHESTER, Ohio – The Clinton-Massie Falcons used its power running game combined with a dominating defensive performance to end Wyoming's undefeated season, winning 28-7 at Lakota West's Firebird Stadium.
The victory gives Clinton-Massie the Division IV, Region 16 championship and its fourth appearance into the state semi-final round since 2011.
The last meeting between two teams was the 2007 playoffs with Clinton Massie winning 29-28 in double overtime. This game did not have as much intrigue with Clinton Massie leading the entire game.
Clinton-Massie took the ball first and went on a methodical drive down the field. The Falcons ran the ball on all 13 plays including a key fourth down conversion near midfield setting the tone for it's running attack.
"There was no hesitation," said head coach Dan McSurley about going for it on fourth down. "We're going to rely on our guys up front. There's no secret to anybody. We're just going to keep it between the tackles and we've got some guys explosive enough to get it outside and we made some real nice plays."
Weston Trampler capped off that opening drive with a three-yard plunge into the end zone giving the Falcons a 7-0 lead at the end of that six minute opening possession.
Clinton-Massie dominated on the defensive side of the ball, especially in the first half. Griffin Laake intercepted a Wyoming pass, returning it to the Cowboys 23-yard line with 9:03 left in the second quarter.
Laake also lead the team in tackles with seven. Sam Brothers and Tyler Beam combined for three sacks and four tackles-for-loss.
After Laake's interception, the Falcons threw for its only pass completion of the game as Corey Stultz connected on an 18-yard pass to Luke Richardson. That play setup Trampler's second rushing touchdown for a 14-0 advantage.
Clinton-Massie's offense ran 61 plays and 59 were on the ground for 279 yards. Four different running backs carried the ball at least nine times for the Falcons. Daulton Wolfe contributed a team high 76 yards on 12 carries.
Wyoming had the ball with two minutes left before halftime. The Cowboys were trying to score while bleeding time off the clock. The Clinton-Massie defense prevented both of those things from happening.
The Falcons forced a three-and-out and got the ball back at its own 38-yard line and 43 seconds to work with before the intermission. Richardson took the handoff on an end-around reverse play and followed his blockers 37 yards for a touchdown.
It was more of the same frustration for the Wyoming offense in the second half. Pierson Rogers, the Southwest Ohio Player of the Year was held to just 23 yards rushing on the night.
The Cowboys avoided being shutout for the first time since 2006 when quarterback Evan Prather threw a 32-yard touchdown pass to Perry McMichen midway through the forth quarter.
Clinton-Massie finished off Wyoming in the closing minutes with a 10-yard touchdown run by Christian Poynter who finished with 64 yards rushing.
Trey Uetrecht recorded four tackles on defense and helped lead the running game with some crucial blocks. Uetrecht is proud of being part of the success and legacy of the Clinton-Massie program.
"When I was little, I was watching my brother (Tyler) play quarterback for the first state title team (in 2012). I've always wished that someday I could be out there and then it's a dream come true," Uetrecht said. "We play for the community, we play for each other and the people that set the tone from years before."
Clinton-Massie advances to the state semifinal facing the Region 15 champion  John Glenn from New Concord who beat Duncan Falls Philo 38-7. It was confirmed after the game by officials that next week's game will be played at Hilliard Darby High School.
SCORE BY QUARTERS
Clinton-Massie 7-14-0-7 – 28
Wyoming 0-0-0-7 – 7
SCORING PLAYS
C – Weston Trampler 3-yard TD run (Derick Carlisle kick).
C – Weston Trampler 8-yard TD run (Derick Carlisle kick).
C – Luke Richardson 37-yard TD run (Derick Carlisle kick).
W – Evan Prather 32-yard TD pass to Perry McMichen (Sergio Listo kick.)
C – Christian Poynter 10-yard TD run (Derick Carlisle kick).
RECORDS: Clinton-Massie (12-1); Wyoming (12-1)