East Central 3-peats as regional champion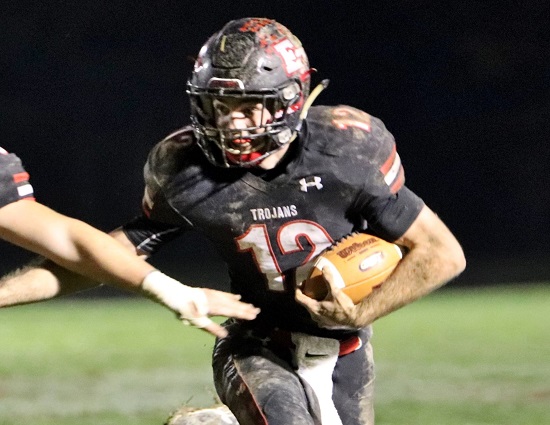 East Central QB Alex Maxwell (photo by Linda Lyness Maxwell)
ST. LEON, indiana – For the first time in the history of East Central football the program has won three consecutive regional titles after they took down visiting Evansville Central, 35-13. The victory was also the eighth regional crown for East Central who has used the elements and the home field to their advantage to stay alive in the IHSAA Class 4A playoffs.
The formula for success during the Trojans last eight wins (in nine games) has been to run the football on offense and stop the run on defense. In their last eight victories East Central has held all of their victims to 13 points or less including five shutouts. They allowed just 95 yards rushing to the Bears on Friday night after giving up only 73 yards on the ground last week against Silver Creek.
East Central ran 61 plays versus Evansville Central of which 60 were rushes for 322 yards on the ground. Junior quarterback Alex Maxwell paced the victors with 187 yards and four scores on 33 carries. The effort pushed Maxwell's rushing totals to 876 yards and 18 touchdowns on the year.
Awaiting East Central for a semistate crown is a Greenwood squad that has won six in a row. The Woodmen are averaging 44.0 points in their four postseason games. The contest is an intriguing clash of styles.
Evansville Central 0-0-6-7-13
East Central  6-15-7-7-35
EC: Rosemeyer 5 run (kick failed)
EC: Maxwell 18 run (Maxwell run)
EC: Maxwell 5 run (Browndyke kick)
EvC: Space 6 pass from Harper (kick failed)
EC: Maxwell 8 run (Browndyke kick)
EvC: Jones 4 pass from Harper (Degenhart kick)
EC: Maxwell 5 run (Browndyke kick)
RECORDS: Evansville Central (11-2); East Central (10-3)
UP NEXT: East Central hosts Greenwood (11-2)