T-Mad trounces Dunbar, sets sights on 8th straight regional title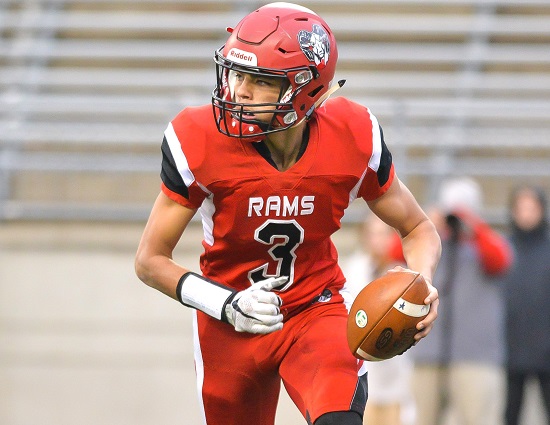 VANDALIA, ohio – Things started off slow but a flurry of second quarter and third quarter scores saw Trotwood-Madison put away Dunbar in impressive fashion. The hungry Rams showed how much they wanted, desired and yearned to play for the right to win an unfathomable eighth consecutive regional title. With the victory, Trotwood –Madison has now won 18 consecutive first round and second round playoff games since 2009.
In a nine minute and change stretch of the second stanza Trotwood-Madison scored four touchdowns. Before the Wolverines knew it they were down 36-0 with tons of ticks left on the clock before halftime.
After intermission, a pair of touchdowns tosses by quarterback Markell Stephens-Peppers increased the damage of the Rams rout to, 51-6. Stephens-Peppers finished his night 6-11 for 150 yards with four passing and one rushing touchdown. He now has 33 touchdown passes on just 108 completions this season.
He wasn't the only Ram doing damage. Both of Dallas Daniels receptions went for touchdowns. That raised his total to 18 for the year on 50 catches for 973 yards. Raveion Hargrove ran for a team high 93 yards on 10 totes and found the end zone for the 30th time the season (26 rushing). On defense, Kennedy Coates and Keonte Huguely each had a pair of sacks. Coates raised his sacks total to 20.0 this season.
As for the Dunbar stars they hit their stats but long after the game was decided. Oklahoma bound Tavion Thomas ran for 90 yards and a touchdowns. Receiver Joseph Scates reeled in six balls for 167 yards with three of those ending in trips to the end zone.
The much anticipated regional final for football fans from the Gem City pitting Trotwood-Madison against Alter from GCL North will not come to fruition. Instead the Rams will face another red-hot squad from the GCL North, Chaminade Julienne, who beat Alter in the first round of the playoffs.
Dunbar 0-6-6-14-26
Trotwood-Madison 8-28-22-6-64
T: Safety
T: Stephens-Peppers 1 run (kick failed)
T: Parker 10 pass from Stephens-Peppers (pass failed)
T: Daniels 26 pass from Stephens-Peppers (kick failed)
T: Hargrove 23 run (Anderson pass from Stephens-Peppers)
T: Jordan 1 run (Hargrove run)
D: Scates 22 pass from Walker (pass failed)
T: Daniels 68 pass from Stephens-Peppers (Mims kick)
T: Anderson 3 pass from Stephens-Peppers (Stephens-Peppers run)
D: Scates 51 pass from Walker (run failed)
T: McDaniel 15 run (Mims kick)
D: Scates 51 pass from Walker (Scates pass from Walker)
D: Thomas 8 run (pass failed)
T: Watson 38 interception return (Mims kick)
RECORDS: Dunbar (8-4); Trotwood-Madison (12-0)
UP NEXT: Trotwood-Madison vs Chaminade Julienne (9-3) at Stebbins HS