Its the regionals again for Lawrenceburg, East Central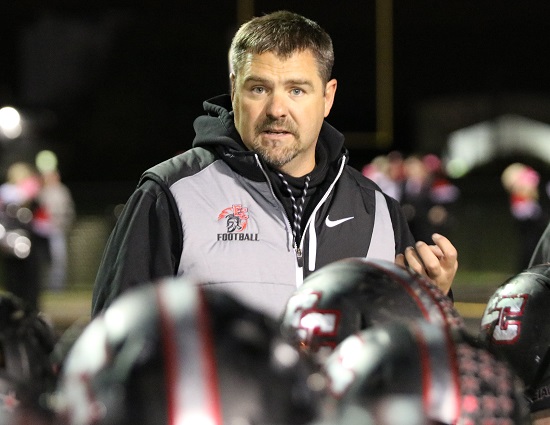 East Central head coach Justin Roden (photo by Linda Lyness Maxwell)
In a rare feat for Eastern Indiana Athletic Conference the league sees two of its teams, Lawrenceburg and East Central win sectional titles in back-to-back years.
Here is a look at how they did it:
East Central 24, Silver Creek 0 – The defense took center stage as East Central (9-3) won its 19th sectional title and third in a row. It is just the second time that the program has won three sectionals in a row. It also happened from 1992-94.
The Trojans held Silver Creek to just 73 yards of offense in the contest including no passing yards. The shutout by the East Central defense was its fifth in the last seven games.
On the other side of the ball the Trojans rushing attack continues to improve. They were led by quarterback Alex Maxwell who ran for 175 yards and three touchdowns. He also threw for 99 yards. Senior Logan Storie also chipped in with 93 yards on the ground.
The price of success for East Central is a date with the state's top-ranked team in Class 4A, Evansville Central (11-1). The Trojans will host the Bears who have won eight straight on Friday night.
Lawrenceburg 35, North Harrison – It was a fantastic road win for Lawrenceburg (11-1) as they held off North Harrison (11-1). The victory was the 11th in a row for the Tigers and the programs 18th sectional title program. They have now won back-to-back sectional crowns for the first time since 1997-98. Now they look for back-to-back regional championships for just the second time having done it in 1984-85.
Lawrenceburg will travel to Evansville Central (11-1) on Friday. The EMHS Tigers have not won a Class 3A regional title since 2009.