Top seeds remain in Region 8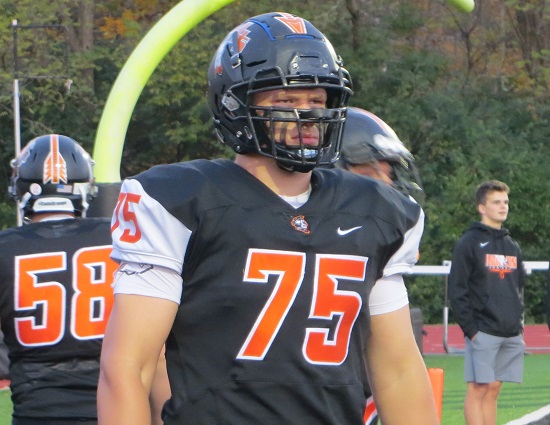 Anderson OL Zeke Correll (photo by Greg Shoemaker/TriStateFootball.com)
All four of the top seeds in the region won last Friday. That sets up some great battles for this weekend's action. Here is a look at the Division II Region 8 playoff semi-final games.
THE BRACKET
Regional Semi-finals
#1 La Salle (9-2) vs. # 4 Sidney (10-1) at Miamisburg HS
#2 Winton Woods (10-1) vs. #3 Anderson (10-1) at Lakota West HS
PLAYOFF HISTORY
Anderson: (12th appearance, 13-10) – 2017, 2016, 2009, 2008 (State Runner-up), 2007 (State Champion), 2003, 2002, 2001, 2000, 1996, 1994, 1992
Winton Woods: (10th appearance, 11-8) – 2017, 2013, 2012, 2010, 2009 (State Champion), 2008, 2007, 2006, 2005, 1998
La Salle: (eighth appearance, 16-4) – 2017, 2016 (State Champion), 2015 (State Champion), 2014 (State Champion), 2010, 2004, 2002, 1985
Sidney: (second appearance, 3-1) – 2017, 1989 (Regional Champion)
THE COACHES
Anderson: Evan Dreyer (17-5 at Anderson, third year; 61-33 overall, ninth year)
La Salle: Pat McLaughlin (9-2 at LaSalle, first year; 28-14 overall, fourth year)
Sidney: Adam Doenges (30-41 at Sidney, seventh year; 30-41 overall)
Winton Woods: Andre Parker (57-28, eighth year; 57-28 overall)

WHAT YOU SHOULD KNOW
La Salle has won 16 consecutive playoff games against 14 different teams over the last three-plus years. Sidney will become the 15 different foe in that span. The only teams that the Lancers have played and beaten twice are Harrison and Massillon Perry (in each of the past to Division II state finals). Take away the 42 points that La Salle gave up to St. Xavier and they are allowing just 9.5 points in their other 10 contests. The Lancers have only  topped the 30-point mark three times this season and two of those are in the last three weeks including a season-high 45 versus Harrison to start the playoffs.
Call Sidney the "Spoilers of Perfection." The Yellow Jackets have handed three different schools their only losses of the season – Belmont, Bellefontaine and St. Mary's Memorial (the latter two are still alive in the playoffs). Sidney has given up at least 32 points or more nine times.
Winton Woods is 4-1 versus Division I schools. The Warriors only loss was to Elder by one on a missed extra point attempt that hit the upright. That's how close they are to being undefeated.
Anderson has blanked their last two opponents. The Redskins have four shutouts on the year. The Anderson offense has scored 40 points or more eight times. Their season low point total is 28. They have turned the ball over at least once in nine of their 11 contests.

WHO YOU SHOULD KNOW
LA SALLE:
Jarred Uran, Jr, LB/SS – Has turned into one of the best big-game performers in the GCL South. This season Uran was in on 16 total tackles against Colerain, 15 versus Winton Woods, 12 at St. Xavier and 10 at Elder.
Garrett Bledsoe, Jr, LB – A three-year starter who comes to play every week. Bledsoe already has 233 total tackles in his career.
Brody Ingle, Jr, LB – Injuries have slowed down Ingle as of late. He has still been able to record 65 total tackles with a pair of sacks in eight contests. Offers started coming in for Ingle before the season began they will continue to flow for him as he goes into his senior campaign.
Josh Whyle, Sr, WR/TE – A large target at 6-foot-6, Whyle leads the Lancers with 42 receptions for 515 yards and four touchdowns. He will stay home and play for Cincinnati next fall.
SIDNEY:
Isaiah Bowser, Sr, RB – There aren't enough superlatives to describe the kind of year that Bowser is having. The Northwestern commit  has run for 2,617 yards (237.9/gm, 8.0/carry), caught 19 passes for 340 yards (30.9/rec), amassed 3,200 all-purpose yards and found the end zone 32 times (29 rushing, three receiving).
Andre Gordon, Jr, QB – An electrifying talent who is a wonderful compliment to Bowser. Gordon has thrown for 1,546 yards, ran for 682 yards and accounted for 31 touchdowns (18 passing, 13 rushing).
Devan Rogers, Sr, DT/TE – The 6-foo7-2, 307 pound Rogers is a load to deal with. The four-year starter has 11.5 sacks and almost 300 total tackles in his career. Rogers is committed to Toledo.
WINTON WOODS
Chris Oats, Sr, LB – One of the premier linebackers in Ohio. Warriors head coach Andre Parker says Oats is "the most gifted player I have ever seen." Oats has 80 total tackles and five takeaways (four fumble recoveries, one interception) on the year.
Kenny Mayberry, Sr, QB – Has thrown for 1,761 yards and accounted for 23 touchdowns (14 passing, nine rushing) for a Warriors offense that averages 35.9 points per contest.
Miyan Williams, So, RB – A breakout sophomore campaign has seen the 15-year old Williams run for 1,262 yards and 13 touchdowns. He had 235 yards and five touchdowns in last week's playoff win over Chillicothe.
ANDERSON
Jay Volpenhein, Sr, QB – The ECC Offensive Player of the Year. Volpenhein has amassed 4,597 yards of total offense (3,487 passing, 1,110 rushing) and accounted for 49 touchdowns (32 passing, 17 rushing) this season.
Austin Watt, Sr, WR – This 6-foot-5, 205 pound baby-faced stud is one of the area's hidden gem's. He has 55 receptions for 718 yards with seven of his 10 touchdown catches coming in the Redskins last five games.
Trent Rogers, Sr, DL – No one wants to get in a scrum with Rogers who is one of the nation's top rugby players in his age group. An immovable force in the trenches Rogers leads the Redskins with five sacks.
Zeke Correll, Jr, OL – The latest in a long line of extra-special lineman to don the Anderson black and orange. The 6-foot-4, 270 pound Correll has which include Ohio State, Notre Dame and Kentucky.