St. X Returns to Regional Final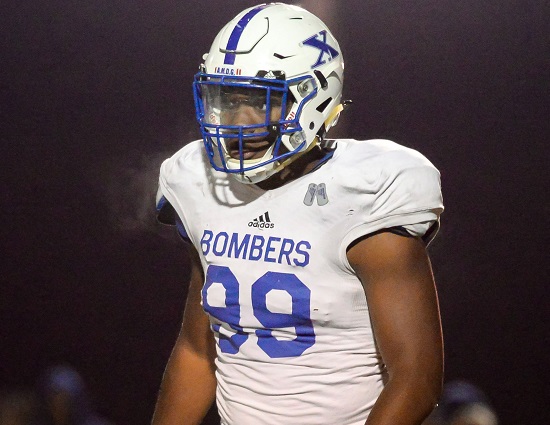 The reigning Division I state champion St. Xavier advanced to the regional final with a 37-7 win over Sycamore Friday night at Mason's Dwire Field at Atrium Stadium.
This was a rematch of last season's Region 4 regional final when it took overtime for St. Xavier to defeat Sycamore, 35-28. Both teams looked a little different from a year ago when Penn State commit Sean Clifford was leading St. Xavier at quarterback, and Illinois committ and Sycanore running back Ra 'Von Bonner was breaking tackles. Now it is Wisconsin commit Chase Wolf managing the St. Xavier offense, and Sycamore junior Brian Doneghy leading the Aviators rushing attack.
Wolf helped the Bombers as he completed 17-of-28 passes for 151 yards and a touchdown, running back junior Chris Payne led the offensive charge with 125 yards and two touchdowns.
Sycamore took the lead early with a three play, 80-yard drive on the second possession of the game. Drew Altemuehle found Jonathan Malek on a 56-yard touchdown pass. After that drive the Aviators were only able to gain 170 yards the rest of the game.
After that first score, St. Xavier rolled off 37 unanswered points. The Bombers had only a one touchdown lead at halftime, but scored a pair of touchdowns in the third quarter to gain a comfortable lead. Wolf found senior Jared Kreimer on a 34-yard scoring reception, and just over two minutes later senior Matthew Fox ran for a 32-yard score.
When it looked like it could not get any worse, Sycamore intercepted a pass in their own endzone, but fumbled the football that resulted in a safety late in the third quarter.
In his last high school game, senior receiver Jonathan Malek has 136 yards on four receptions to go with his first quarter touchdown. Doneghy led the Aviators with 92 rushing yards.
The Sycamore offensive line had a difficult time controlling the line of scrimmage and protecting Altemuehle. Will Childs, Nathan Arthur and Bobby Jefferson II combined fir five sacks, and Jefferson II forced a fumble that was recovered by Andrew Wittrock.
St. Xavier will play Colerain next Friday in the regional final at a site to be determined. This is a rematch of Week 2 when St. Xavier narrowly defeated Colerain, 20-17, in overtime. The Bombers defense held Colerain to only 245 yards of offense.