Trotwood-Madison brings home 8th straight regional title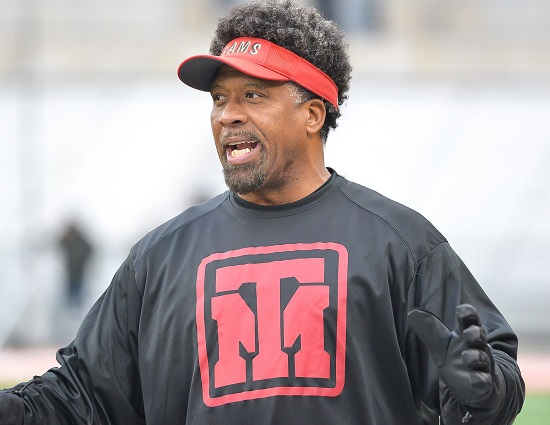 Trotwood-Madison head coach Jeff Graham (photo by Mike Noyes/TriStateFootball.com).
DAYTON, ohio – Less than three minutes into the second half a pesky Chaminade Julienne squad pulled to within three points of Trotwood-Madison. It looked as if the Rams quest for an eighth consecutive regional title was in jeopardy. Undefeated Trotwood-Madison was having none of that, though, and finished the contest with 27 unanswered points over the last 17 minutes (and change) to make unprecedented history for the program.
With the victory, Trotwood-Madison has now won 24 consecutive first, second and third round playoff games since 2009. The Rams are now 35-11 all time in OHSAA postseason affairs.
A pair of second half touchdown passes from Trotwood-Madison quarterback Markell Stephens-Peppers to Dallas Daniels grounded the Eagles hopes of a first regional crown since 2002 and third in school history. Stephens-Peppers and Daniels played pitch-and-catch 10 times on the night for 204 yards. Daniels now has 20 touchdowns on 60 receptions for 1,177 yards this fall.
The Rams running game was rock solid as Ra'veion Hargrove ran for a game high 144 yards and a pair of scores. The senior now has 2,000 yards and 32 touchdowns (28 rushing) this season. Junior Dae'Vontay Latimer had a career high 86 yards and a touchdown becoming another weapon in the Trotwood-Madison offensive arsenal.
A familiar foe awaits the Rams, Toledo Catholic Central. This will be the fifth playoff meeting between the schools in the last six years. The Irish hold a 3-1 advantage on those tilts. Their first win was against Trotwood-Madison in the 2012 Division II state title game behind Deshone Kizer, who is now the starting quarterback for the Cleveland Browns. The other three contests have all been in the Division III state semi-final round with the Rams winning last year's battle, 36-0.
Chaminade Julienne 7-0-7-0-14
Trotwood-Madison 14-3-13-14-44
T: Hargrove 6 run (Mims kick)
T: Stephens-Peppers 1 run (Mims kick)
C: Bell 7 run (Bridget kick)
T: Mims 23 FG
C: Downing 14 pass from Peltier (Bridget kick)
T: Daniels 62 pass from Stephens-Peppers (Mims kick)
T: Hargrove 22 run (kick failed)
T: Latimer 24 run (kick failed)
T: Daniels 22 pass from Stephens-Peppers (McDaniel pass from Stephens-Peppers)
RECORDS: Chaminade Julienne (9-4): Trotwood-Madison (13-0)
UP NEXT: Trotwood-Madison vs Toledo Catholic Central (11-2) at Alexander Stadium, Purk Field, Piqua HS