Wyoming Reaches 12 Wins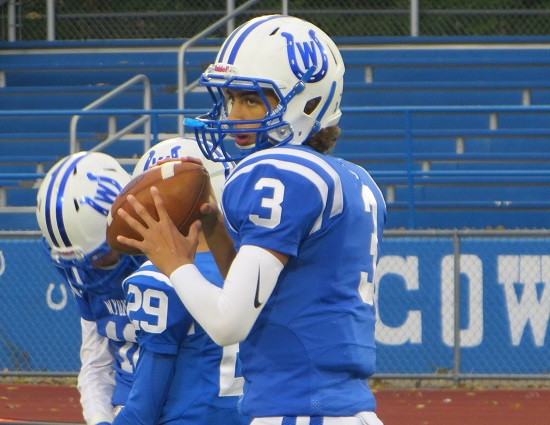 Wyoming remained perfect with a 25-0 defeat of Cincinnati Hills league rival Indian Hills on a cold Friday night in Hyde Park.
This was the second meeting in three weeks between the two teams. In the last meeting the Cowboys allowed 24 points, but this time the defense dominated the Braves. Indian Hill was in a lot of third-and-long situations and Cole Dein was intercepted three times. This was the fourth straight shutout, and is only allowing just over eight points a game.
After a scoreless first quarter, Wyoming opened the scoring on a one-yard run by Pierson Rogers in the second quarter. The Cowboys defense was responsible for the next set of points when Dien took a shotgun snap in the endzone. He was sacked and fumbled and fortunately for the Braves the football rolled out of bounds in the endzone for a safety making the score 9-0.
Following the free kick, Wyoming put together a 63-yard drive that was capped off a three-yard touchdown run by Rogers to take a 16-0 lead into halftime. Wyoming outgained Indian Hills, 158-39 in the first half.
This is the Cowboys second straight trip to the regional final after losing to Alter in 2016. This time they will face Clinton Massie next Friday night, who upset the top seed Valley View.
Indians Hills only lost three games this season, two to Wyoming and CHCA. Both teams were playoff teams. After forcing eight turnovers in last week's first round game in the 47-22 win against Taft, the Braves could not pressure the Cowboys offense, and help shorten the field for the offense. The offense was also handcuffed and Wyoming was able to contain Dien and CHL leading rusher  Tennyson Holmes. Both combined for five touchdowns in the Week 10 showdown.