TSF Cincinnati Team of the Year: Winton Woods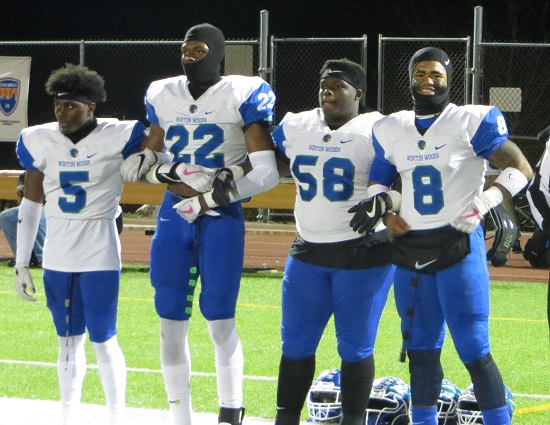 2017 Winton Woods captains: Q. Smith(5); C. Oats(22); M. Chapman(58) & K. Mayberry(8) (photo by Greg Shoemaker/TriStateFootball.com)
Life as an independent hasn't always been easy for Winton Woods. Scheduling nightmares have made it rough for the Warriors. They were able to overcome those obstacles in 2017 with a great run that ended up in a Division II state runner-up finish.
A one-point overtime loss to Elder was the only thing that kept Winton Woods (13-2) from an undefeated regular season. The last six of those contests were against catholic/private schools including three from the GCL South. It was a grueling trek but people had taken notice at what the Warriors accomplished during the course of the year.
The playoffs came around and everyone was anticipating a regional final rematch against three-time reigning state champs, La Salle.  In Week 5, Winton Woods beat the Lancers on their own turf, 18-15. The postseason affair came to fruition. The Warriors got a last second game-winning field goal from Yeri Velasquez for a 16-14 victory over La Salle and a regional crown.

There was no let down the following week as Winton Woods crushed former La Salle head coach Nate Moore and his Massillon Washington team, 56-21. That put the Warriors in the state title game for the second time in program history. The run stopped there as Archbishop Hoban took control of the championship game and Winton Woods played catch up all night long in a 42-14 loss. It was no shame to lose to Hoban who captured its third straight state title (the two previous were in Division III). Still, Winton Woods' merits has earned them the 2017 TriStateFootball.com Cincinnati Team of the Year.

This was the 10th playoff appearance for the program (state champions in '09) and first since '13. Winton Woods won its second regional title. The Warriors are 14-9 all time in OHSAA postseason affairs.

Head Coach Andre Parker was named the '17 OPSWA Ohio Division II coach of the year. In his eight seasons at Winton Woods his teams have compiled a 60-29 record.
There were many players who garnered big time recognition. At the top of the list was the OPSWA Division II defensive player of the year, senior Cris Oats. He was also named First Team All-Ohio. Classmates QB Kenny Mayberry was named Second Team All-Ohio, OL Maurice Chapman, DB Quinn Smith as well as junior ATH Rae'Quan Prince and sophomore RB Miyan Williams all garnered Honorable Mention acclaim.
Mayberry racked up 2,582 yards of total offense (2,198 passing, 384 rushing) and accounted for 31 touchdowns (18 passing, 13 rushing). Young Williams ran for 1,599 yards and found the end zone 16 times.
All of the aforementioned players were also OPSWA First Team All-Southwest District selections. Senior LB Markief White was named Second Team All-Southwest District. Even though he didn't come away with any honors senior Cornell Beacham amassed a team high 2,050 all-purpose yards with 15 touchdowns.
Join us as we recognize Winton Woods, Team of the Year winners from Kentucky, Indiana, Dayton, Player of the year finalists from all of those areas, TSF Player of the Week winners and all members of the 2017 Postseason All-TSF squad as they will be recognized at our upcoming TSF Year in Review Show on Monday, February 19th at The Holy Grail – Banks in downtown Cincinnati.
TriStateFootball.com was founded in 2005 and started its postseason awards for Cincinnati in 2007. This is the second time that Winton Woods has been named the TSF Cincinnati Team of the Year.
2017 – Winton Woods
2016 – La Salle
2015 – La Salle
2014 – La Salle
2013 – Loveland
2012 – Moeller
2011 – Kings
2010 – McNicholas
2009 – Winton Woods
2008 – Elder
2007 – St. Xavier