TSF Dayton Team of the Year: Trotwood-Madison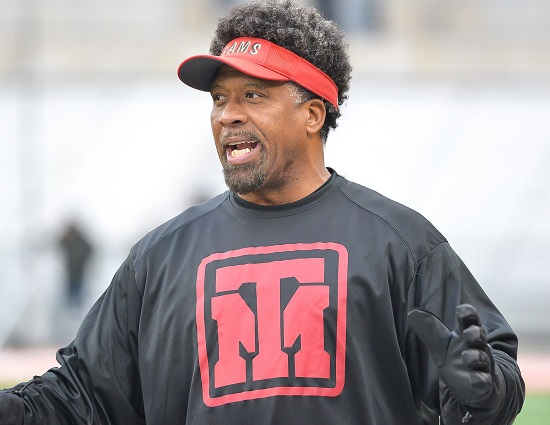 Trotwood-Madison head coach Jeff Graham (photo by Mike Noyes/TriStateFootball.com).
Trotwood-Madison survived 190 penalty yards to beat Tri-Valley, 27-19 and win the 2017 Division III state title.  The quest for perfection wasn't always a thing of beauty but the Rams merits are not to be denied.
Trotwood-Madison (15-0) can make a legitimate argument for being Ohio's best team. The Rams went on the road and handed Division I state champion, Pickerington High School Central its only loss of the year, 28-19. They beat seven teams that won at least eight games by an average of 26.1 points. All of that work has led to Trotwood-Madison being named the 2017 TriStateFootball.com Dayton Team of the Year.
The state championship was the second for the program (won in 2011) and its seventh appearance in the finale. Trotwood-Madison has also established itself as a force in the playoffs having won eight consecutive regional titles. They have 24 consecutive victories in first, second and third round playoff games since '09. The Rams are 37-11 all time in OHSAA postseason affairs.

In his four seasons at the helm, head coach Jeff Graham has compiled a 49-8 record. His squads are a combined 15-3 in the playoffs. He was named the '17 OPSWA Ohio coach of the year.

Trotwood-Madison was explosive in all phases of the game. The offense topped the 40-point mark, 11 times. They had a streak of six straight games in which they lit the scoreboard up for at least 56 points or more including averaging 68.2 in the last four of those contests. The Rams average margin of victory was 35.7 points per game (47.9 to 12.2). The offense tallied 97 touchdowns (55 rushing, 42 passing).
There were many players who garnered big time recognition. At the top of the list was the OPSWA Division III co-offensive player of the year, senior Ra'veion Hargrove who ran for 2,624 and 30 touchdowns. He finished his career with 7,354 and 90 touchdowns rushing in a Rams uniform.
Joining Hargrove as an OPSWA First Team All-Ohio selection was junior DE Kennedy Coates. Pass rush specialist, Coates recorded 25.5 sacks on the season.
Second Team All-Ohio member, senior QB Markell Stephens-Peppers threw for 2,348 yards with 36 touchdown passes (on 108 completions) and only four interceptions. He had another 433 yards and eight scores rushing.  His classmates OL Jaison Williams and LB James Parker were Third Team All-Ohio picks. Senior WR Dallas Daniels along with juniors DL Jayvanare Nelloms and DB Taron were Special Mention honorees. Daniels caught 66 passes for 1,218 yards and 20 touchdowns.
All of the aforementioned players were also OPSWA First Team All-Southwest District selections. Seniors ATH William McDaniel, DL Joshua Jordan were named Second Team All-Southwest District. McDaniel starred in the state title game scoring three times with 143 yards rushing and another 63 receiving. He amassed 1,575 all-purpose yards (781 receiving, 45 3 rushing) and found the end zone 17 times in his final campaign.

Join us as we recognize Trotwood-Madison, Team of the Year winners from Kentucky, Indiana, Cincinnati, Player of the year finalists from all of those areas, TSF Player of the Week winners and all members of the 2017 Postseason All-TSF squad as they will be recognized at our upcoming TSF Year in Review Show on Monday, February 19th at The Holy Grail – Banks in downtown Cincinnati.
TriStateFootball.com was founded in 2005 and started its postseason awards for Dayton in 2009. This is the second time that Trotwood-Madison has been named the TSF Dayton Team of the Year.
2017 – Trotwood-Madison
2016 – Wayne
2015 – Wayne
2014 – Wayne
2013 – Clinton-Massie
2012 – Clinton-Massie
2011 – Trotwood-Madison
2010 – Wayne
2009 – Alter