TSF Kentucky Team of the Year: Covington Catholic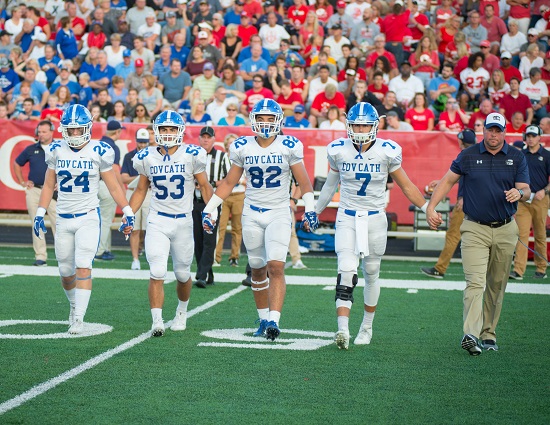 From start to finish it was as season of total domination for Covington Catholic (15-0). The Colonels capped off a perfect 2017 campaign by beating Madison Southern 49-13 to win the Class 5A state title. That performance has earned CovCath the 2017 TriStateFootball.com Kentucky Team of the Year.
It was the seventh championship for Covington Catholic and first since '06. The Colonels also won titles in '97, '94, '93, '88 & '87.
For head coach Eddie Eviston, this is his third ring in six seasons at the helm. He won championships with Newport Central Catholic in '12 and '10. Eviston raises his record to 29-12 in three years at CovCath and 64-20 overall.
Just how good were the Colonels on the field? The offense topped the 40-point mark, 12 times including in each of their last eight. They never scored less than 30 points in a contest. Covington Catholic's average margin of victory was 27.5 points per game (45.3 to 7.8). All 15 of CovCath's victories were by at least 21 points.
Individual performances also garnered recognition. Senior QB AJ Mayer was named the KFCA (Kentucky Football Coaches Association Class 5A, District 5 Player of the Year for a second straight season. Mayer threw for 3,114 yards with 40 touchdown passes and only three interceptions. He had another 451 yards and 14 scores rushing. Mayer and his classmate TE/LB Kam Butler will suit up for the Miami Redhawks next fall.
The combination of WR Jack Coldiron and WR Malachi Pike was lethal. They combined for 69 receptions, 1,378 yards and 20 touchdowns. The hard-nosed style of RB Casey McGinness churned out 1,418 yards with 22 trips to the end zone.
Mayer and Butler were named Louisville Courier Journal First Team All-Kentucky. Honorable Mention CJ all-state selections also included seniors WR Pike, LB Grant Dyer, junior OL Carter Black and sophomore DL Michael Mayer. All of those players as well as teammates ATH Coldiron, OL Grant Hemmer, DL Jack Maile and DB Adam Schneider were also named First Team All-NKY. McGinness earned Second Team All-NKY honors.
Join us as we recognize Covington Catholic, Team of the Year winners from Dayton, Indiana, Cincinnati, Player of the year finalists from all of those areas, TSF Player of the Week winners and all members of the 2017 Postseason All-TSF squad as they will be recognized at our upcoming TSF Year in Review Show on Monday, February 19th at The Holy Grail – Banks in downtown Cincinnati.
TriStateFootball.com was founded in 2005 and started its postseason awards for Kentucky in 2007. This is the first time that Covington Catholic has been named the TSF Kentucky Team of the Year.
2017 – Covington Catholic
2016 – Beechwood
2015 – Simon Kenton
2014 – Highlands
2013 – Simon Kenton
2012 – Highlands
2011 – Highlands
2010 – Newport Central Catholic
2009 – Highlands
2008 – Highlands
2007 – Highlands