Coates sacks his way to the 2017 TSF Dayton DPOY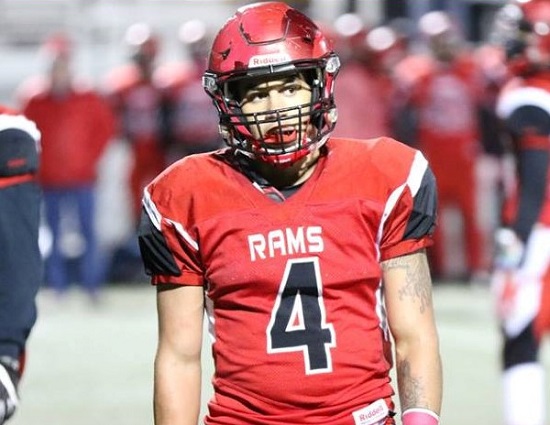 Trotwood-Madison DE Kennedy Coates (photo courtesy of ScoutingOhio.com)
It almost seems unfathomable a player could end up with 25.5 sacks in a season but that just what Trotwood-Madison junior defensive end Kennedy Coates accomplished last fall. He was named the 2017 TriStateFootball.com Dayton Defensive Player of the Year as TSF paid tribute to finest from Cincinnati, Northern Kentucky, Dayton and Southeast Indiana area's high school gridiron at the Year in Review Show on Monday night at the Holy Grail, downtown Cincinnati. The Rams finished the year a perfect 15-0 and Division III state champions.
Coates was also named Division III First Team All-Ohio, Southwest District and GWOC American South Defensive Player of the Yea.  He was a catalyst for a Trotwood-Madison defense that only gave up 12.2 points per contest including just 11.0 per game during the regular season.
Other finalists included six seniors – Logan Hannah (Valley View), Alex Reigelsperger (Wayne), Dawson Martin (Belmont), Alden Simms (Alter), Payton Standifer (Springboro), John Wehrkamp (Troy) and junior Max Wynn (Centerville).
TriStateFootball.com was founded in 2005 and started its postseason player awards for Dayton in 2009. This the fifth time overall the Rams have taken home the award. Here is the list of winners of this award all-time:
2017 – Kennedy Coates (Trotwood-Madison)
2016 – Kobe Vinegar (Trotwood-Madison)
2015 – Tobias Gilliam (Wayne)
2014 – Kei Beckham (Trotwood-Madison)
2013 – Vayante Copeland (Thurgood Marshall)
2012 – Mike McCray (Trotwood-Madison)
2011 – Mike McCray (Trotwood-Madison)
2010 – Trey DePriest (Springfield)
2009 – Cody Byers (Alter)