TSF toasts Oats, the 2017 Cincy DPOY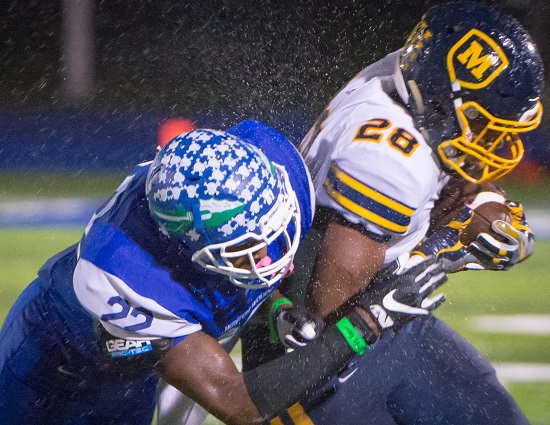 Winton Woods LB Chris Oats (22) (photo by Mitchell Cooke/TriStateFootball.com)
It was a grand evening for Winton Woods linebacker Cris Oats who was named the 2017 TriStateFootball.com Cincinnati Defensive Player of the Year as TSF paid tribute to the finest from Cincinnati, Northern Kentucky, Dayton and Southeast Indiana at its Year in Review Show on Monday night at the Holy Grail – Banks, downtown Cincinnati. The Warriors finished the season 13-2 and the Division II state runner-up. Oats was the tone setter for the defense.
A disruptive force, Oats was also named the Ohio Division II Defensive player of the Year. He is "the most gifted player I have ever seen," Winton Woods head coach Andre Parker stated. Oats will continue his career at the University of Kentucky.
Other finalists included seniors Daniel Bolden (Colerain/Toledo), Ja'von Hicks (Colerain/Cincinnati), Luke Richardson (Clinton-Massie) and Malik Vann (Fairfield/Cincinnati) along with juniors Thomas Kiessling (St. Xavier), Ryan Mullaney (Moeller) and Jarred Uran (La Salle).
TriStateFootball.com was founded in 2005 and started its postseason awards in 2007. Oats become the second Warriors player to win the award. Here is the list of winners of this award all-time:
2017 – Cris Oats (Winton Woods)
2016 – Kyle Bolden (Colerain)
2015 – Kyle Bolden (Colerain)
2014 – Elijah Taylor (Moeller)
2013 – Sam Hubbard (Moeller)
2012 – Shane Jones (Moeller)
2011 – Adolphus Washington (Taft)
2010 – Steven Daniels (St. Xavier)
2009 – Marcus Rush (Moeller)
2008 – Chris Williams (Winton Woods)
2007 – Brandon Mills (Colerain)