Wolf howls to 2017 TSF Cincy OPOY honors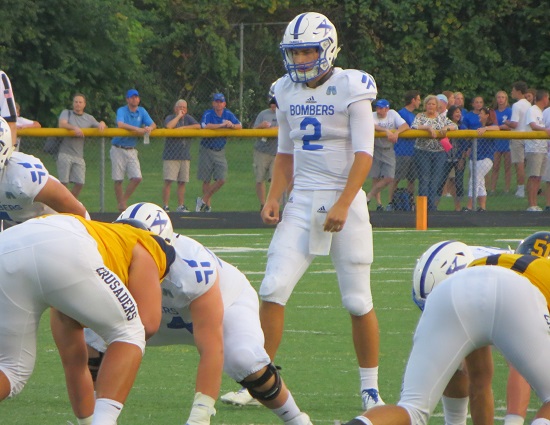 St. Xavier QB Chase Wolf (photo by Greg Shoemaker/TriStateFootball.com
The clutch performances that St. Xavier (11-2) quarterback Chase Wolf turned in each week against one of the nation's most trying schedules earned the admiration and respect of everyone this past fall. For his efforts Wolf was named the 2017 TriStateFootball.com Cincinnati Offensive Player of the Year as TSF paid tribute to the finest from Cincinnati, Northern Kentucky, Dayton and Southeast Indiana at its Year in Review Show on Monday night at the Holy Grail – Banks, downtown Cincinnati.
Wolf threw for 2,538 yards with 27 touchdown tosses (another four rushing) and just three interceptions as the Bombers swept their GCL South rivals and finished as the Regional runner-up in Division I, Region 4. He threw at least one touchdown passes in all 13 games versus a schedule that ended the year with a combined .636 winning percentage (91-52). That body of work also earned him First Team All-Ohio, Southwest District Offensive Player of the Year and Greater Catholic League South Athlete of the Year honors.
It's off to Madison for Wolf who will continue his career at Wisconsin. He finishes at St. Xavier with 3,859 yards passing, 42 passing touchdowns, 212 yards rushing and seven rushing touchdowns.
Other Cincinnati OPOY finalists included four seniors – Xavier Johnson (Summit Country Day), Kenny Mayberry (Winton Woods), Matt Sora (Mason) Jay Volpenhein (Anderson), juniors Josh Anderson (New Richmond), Pierson Rogers (Wyoming) and sophomore Miyan Williams (Winton Woods). This was the second finalist selection for Volpenhein.
TriStateFootball.com was founded in 2005 and started its postseason awards in 2007. Wolf is the first St. Xavier player to be named the TSF Cincinnati Offensive Player of the Year. He is also the third winner in the last four years to go on to play at a Big 10 school – Bonner (Illinois) and Larkin (Northwestern).
2107 – Chase Wolf (St. Xavier)
2016 – Ra'Von Bonner (Sycamore)
2015 – David Montgomery (Mount Healthy)
2014 – Jeremy Larkin (LaSalle)
2013 – Gus Ragland (Moeller)
2012 – Greg Simpson (Sycamore)
2011 – Jalin Marshall (Middletown)
2010 – Tyler Williams (Colerain)
2009 – Dominique Brown (Winton Woods)
2008 – Mark Miller (Elder)
2007 – Elijah Story (Anderson)