Orschell shines as the 2017 TSF Indiana OPOY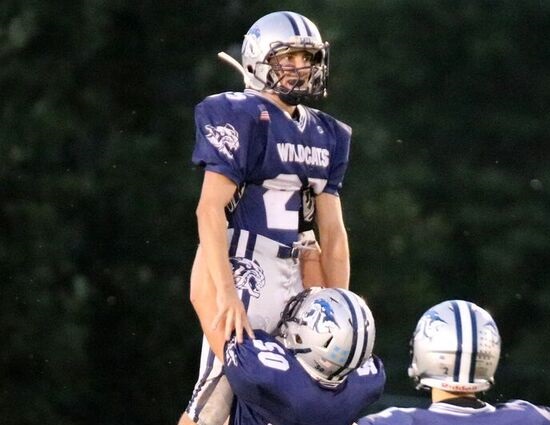 Franklin County RB Mitchell Orschell (photo by Linda Lyness Maxwell)
His play was out of this world with jaw-dropping runs and astonishing statistics as no one could slow down Franklin County running back Mitchell Orschell. The breakout senior campaign led to Orschell being named the 2017 TriStateFootball.com Indiana Offensive Player of the Year as TSF paid tribute to the finest from Cincinnati, Northern Kentucky, Dayton and Southeast Indiana at its Year in Review Show on Monday night at the Holy Grail – Banks, downtown Cincinnati.
Orschell ran for 2,654 yards, averaged 9.5 yards per carry, 241.3 yards rushing per game, amassed 3,139 all-purpose yards, scored 41 touchdowns (38 rush) and tallied 262 points in 11 games. Eight times he ran for at least three touchdowns. Eight times he ran for 200 yards or more and 10 times he accrued 230 all-purpose yards. He had a night to remember against Greensburg with 431 yards and six touchdowns on the ground.
This is it for Orschell on the field. He is hanging up his cleats to serve our country. Orschell is currently planning to enroll in the U.S. Military/Air Force Division.
TriStateFootball.com was founded in 2005 and started its postseason awards for Indiana Offensive Player of the Year in 2010. Orschell becomes the first player from Franklin County to win the award. Here the list of winners of this award all-time:
2017 – Mitchell Orschell (Franklin County)
2016 – Austin Bowling (Lawrenceburg)
2015 – Luke Patton (East Central)
2014 – Luke Patton (East Central)
2013 – Sam Fette (Lawrenceburg)
2012 – Chad Banschbach (Lawrenceburg)
2011 – Chad Banschbach (Lawrenceburg)
2010 – Connor Kelley (Batesville)