Hargrove hailed as TSF 2017 Dayton OPOY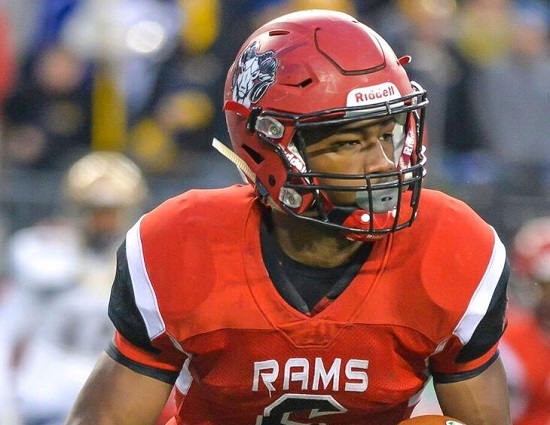 Trotwood-Madison RB Raveion Hargrove (photo by Mike Noyes/TriStateFootball.com).
It was a fitting end to a wonderful career for Trotwood-Madison running back Raveion Hargrove who was named the 2017 TriStateFootball.com Dayton Offensive Player of the Year as TSF paid tribute to the finest from Cincinnati, Northern Kentucky, Dayton and Southeast Indiana at its Year in Review Show on Monday night at the Holy Grail – Banks, downtown Cincinnati. In the history of the TriStateFootball awards it's Hargrove who becomes the first ever three-time finalist nominee.  This time he earns the big hardware.
The senior was the focal point of a high-powered Rams offense that averaged 47.9 points per game and scored 97 touchdowns on the way to the Ohio Division III state title and a perfect 15-0 record. Hargrove paced the squad with 2,264 yards rushing along with 12 receptions for another 240 yards and 34 touchdowns (30 rush, four rec). That effort also earned him Division III Ohio Co-Offensive Player of the Year honors.
He finishes his career with Finishes his career with 7,354 yards and 90 touchdowns rushing. Hargrove has signed to play with Bowling Green next fall.
Other finalists included six seniors – Isaiah Bowser (Sidney), Alec Grandin (Centerville), Devin Kenerly (Northmont), L'Christian "Blue" Smith (Wayne) Markell Stephens-Peppers (Trotwood-Madison), Tavion Thomas (Dunbar) as well as junior John Bivens III (Alter).
TriStateFootball.com was founded in 2005 and started its Dayton postseason awards in 2009. Hargrove becomes the third Rams running back to win the award. Here the list of winners of this award all-time:
2017 – Raveion Hargrove (Trotwood-Madsion)
2016 – Ryan Montgomery (Franklin)
2015 – Elijah Cunningham (Springboro)
2014 – D'Mitrik Trice (Wayne)
2013 – Bayle Wolf (Clinton-Massie)
2012 – Bayle Wolf (Clinton-Massie)
2011 – Israel Green (Trotwood-Madison)
2010 – Braxton Miller (Wayne)
2009 – Antwan Gilbert (Trotwood-Madison)