Mayer honored as the TSF 2017 Kentucky OPOY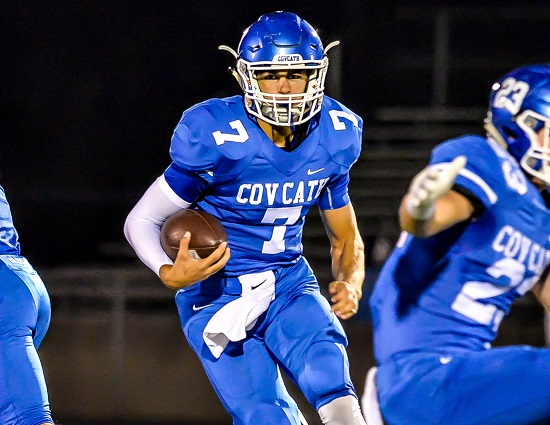 Covington Catholic QB AJ Mayer (photo by Mike Noyes/TriStateFootball.com)
More honors were bestowed on Covington Catholic quarterback AJ Mayer who was named the 2017 TriStateFootball.com Kentucky Offensive Player of the Year as TSF paid tribute to the finest from Cincinnati, Northern Kentucky, Dayton and Southeast Indiana at its Year in Review Show on Monday night at the Holy Grail – Banks, downtown Cincinnati.
The senior was incredibly dominant for the Colonels who went undefeated, 15-0 winning the Class 5A state championship. The title was the seventh in school history and first since 2006.
Mayer threw for 3,114 yards with 40 touchdown passes and only three interceptions in '17. He had another 451 yards and 14 scores rushing. Those numbers led to a second KFCA Class 5A, District 5 Player of the Year selection and First Team All-Kentucky honors. In his three years as a starter Mayer amassed 9,188 yards of total offense (7,583 pass, 1,605 rush) and accounted for 110 touchdowns (77 pass, 33 rush). He has signed with Miami (OH).
The other six Kentucky Offensive Player of the Year finalists were all seniors – Justin Blackburn (Ludlow), Jake Chisolm (Ryle), Alex Dowds (Campbell County), Jordan Fann (Lloyd) , AJ Mayer (CovCath) , Daniel Mescher (Beechwood) and Matt Shearer (Simon Kenton). It was the second finalist nomination for Mayer, Chisolm and Blackburn (Defensive POY finalist in '16).
TriStateFootball.com was founded in 2005 and started its postseason awards in 2007. Mayer is the 11th player to win the award and second Colonel to do so. Here the list of winners of this award all-time:
2017 – AJ Mayer (Covington Catholic)
2016 – Dante Hendrix (Cooper)
2015 – Dillon Powell (Simon Kenton)
2014 – Drew Moore (Dixie Heights)
2013 – Brenan Kuntz (Simon Kenton)
2012 – Blake Bir (Covington Catholic)
2011 – Patrick Towles (Highlands)
2010 – Patrick Towles (Highlands)
2009 – Miles Simpson (Simon Kenton)
2008 – Miles Simpson (Simon Kenton)
2007 – Corey Farris (Boone County)