Parris named TSF Indiana DPOY again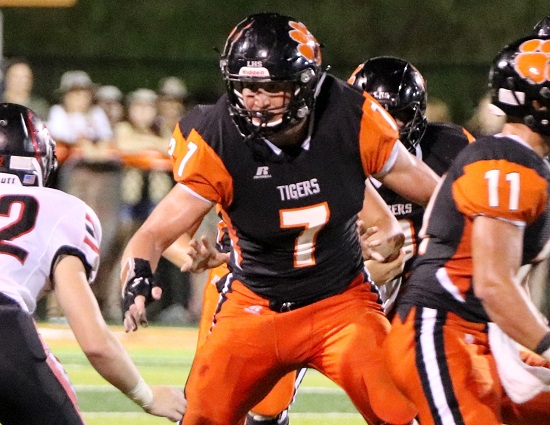 Lawrenceburg LB Mason Parris (photo by Linda Lyness Maxwell)
There was one last football honor for Lawrenceburg senior linebacker Mason Parris. For a second straight year, the Tigers star was named the TriStateFootball.com Indiana Defensive Player of the Year as TSF paid tribute to the finest from Cincinnati, Northern Kentucky, Dayton and Southeast Indiana at its Year in Review Show on Monday night at the Holy Grail – Banks, downtown Cincinnati.
Parris was the anchor of a defense that helped Lawrenceburg go 11-2 and win a second straight sectional championship. He finished the season with 151 total tackles (81 solo), 6.0 sacks, 16.0 TFL's, four fumble recoveries and one interception. On offense he ran for 333 yards and found the end zone nine times. That work also earned him a second Class 3A All-Indiana and EIAC 3A Defensive Player of the Year selection.
It was an incredible career for Parris. He tallied 612 total tackles (302 solo), recorded 17.0 sacks, registered 61.5 tackles for losses, forced 10 fumbles and had 21 takeaways (five interceptions, 16 fumble recoveries) in a Tigers uniform. He arguably the best defensive player to ever come out of the Eastern Indiana Athletic Conference.
The cleats will come off for Parris in college who just won his third straight IHSAA state championship in wrestling at the 220-pound weight class. Parris is taking that talent to Ann Arbor where he has earned a scholarship to wrestle for the Michigan Wolverines.
TriStateFootball.com was founded in 2005 and started its postseason awards for Indiana Defensive Player of the Year in 2011. Here the list of winners of this award all-time:
2017 – Mason Parris (Lawrenceburg)
2016 – Mason Parris (Lawrenceburg)
2015 – Hunter Armstrong (East Central)
2014 – Seth Williamson (Batesville)
2013 – Colin Brown (Batesville)
2012 – Payton Stonefield (East Central)
2011 – Payton Stonefield (East Central)