Many M.I.A. at GMC Signing Day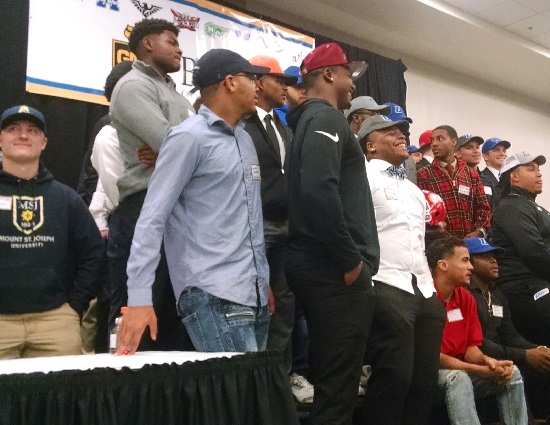 There were some noticeable faces missing at the Greater Miami Conference National Signing Day ceremony on Tuesday afternoon. For the first time in history, high school football players had the opportunity to sign their National Letter of Intent (NLI) early this past December, right before Christmas. Many of the high profile recruits took advantage of that opportunity to get it behind them and to enroll for the spring semester at their chosen universities.
The impact of that was really felt at the GMC event. There was no representation from Colerain including top recruits Dan Bolden (Toledo) and Ja'Von Hicks (Cincinnati). Fairfield studs Jack Carman (Clemson) and Malik Vann (Cincinnati) were also no-shows who signed NLI's back in December. The Princeton contingent which included Cecil Singleton (Miami-OH) were not attendance. Still the conference along with Beacon Orthopedics and Sports Medicine put on one of the best and classiest NSD ceremonies in the country. Despite the notable omissions the afternoon still had wonderful highlights.
Lakota West star, Xavier Peters (Florida State) who did not sign early parlayed a postseason Under-Armour All-American game performance into an even bigger opportunity as he will continue his career in Tallahassee. He was the most sought after recruit at the ceremony, graciously and gleefully answering every media request for an interview. Peters' teammate Tyler Bentley (Pittsburgh), Mason's Eric Miller (Purdue), Matt Sora (Indiana State) and 2017 First Team All-TSF member from Sycamore, Tate Goodyear (Yale) were among those who also shared in the spotlight.
Find out where everyone is headed with our: TriState Football Class of 2018 RecruitingTracker