EIAC Has Strength And Stability Under Center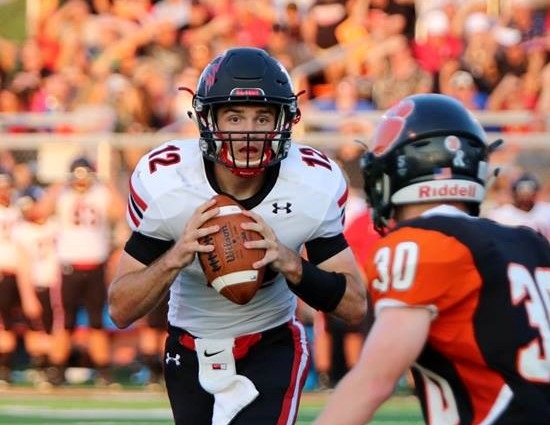 East Central QB Alex Maxwell (photo by Linda Lyness Maxwell)
Seven of the eight teams in the Eastern Indiana Athletic Conference will return their starting quarterbacks in 2018. In a league that is on the rise, the EIAC is showcasing some of the best signal callers that the Hoosier state will see at the Class 4A and 3A levels this upcoming season. Friday night football in Southeast Indiana will be well worth the price of admission.
Three of those EIAC quarterbacks will be playing for new head coaches including Alex Maxwell of East Central, the reigning Class 4A state champions. Maxwell was named to the IFCA Class 4A junior All-State team after the Trojans championship run last fall. In his three years as a letterman (two years and 23 wins as the starting quarterback) East Central has gone 15-2 in the playoffs.
Just before his departure, former head coach Justin Roden had these high praises for Maxwell. "Alex will go down in East Central history as one the all-time greats. He is the model for who we are as a program. He is unselfish, humble and all about the team. His maturity goes well beyond his age." Maxwell heads into his senior campaign having amassed 4,159 yards of total offense (1,552 pass, 2,607 rush) while accounting for 54 touchdowns (15 pass, 39 rush). He is also looking for his third straight season of 1,000 yards or more on the ground. In the top 10 of his class academically Maxwell wants to study engineering in college.
Also playing for new head coaches will be Brady Bogan at Franklin County (Wes Gillman) as well as Mason Springman at Rushville (Dan Rector). Bogan was rock solid in his first year under center throwing for throwing for 1,198 yards with 12 touchdowns tosses and five rushing scores as a sophomore in '17. He should flourish in Gillman's multiple formation, spread offense.
"Brady is a leader.  He is the first one on the practice field and the last one to leave.  He has great accuracy and throws a nice ball.  This year, we will look for him to be more of a vocal leader on the field.  He has also gotten a lot stronger and a lot faster.  His arm strength has really improved, and he will be a true dual threat this season running the ball," Gillman chimes.
This will be the fourth season as the Rushville starter at quarterback for Springman. He has thrown for 2,327 yards and 21 touchdowns in a Lions uniform. "Mason brings a lot to the table for us at Rushville. He is a multi-year starter and those kids usual find that the game slows down for them in their senior year. You really see that in the decisions they make. Mason has a good arm, is accurate and a good runner as well.  He's one of those multi-sport athletes that has learned to compete and make plays under pressure. I am very excited to see what this season holds for him," Springman's new head coach, Dan Rector states.
Also back is the reigning EIAC Class 3A MVP, Trey Heidlage of Batesville. All Heidlage did as a junior was throw for 1,863 yards, run for 1,278 yards and account for 34 touchdowns (16 pass, 18 rush). He was also named to the IFCA Class 3A junior All-State team and was a Honorable Mention AP Class 3A All-Indiana selection as a defensive back.
"What separates Trey from most athletes that I have ever coached is that the team is always his number one focus. I have never coached a young man who was as invested in others as Trey. He wants to see others succeed and help if they fail or are in times of adversity. His compassion for others is what results in his teammates absolutely loving him and willing to work harder to not disappoint Trey. Trey is the glue of the team on the field and in the locker room," Batesville head coach Evan Ulery boasts of his Bulldogs star.
"Trey's ability to read a defense (pre and post snap) has really elevated his game and the team.  He has and will continue to work harder this off-season understanding the defenses more clearly that he faces so that he can make sure the right person has the ball each play.  I place a lot of trust in Trey in what he sees pre and post snap.  As long as Trey continues to play at a high level and get better each day then our offense will be in position to score a lot of points in 2018," Ulery states.
"Trey is a phenomenal young man athletically and in the classroom.  He is a three-sport starter (football, basketball, and baseball). Trey leads by example and is respected highly among his peers, staff, and administration for his worth ethic, how he treats others, and his overall performance.  He ranks 7th in his class academically.  Overall, Trey is a leader of men in sports, but most importantly a leader of people as he displays this in the variety of extra-curricular and academic clubs that he is involved with," Ulery proudly says.
There have been very few highlights or things to cheer for South Dearborn fans in recent years. With 11 starters back on defense and nine on offense that all may be about to change for the Knights. One of the bright spots for South Dearborn was the emergence of sophomore Adam Dixon at quarterback last fall.
"Adam came on later in the year after our starter went down in Week 5. He is 6-foot-4, has a great arm and can run when needed. Adam has shown great leadership both on the field and off and we will look for him to carry that over in '18. This summer we will focus on Adam becoming more accurate with his passing and will utilize multiple receiver sets to help create space and give him the opportunity to get the ball in our receiver's hands. Adam has a lot of composure when in the pocket. His big frame allows him to see the field and make the correct decisions based on what he sees. Adam is also a standout pitcher for our baseball program," Knights head coach Rand Ballart states.
Two freshman Adam Kelly, Jr. from Connersville and Adam Burd at Lawrenceburg made their presence felt in '17. Adam Kelly, Sr. the head coach at Connersville wasted little time throwing his 6-foot-3, 180 pound son into the fire for the Spartans and thinks it will pay big dividends down the road. "Adam is a very smart football player with confidence, solid athletic attributes and positive leadership characteristics. He has been working very hard during the offseason to improve his throwing motion and of course working on improving his speed and strength. With the graduation of our entire backfield, minus the QB we will depend a lot on both his mental and physical capabilities. We see great potential with him as a player and are looking for him to have a breakout season in his second year as a starter," Kelly, Sr. says.
Burd split snaps with junior Austin Weimer for Lawrenceburg a year ago. He still managed to run for 576 yards and 10 touchdowns. As for Weimer he will move away from center as a senior. "Burd brings a wealth of knowledge and experience to the LHS Roster in '18. Adam had an exceptional freshman campaign and will be bigger, stronger and faster as a sophomore. Adam is an exceptional athlete who is very explosive and makes plays all over the field. He He is a natural leader who has full control and knowledge of our offense. The ball will be in his hands a lot," Tigers head coach Ryan Knigga states.
Burd will have competition again for snaps. Knigga says "incoming freshman Garrett Yoon will also be in the mix. Garrett is an exceptional athlete who has a huge upside as a true quarterback. He is a pure passer as well as an exceptional downhill runner. Yoon is a quarterback who can put the Tiger passing attack back in play. Both are good enough to help us win in '18! They are play makers and the good news is, they are young!"
The state of the EIAC is in good hands. Foundations have been and are being laid throughout the conference by these quarterbacks. The future and aspirations seem limitless for these signal-callers.