2018 Snapshot: Cooper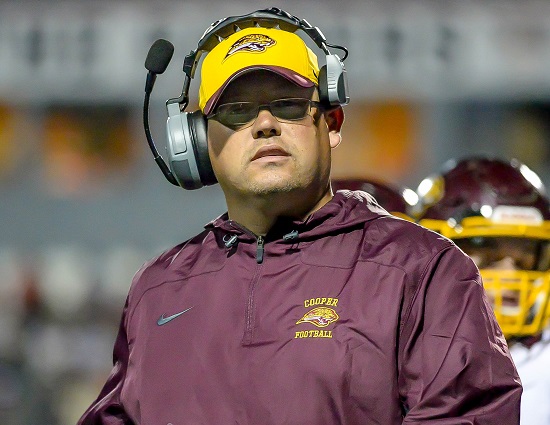 Cooper head coach Randy Borchers (photo by Mike Noyes/TriStateFootball.com)
After a disappointing 2017 season, the young Jaguars look to rebound this fall. Offensively, the Jags will return eight starters from last year's squad. The backfield went through growing pains in '17 but showed signs of being electrifying. Playing behind three returnees on the offensive line this should be an exciting and productive bunch of skills players.
On the defensive side of the ball, Cooper will return five starters on a unit that took some lumps early last season but played much better as the year went on. During the forgettable 0-7 start to '17 Cooper allowed 42.0 points per contest. They finished 2-2 and gave up just 24.75 points per game in that span. The Jaguars must do a better job of creating turnovers and getting that explosive offense back on the field.
Class 5A, District 5
2017 RECORD: 2-9, 1-2 Class 6A, District 5
COACH: Randy Borchers (58-59 at Cooper, 10 years, 65-71 overall, 12 years)
TOP RETURNEES
Michael Armour, Sr, WR/DB – Led the Jaguars in receiving with 18 catches for 287 yards and five touchdowns as a junior. He also ran for 107 yards, threw for 172 yards with two scoring tosses. On defense, Armour was in on 19 total tackles.
Michael Attabary, Sr, OL/ DL – Will start on both sides of the line. Attabary tallied 67 total tackles and 4.5 sacks as a junior. He is a three-year starter.
Jeremiah Lee, So, QB  – Expect a breakout year from Lee as the game should slow down for him. He threw for 503 yards, ran for 561 yards and accounted for 13 touchdowns ( seven pass, five rush, one rec) as a freshman.
Dillon Perry, Sr, WR/DB – Had three of Cooper's eight takeaways a year ago (two int, one fmbl rec) to go along with his 34 total tackles. Perry also had nine receptions for 102 yards.
Michael Spencer, Sr, OL/DL – Like Attabary will start on both sides of the line. He registered 29 total tackles with a sack in '17.
Anthony Whitchey, Jr, RB/DB – Has the potential to be a 1,000 yard rusher. Whitchey ran for 697 yards and five touchdowns as a sophomore. He also has 26 total tackles on defense.
Jayden Maynard, Jr, WR – Showed promise as a sophomore with 10 receptions for 99 yards and a touchdown.
Tyron Chipwelong, Jr, OL – Had a nice varsity debut as a sophomore and is back to start for a second season.

NEWCOMERS
Cooper will look for a trio of seniors to bring depth to the defense in DL Conner Bridges, DL Jacob Wenstrup and DB Gavin Floyd. Juniors DB Joe Poage, OL Brett Bush and LB Ethan Bosway will also get their shot at making an impact on Friday nights.
2018 SCHEDULE
Th – 8/17/18 at Highlands  7:00 PM
Fri – 8/24/18 NEWPORT CENTRAL CATHOLIC  7:30 PM
Fri – 8/31/18 COVINGTON CATHOLIC  7:30 PM
Fri – 9/7/18 at Campbell County  7:00 PM
Fri – 9/14/18 SIMON KENTON  7:30 PM
Fri – 9/21/18 BYE
Fri – 9/28/18 at Dixie Heights  7:00 PM
Fri – 10/5/18 at Ryle  7:00 PM
Fri – 10/12/18 BOONE COUNTY  7:30 PM
Fri – 10/19/18 CONNER   7:30 PM
Fri – 10/26/18 HENRY CLAY   7:30 PM
OH, TO BE 40 AGAIN
Cooper has not scored more than 40 points in their last 14 games dating back to '16. The Jaguars topped the 40 point mark six times in their first nine contests of '16.
**Special thanks to Garry Clark and his input into this Snapshot.