2018 Snapshot: Roger Bacon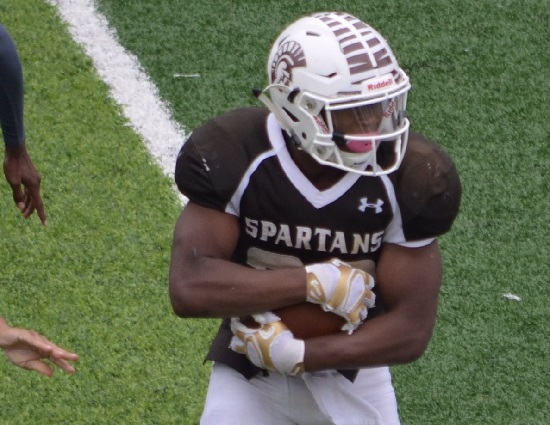 Size, speed, depth and experience has Roger Bacon in position to make a playoff run in 2018. All of those intangibles have Spartans head coach Mike Blaut all smiles. "We are very excited to begin this year. Our kids have worked extremely hard in the off season and enthusiasm is high for a great season."
Roger Bacon returns five first team and five second team All-Greater Catholic League Central honorees from '17. That includes one of the premier players in the Class of 2021, running back Corey Kiner. The offense promises to be highly entertaining.
With all of those players back it should lead to more consistency on both sides of the ball. The Spartans lost all six of their games last season by 13 points or more. They had five game losing streak a year ago in which the average margin of defeat was 27.0 points per contest. Three of those losses were to teams that made the postseason. The final piece of the puzzle for Roger Bacon in '18 will be to show that it can win in big games.
Division IV, Region 16
2017 RECORD: 4-6, 2-5 GCL Coeds
HEAD COACH: Mike Blaut (10-20 @ Roger Bacon, three years, 10-20 overall)
HONOR ROLL
Corey Kiner, So, RB/LB – Had one of the best freshman seasons the TriState has seen in a long time. Kiner ran for 1,226 yards, amassed 1,623 all-purpose yards and found the end zone 17 times (15 rush). He set the school record with 304 yards on the ground versus Western Hills. For the effort Kiner was named Division IV Honorable Mention All-Ohio and First Team All-Southwest District.
Mykael Carson, Jr, LB/RB – Emerged as a real force for the Spartans defense last fall. Carson registered 79 total tackles (44 solo) on his way to First Team All GCL Central (LB) honors.
Luke Byrd, Sr, P/K – A weapon on special teams, Byrd was named First Team All GCL Central (P) in '17. He also connected on 15/22 extra points and all three of his field goals.
Zach Kuhlman, Sr, WR/DB – Racked up 1,050 all-purpose yards on 54 touches on his way to First Team All GCL Central (WR) acclaim as a junior. A team captain, Kuhlman averaged 22.0 yards on 22 receptions with six trips to the end zone (five rec) in '17. He also has 58 total tackles in his career.
Nate Stark, Sr, RB/LB – The two-year captain was named First Team All GCL Central (DL) as a junior. Stark has seven sacks and three fumble recoveries over the last two seasons.
Ryan Blaut, Jr, WR/DB – A Second Team All GCL Central (DB) performer in '17. Blaut was in on 30 total tackles with a fumble recovery and two interceptions.
Tyler Bullock, Jr, QB – What a load to bring down under center. The 6-foot-2, 230 pound Bullock threw for 1,123 yards and nine touchdowns (only three interceptions on his way to Second Team All GCL Central honors as a sophomore.
Zuri Edmondson, Sr, WR/DB – The shifty Edmondson caught 21 passes for 265 yards and a pair of scores last season. He was a Second Team All GCL Central (WR) selection.
Zach Cappel, Sr, WR/DB – Like teammate Edmondson, Cappel was a Second Team All GCL Central (WR) pick in '17. He had 18 receptions for 189 yards and a touchdown.
James Thompson, Jr, OL/DL – Tallied 51 total tackles with 4.5 sacks and two forced fumbles as a sophomore. That effort earned him Second Team All GCL Central (DL) accolades.
OTHER RETURNEES
Dylan Polk, Sr, OL/DL – The 6-foot-3, 265 pound Polk is getting college looks from several D2 and D1AA schools. He has an offer from Urbana.
Thomas Curtis, Sr, OL/DL – One of several anchors on the o-line. This will be the 5-foot-11, 290 pound lineman's third year as a starter.
Jake Speed, Sr, WR/DB – A returning starter, Speed tallied 36 total tackles and picked off three passes as a junior.
NEWCOMERS
Keontay Dear, Jr, RB/WR – Injuries limited playing time for Dear as a sophomore. He should be an integral part of the offense in '18.
Brandon Tumlin, Sr, RB/WR/DB – Tumlin's speed will be a welcome addition to the secondary and backfield.
PLAYOFF HISTORY
(five appearances, 2-5) – 2010, 2005, 2001, 1998, 1997
2018 SCHEDULE
Fri – 8/24/18 READING  7:00 PM
Fri – 8/31/18 at Western Hills  7:00 PM
Fri – 9/7/18 at Huron  7:00 PM
Fri – 9/14/18 at Alter (at Fairmont/Rousch Stadium)  7:00 PM
Fri – 9/21/18 BADIN  7:00 PM
Fri – 9/28/18 CHAMINADE JULIENNE  7:00 PM
Fri – 10/5/18 at McNicholas  7:00 PM
Fri – 10/12/18 at Carroll  7:00 PM
Fri – 10/19/18 FENWICK  7:00 PM
Fri – 10/26/18 at Purcell Marian (at Walnut Hills/Marx Stadium)  7:00 PM

ENDING A DROUGHT
Last year's 21-13 win over Reading (8-4) in the opener was the Spartans first versus a team that finished the season over .500 since '11 (58 games). Roger Bacon beat North College Hill (8-3), 48-20 in Week 2 back in '11.
OFFENSIVE FIREPOWER
Roger Bacon returns players who accounted for 89.2% of its rushing yards, 94.7% of its rushing touchdowns, 76.7% of its receptions, 84.6% of its receiving yards and 90.0% of its receiving touchdowns in '17.