Schedule Sneak Peek: St. Xavier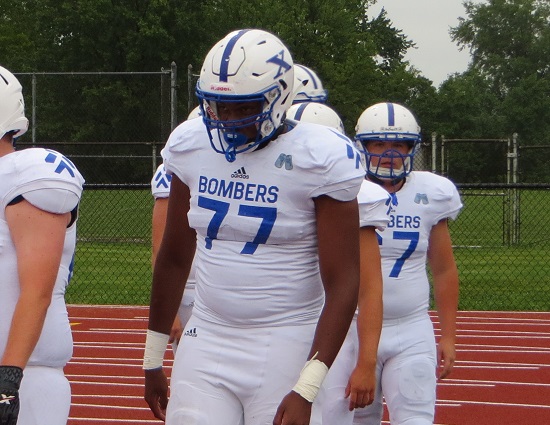 Talented St. Xavier OL Paris Johnson Jr. will have his hands full to start 2018. (photo by Greg Shoemaker/TriStateFootball.com)
The travel budget for St. Xavier is usually maxed out having to scour the country for games. Outside of Colerain, local teams avoid scheduling the Bombers because they fear the loss and its impact on playoff possibilities. Outside of their Greater Catholic League South tilts and Colerain this program logs tons of miles and hours on buses year after year. Traveling has become a given for St. Xavier.
This fall all that changes for the Bombers as they will play six schools from the Cincinnati area. The first three weeks gate St. Xavier will face some of the best defensive players in Cincinnati.
In the opener, stud DL Steve Faucheux, LB Daveed Jones and DB Jeremiah Ross will be going all-out versus a quarterback who will be making his first varsity start under center for X. This battle has all the ingredients for a Firebirds upset so the Bomber must make sure to man their stations.
Next up is Colerain. The Cardinals have a special group on defense and that is saying something. Remember the winner of this game doesn't always get the victory in the playoff rematch which seems to happen on a regular basis.
The atmosphere at Walnut Hills and Marx Stadium will be electric when X comes across town. Star DL Jowon Briggs will have a better supporting cast around him and could make life very difficult the Bombers offensive line.
All three GCL rivals are at the end of September and into the first week of October. This could be a good thing as St. Xavier's GCL South play will be wrapped up. The Bombers can then focus on what they need to do to make the playoffs over the final three contests.
The farthest trek that St. Xavier will make is a two-hour bus ride to Indianapolis to square off with Cathedral. Everything else is less than a half hour jaunt from campus. There are no trips to Cleveland or Louisville. Those schools come to Tom Ballaban Field to end the season.
Here is a look at the 2018 St. Xavier schedule:
Fri – 08/24/18 – vs Lakota West – TBD
Fri – 08/31/18 – COLERAIN – 7:00 PM
Fri – 09/07/18 – at Walnut Hills – 7:00 PM
Fri – 09/14/18 – at Cathedral (IN) – 7:30PM
Fri – 09/21/18 – MOELLER – 7:00 PM
Fri – 09/28/18 – at Elder – 7:00 PM
Fri – 10/05/18 – at La Salle – 7:00 PM
Fri – 10/12/18 – NORTH CLARKSON S.S. (ONT) – 7:00 PM
Sat – 10/20/18 – ST. IGNATIUS – 2:00 PM
Fri – 10/26/18 – ST. XAVIER (KY) – 7:00 PM
FINAL TAKE:  The lack of long road trips could be a large factor in November success for the Bombers. St. Xavier should be fresh, mentally rested and playing their best football by the time the postseason rolls around. Getting to the playoffs is a different story. The offense will need to show grit early on. The o-line must absorb blows and give them back, creating opportunities for the skills positions to make plays. There will be times when St. X offense will have its confidence rattled early on. Those are just growing pains. After the Colerain game the Bombers game will know what speed and sharpness to elevate to, the rest of the way.
The two road games at Elder and the La Salle are pivotal. The Bombers could make or break their season right here. Attention to detail is paramount. Many questions about St. Xavier's identity will be answered after those affairs.
The seniors have seven playoff wins (including one in the state championship) over the past two years. Their leadership is going to play a vital role in how this squad handles the adversity. When all is said and done Bombers fans are going to be pleasantly surprised by what this group gets accomplished.