2018 Snapshot: Franklin County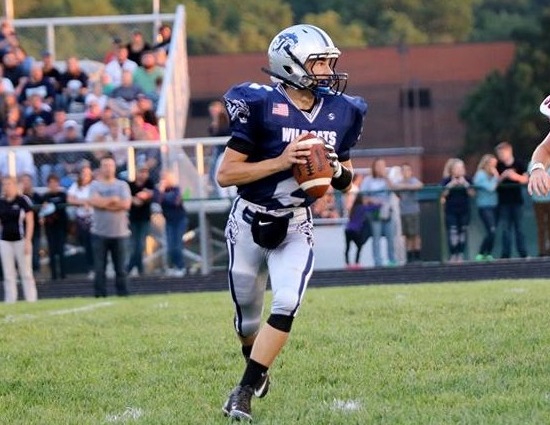 Franklin County QB Brady Bogan (photo by Linda Lyness Maxwell)
Get out your programs early and often in August as Franklin County will be loaded with new faces up and down the sideline. Starting at the top, the Wildcats will hand over the reins to former alum, Wes Gillman. The new head coach inherits a program that must replace nine starters from an offense that averaged 36.8 points. A decimated defense has six positions that need to be filled.

"We will be young and somewhat inexperienced at most positions. Specifically, the offensive line, where we graduated four of our five starters," Gillman says. "We do have a bunch of hard-nosed, blue collar kids who will work their tail off. I'm excited to get the first year underway."
Despite the lack of experience for Franklin County, Gillman is pleased that the roster is twice as large as last year's. That is a good sign. There is strength in numbers and it makes for excellent competition at practices. The Wildcats can overcome many of their flaws if they give Gillman max effort leading into the opener versus New Castle. This is a group that will get better as the season wears on.

Class 4A, Sectional 23
2017 RECORD: 6-5, 2-1 EIAC 4A Division
COACH: Wes Gilman (0-0 at Franklin County, first year; 14-23 overall, four years)

HONOR ROLL
Brady Bogan, Jr, QB – The leader of the Franklin County offense for the next two campaigns. Bogan had a bust out sophomore season throwing for 1,198 yards and accounting for 17 touchdowns (12 pass, five rush). He was named All-EIAC Class 4A for his efforts.
Robbie Parsons, So, NT – One of the rising stars in the EIAC's tremendously promising Class of 2021. Parsons recorded 56 total tackles with three-and-a-half sacks with a fumble recovery, on his way to Honorable Mention All-EIAC 4A accolades, in his varsity debut.
OTHER RETURNEES
Luke Moster, Jr, OG – A young Wildcats offensive line will look to Moster for guidance.
Cole Erfman, Sr, DE – Should benefit even more from Parsons' disruption in opposing backfields, playing together for a second year. Expect Erfman to be a very effective pass rusher for the Wildcats.

Tyler Woods, Sr, LB – Back for another year as a starter Woods was in on 21 total tackles and recovered a fumble as a junior.

Austin Bramer, Sr, WR/TE – Will be a weapon and a valuable asset on both sides of the ball. Bramer tallied 33 total tackles, came up with three takeaways (two int) and had four receptions for 77 yards in '17.
Adam Mohr, Sr, RB/LB – Registered 34 total tackles with a sack as a junior. Look for Mohr to play a bigger role on offense this fall.
NEWCOMERS
Gillman and his coaching staff hopes a trio of new faces in juniors WR Clayton Spurlock, RB/LB Cody Hurst and senior WR Jordan Floyd will add some explosiveness to the Wildcats cast of playmakers. This group will be in the middle of all the action on Friday nights.
PLAYOFF HISTORY
(40-29 overall)
Sectional Champions (5) – 1998, 1997, 1995, 1991, 1990
Regional Champions (3) – 1998, 1997, 1995,
State Runner Up (1) – 1995
2018 SCHEDULE
Fri – 8/17/18  NEW CASTLE  7:30 PM
Fri – 8/24/18  CONNERSVILLE  7:00 PM
Fri – 8/31/18  at Rushville  7:00 PM
Fri – 9/7/18  at East Central  7:00 PM
Fri –  9/14/18  LAWRENCEBURG  7:00 PM
Fri – 9/21/18  at Greensburg  7:00 PM
Fri – 9/28/18  SOUTH DEARBORN  7:00 PM
Fri – 10/5/18  BATESVILLE  7:00 PM
Fri – 10/12/18  at Harrison (OH)  7:00 PM
Fri – 10/19/18  TBD (IHSAA Class 4A Playoffs)  7:00 PM
EIAC 3A BLUES
The Wildcats are a combined 5-13 versus EIAC 3A crossover rivals Lawrenceburg, Batesville and Greensburg over the past six seasons. Seven of those losses have been by 20 or more points.