2018 Snapshot: Sycamore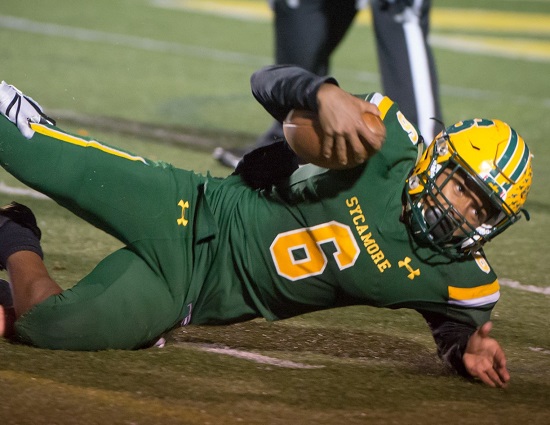 Sycamore RB Brian Doneghy (photo by Mitchell Cooke/TriStateFootball.com)
It would be a historic and monumental achievement for Sycamore if they make the playoffs this fall. The Aviators are looking for a third consecutive trip to the postseason which would be a first for the program. This group of seniors have been part of three of the schools four playoff wins.
Accomplishing that feat will not be easy. The Aviators graduated seven offensive and nine defensive starters from a year ago. Head coach Scott Dattilo will see his patience tried early and often with an untested bunch of flyboys. "We have to replace a lot. Our strengths are yet to be determined," Dattilo states. There are only a few who are proven at the varsity level.
The start of the league schedule is brutal. By the fifth week of Greater Miami Conference play Sycamore will have faced all three GMC rivals that made the post season in each of the past two years as well a very talented Lakota West squad. The only GMC team the Aviators won't face is Princeton.
Dattilo has had some incredible seasons coaching Sycamore squads that have performed above expectations. It is because the players have taken care of business and in and efficient manner. Attaining that kind of success this fall, with so many obstacles to overcome, will be trying. Dattilo has built a culture of winning and despite what lies ahead, you can count on the Aviators not being in awe of anything they face. Don't be surprised if this Sycamore squadron relishes in and thrives on being the underdog.
Division I, Region 4
2017 RECORD: 9-3, 6-2 GMC
COACH: Scott Dattilo (85-45 at Sycamore, 12 years; 102-59 overall, 15 years)
HONOR ROLL
Edward Son, Sr, OL/DL – One of the top returning linemen in the league. Son was a First Team All-GMC selection as a junior. His size and experience will be needed on both sides of the ball this fall.

Drew Altemuehle, Jr, QB – One of the GMC's most pleasant surprises I '17, throwing for 1,504 yards, 12 touchdown passes (just one interception) along with 241 yards and three more scores rushing. Altemuehle was just one of three sophomores named First Team All-GMC in '17.
OTHER RETURNEES
Brian Doneghy, Sr, RB – Became the Aviators go-to guy over the last five contests a year ago. Doneghy amassed 710 of his 719 yards and all 12 of his touchdowns rushing, in that span. Set career bests with 249 yards and five scores on the ground in Sycamore's, 41-35, overtime win over Milford in the first round of the playoffs.

Noah Blasé, Jr, FS – Started as sophomore and will be called upon to lead the secondary.
Jordan McConnell, Jr, RB/WR – A scat back, McConnell ran for 40 yards or more in all nine games in which he had at least one carry as a sophomore. He finished with 541 yards and six touchdowns rushing.
NEWCOMER
Marion Pritchett, Sr, WR – Injuries limited Pritchett to action in just six games. He could become one of the Aviators top playmakers.
PLAYOFF HISTORY
(seven appearances, 4-7) – 2017, 2016, 2012, 2011, 2007, 2006, 1996
2018 SCHEDULE
Fri – 08/24/18 – LOVELAND – 7:00 PM
Fri – 08/31/18 – at Mount Healthy – 7:00 PM
Fri – 09/07/18 – LAKOTA WEST – 7:00 PM
Fri – 09/14/18 – at Mason – 7:00 PM
Fri – 09/21/18 – COLERAIN – 7:00 PM
Fri – 09/28/18 – at Middletown – 7:00 PM
Fri – 10/05/18 – at Fairfield – 7:00 PM
Fri – 10/12/18 – HAMILTON – 7:00 PM
Fri – 10/19/18 – OAK HILLS – 7:00 PM
Fri – 10/26/18 – at Lakota East – 7:00 PM
CHASING A LEGEND
Dattilo is nine wins away from becoming the winningest coach in program history. Bud Acus went 93-38-10 (.660%) from 1953-69.
MILESTONES & MORE
The next win for Sycamore will be the 400th in school history. Since its beginnings in 1947 the Aviators have compiled an overall mark of 399-241-12 for a .609 winning percentage.