CHL Looking to Build on 2017 Postseason Success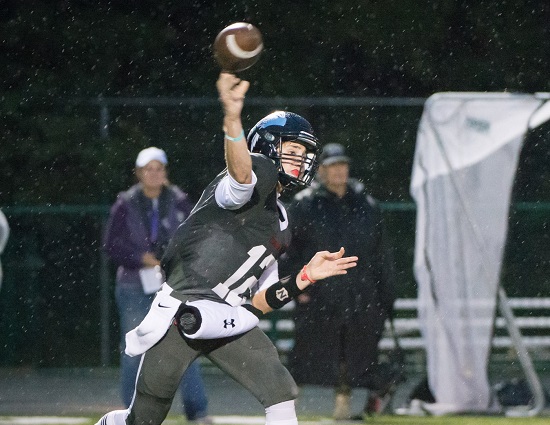 Indian Hill QB Cole Dein (photo by Mitchell Cooke/TriStateFootball.com)
A top heavy Cincinnati Hills League had a very respectable playoff run as a conference, a year ago. All three of the CHL teams that made the postseason advanced with victories in their opening round games. Unfortunately, the fun stopped there for Indian Hill and Reading while Wyoming couldn't come up with the three wins needed and snare an elusive regional championship. There's a hunger for more now that those programs have had a taste sweet life.
Expectations are lofty for Wyoming. The Cowboys aren't just thinking about the playoffs but a Division IV state championship. It has been back-to-back 12-1 and regional runner-up campaigns for this program. On the verge of infamy, Wyoming returns six All-Southwest District performers (and Joey Edmonds) from last year's squad. Things are aligned for the Cowboys to go on a special ride.
Indian Hill just reloads and despite losing to Wyoming in CHL play in the Division IV, Region 16 playoffs this team has the talent to make it to and move on in the postseason. The Braves will build around QB Cole Dein, West Virginia-bound DL Jalen Thornton and a kicking game that is the envy of all their foes.
Reading snuck into the Division V, Region 20 playoffs earning the final #8 seed. The Blue Devils went on the road, shocking, Miami East, 27-25 in round one. They fell in a heartbreaker to West Jefferson, 35-28 the following Friday night. That showing will have Reading oozing with confidence as they put on the pads for first year head coach, Cody Reardon. The Blue Devils will be led by the "Disrupter" on defense, junior DE Tanner Cromer who had 17 sacks in '17.
Keep an eye on Mariemont, Madeira and yes we will say it, an extremely improved Deer Park bunch.  Mariemont returns a very experienced core of seniors who are accustomed to winning. Like Reading, the Madeira kids will be playing for a first year coach in Chris Stewart.
Here is a look at the CHL schools and their Playoff History:
WYOMING (23 appearances, 19-22 overall) – 2017, 2016, 2015, 2014, 2013, 2010, 2009 (Regional Champion), 2007, 2006, 2005, 2003, 2002, 2001, 2000, 1999, 1998 (Regional Champion), 1997, 1996, 1994, 1992, 1988, 1977 (State Champions), 1975 (State Runner-up)
MARIEMONT (12 appearances, 8-12 overall) – 2014, 2013, 2005, 2003, 1996, 1995 (State Runner-Up), 1994, 1991, 1990, 1984, 1980 (State Runner-Up), 1974 (Regional Champion)
INDIAN HILL (11 appearances, 7-11 overall) – 2017, 2016, 2015, 2007, 2006, 2005, 2004, 2001, 2000, 1999, 1996
READING (10 appearances, 9-10 overall) – 2017, 2015, 2006, 2004, 2003, 2002, 2001, 2000 (Regional Champion), 1973 (Regional Champion), 1972 (Regional Champion)
MADEIRA (nine appearances, 0-9 overall) – 2014, 2013, 2012, 2011, 2005, 2001, 2000, 1999, 1982
DEER PARK (three appearances, 1-3 overall) – 2007, 2006, 1981
TAYLOR (one appearance, 0-1 overall) – 2014
FINNEYTOWN (one appearance, 0-1 overall) – 2014