Rising Star: De'Zion Coleman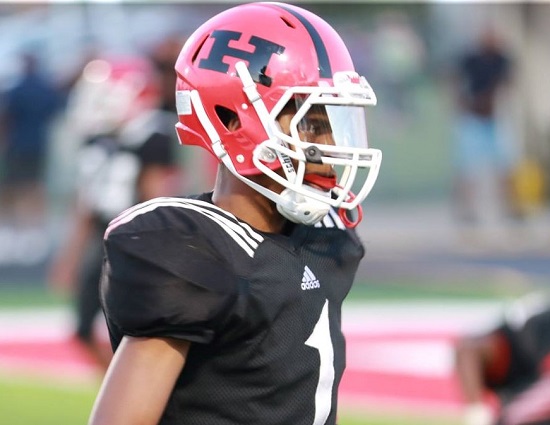 Hughes RB/WR/DB De'Zion Coleman (photo courtesy of SoutingOhio.com)
For Hughes head coach, Christopher Mobley, the offensive game plan was quite simple in 2018. Mobley wanted to get the ball into the hands of his talented sophomore, De'Zion Coleman as often as possible. That wasn't easy to do as depth and lack of size depleted a light Hughes roster (only eight players who weighed 200 pounds or more) as the season wore on. The Big Red lost their final five games which makes what Coleman did even more impressive.
The five-foot-10, 170-pound speedster amassed more than 1,000 all-purpose yards, averaged 20.3 yards on 19 receptions, ran for 339 yards and found the end zone seven times (one rush, one ko ret, five rec). Defensively he snared four interceptions for a second consecutive season. The effort earned Coleman OPSWA Division IV Honorable Mention All-Ohio and First Team All-Southwest District honors.
He did all that damage with Hughes never scoring more than 16 points in its last seven games.
FINAL TAKE: It is hard to get a gauge on just how good Coleman really is. The competition hasn't been upper echelon in his first two seasons. Despite that, Coleman is a playmaker. He has proven he can score in a variety of ways. That is a gift not every player possesses. It has piqued the interest of college coaches. Coleman is being recruited by FBS schools but has yet to receive an offer. Look for him to play in the secondary and return kicks at the next level. Fortunately, we still have two years to watch Coleman put on a show.