2018 Snapshot: Dayton Christian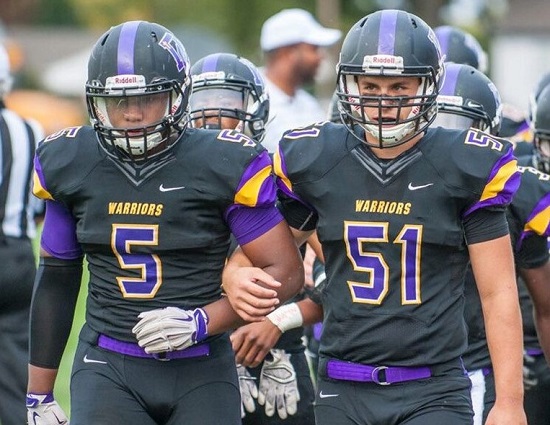 Dayton Christian QB/LB Seth Griswold (5) and OL/DL Tank Jamison (51) (photo from Dayton Christian)
Four years ago when Ken Moyer was named head coach at Dayton Christian, the Warriors were coming off a 1-9 season. They finished 2-8 in Moyer's first season. Since then it has been three consecutive winning campaigns for Dayton Christian including the schools second trip to the playoffs last fall.
The momentum doesn't seem to be slowing down anytime soon. The program has gotten to "reload" mode. Not east to do at a Division VI school. The cupboard is far from bare at Dayton Christian. "We are well balanced at the skill positions and on the line," Moyer says. The Warriors return two First Team and six Second Team All-Miami Valley Conference – Gray Division performers. Six of those players are only going to be juniors.
This is a youthful but proven Dayton Christian squad that must find out where the leadership is going to come from. "We lost some great seniors," Moyer states.  Those guys were home run hitters. It isn't easy to replace that kind of talent. The 2018 Warriors are going to have to do it by committee. There will be enough opportunities to share the wealth. That unselfishness could very easily become this teams identity.
Dayton Christian took a large step making the postseason in '18. That was all good but a 45-7 loss to Lima Central Catholic was a reality check. The Warriors realized, it was one thing to get there, a playoff victory takes an even higher level of play. Look for Moyer and Warriors to focus on that. Dayton Christian should have plenty of confidence in themselves to get to November. Advancing will be the goal at that point.
Division VI, Region 24
2017 RECORD: 9-2, 5-0 MVC Gray
COACH: Ken Moyer (24-17 at Dayton Christian, four years; 24-17 overall)
HONOR ROLL
Noah Luiken, Jr, OL/DL – An immovable force up front, the 5-foot-11, 366-pound Luiken was named First Team All-MVC Gray as a sophomore.
Trevor Warren, Sr, OL/DL – Gets the most out of his frame for a lineman. The gritty Warren is coming off a First Team All-MVC Gray campaign.
Seth Griswold, Jr, QB/LB – Moves to quarterback after running for 404 yards and seven touchdowns as a sophomore. His work earned him Second Team All-MVC Gray acclaim.
Josh Moyer, Sr, OL/DL – Has the physical tools at 6-foot-2 and 268 pounds to play at the next level. The best football is still ahead for Moyer a Second Team All-MVC Gray selection in '17.
Matt Batson, Jr, RB/LB – Had a solid sophomore showing and was named Second Team All-MVC Gray. Batson will be an even bigger factor in all phases of the game this fall.
Reid Wheeler, Jr, WR/LB – Like teammate Batson, Wheeler was a Second Team All-MVC Gray selection a year ago. The tandem were a major reason why the Warriors defense held eight opponents to 16 points or fewer in '17.
Tank Jamison, Jr, OL/DL – Athletic enough to play an array positions, the 5-foot-6, 240-pound Jamison is matchup nightmare for the opposition. He became a goal-line specialist scoring all four of his touchdowns, on nine carries, over the Warriors final three regular season games a year ago. The all-out effort earned Jamison Second Team All-MVC Gray honors.
Sam Dimario, Jr, WR/DB – The Warriors top returning receiver is large target at 6-foot-3. Dimario caught 15 balls for 207 yards and three touchdowns on his way to Second Team All-MVC Gray acclaim.
Ethan Powell, Sr, RB/DB – Powell will be playing in an elevated role this fall. He ran the ball well down the stretch in limited action. If the Honorable Mention All-MVC Gray selection can do that against the Warriors foes and their top tier defensive players, the Dayton Christian backfield will be explosive.
OTHER RETURNEES
Hunter Preston, Sr, K – Connected on 32/35 extra points and 2/3 field goals for 38 points as a junior.
Joe Herman, Jr, OL/DL –  Another one of those massive Warriors linemen. Herman is 6-foot-2 and weighs 252 pounds.
NEWCOMERS
CJ Hicks, Fr, WR/DB – Moyer sees this freshman contributing right away at the varsity level.
PLAYOFF HISTORY
(two appearances, 0-2) – 2017, 2012
2018 SCHEDULE
Fri – 8/24/18 TROY CHRISTIAN (Harmon Field, Miamisburg HS)  7:00 PM
Fri – 8/31/18 BETHEL (Harmon Field, Miamisburg HS)  7:00 PM
Fri – 9/7/18 PONITZ (Harmon Field, Miamisburg HS)  7:00 PM
Sat – 9/15/18 CRESTLINE (Harmon Field, Miamisburg HS)  6:00 PM
Fri – 9/21/18 at Jefferson Township  7:00 PM
Fri – 9/28/18 at CCPA (Glenn Sample Field, Arch McCartney Complex, Western Hills HS)  7:00 PM
Fri – 10/5/18 CLARK MONTESSORI (Harmon Field, Miamisburg HS)  7:00 PM
Fri – 10/12/18 at Lockland  7:00 PM
Sat – 10/20/18 at St. Bernard-Elmwood Place (Bron Bacevich Stadium, Roger Bacon HS)  6:00 PM
Fri – 10/26/18 NEW MIAMI (Harmon Field, Miamisburg HS)  7:00 PM
THE BUILDING OF A WINNER
Dayton Christian is a combined 22-9 overt the past three seasons. In the last 18 of those contests the Warriors own a 15-3 mark.
LIGHTING UP THE SCOREBOARD
The Warriors won their final seven games of '17 and scored 42 points or more in six of those affairs (39 in the other). The last three years under Moyer Dayton Christian has topped 40 points, 14 times (31 games).