Pass Rushers Aplenty in the GCL South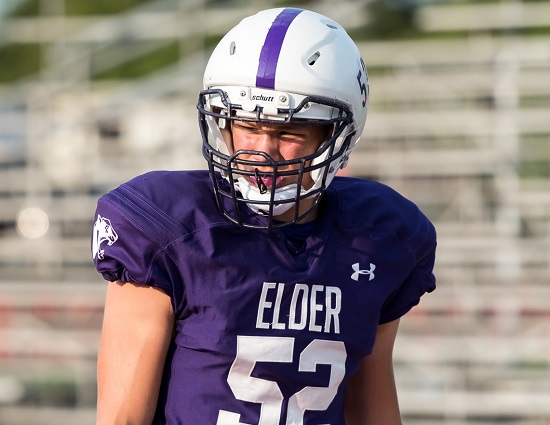 Elder DE Spencer Bono (photo by Justin Sheldon/TriStateFootball.com)
Expect life to be very uncomfortable for quarterbacks who will be facing Greater Catholic League South teams this fall. The GCL South has some very talented and established pass rushers returning this fall. The defensive coordinators at these schools are going to have a field day releasing these beasts on the foes backfields.
Elder defensive end Spencer Bono has racked up 12.5 in his two years at the varsity level. The 6-foot-3, 235-pound Bono has verbally committed to Boston College.
Moeller's Ryan Mullaney is coming off one of the most prolific seasons attacking quarterbacks in GCL South history. Mullaney recorded 14.5 sacks as a junior. In a four-game stretch versus La Salle, at Elder, at Cleveland St. Ignatius and at Lakewood St. Edward he tallied 10.0 of those sacks.
Here is a look at the GCL South active leaders heading into 2018:
PASSING YARDS
1,128…Miles McBride, Sr, Moeller
1,052…Michael Bittner, Sr, Elder
989…..MJ Horton, Jr, La Salle*
662…..Mitch McKenzie, Sr, Moeller
PASSING TOUCHDOWNS
17……….Miles McBride, Sr, Moeller
7…………Michael Bittner, Sr, Elder
6…………Mitch McKenzie, Sr, Moeller
5…………MJ Horton, Jr, La Salle*
RUSHING YARDS
1,023…Cam Porter, Jr, La Salle
918…..Michael Bittner, Sr, Elder
731…..Luke Massminster, Sr, Elder
RUSHING TOUCHDOWNS
18……..Michael Bittner, Sr, Elder
9……….Cam Porter, Jr, La Salle
8……….Luke Massminster, Sr, Elder
7……….Kellen Newman, Jr, St. Xavier
RECEPTIONS
126……Kyle Trischler, Sr, Elder
84……..RJ Khayo, Sr, Moeller
63……..Jared Kriemer, Sr, St. Xavier
40……..Cam Porter, Jr, La Salle
34……..Jake Siebert, Jr, La Salle
RECEIVING YARDS
1,302…Kyle Trischler, Sr, Elder
891……RJ Khayo, Sr, Moeller
809……Jared Kriemer, Sr, St. Xavier
651……Jake Siebert, Jr, La Salle
RECEIVING TOUCHDOWNS
10……..Jared Kriemer, Sr, St. Xavier
8……….RJ Khayo, Sr, Moeller
7……….Kyle Trischler, Sr, Elder
6……….Jake Siebert, Jr, La Salle
ALL-PURPOSE YARDS
1,999…RJ Khayo, Sr, Moeller
1,789…Kyle Trischler, Sr, Elder
1,290…Cam Porter, Jr, La Salle
1,202…Jared Kriemer, Sr, St. Xavier
TOTAL TACKLES
248……Garrett Bledsoe, Sr, LaSalle
118……Jake O'Brien, Sr, Elder
159……Jarred Uran, Sr, La Salle**
142……Brody Ingle, Sr, La Salle**
96……..Thomas Kiessling, Sr, St. Xavier
SACKS
17.0…..Ryan Mullaney, Sr, Moeller
12.5…..Spencer Bono, Sr, Elder
7.5…….Garrett Bledsoe, Sr, LaSalle
6.5…….Brody Ingle, Sr, La Salle**
6.0….…Jarred Uran, Sr, La Salle**
5.5……Jabari Neal-Jackson, Sr, La Salle
FUMBLE RECOVERIES
3……….Ryan Mullaney, Sr, Moeller
INTERCEPTIONS
2………..Jake O'Brien, Sr, Elder
2………..Luke Thiemann, Sr, La Salle
KICKING POINTS
72……..Jake Siebert, Jr, La Salle (42/45 XPs, 10/13 FGs)
72…….Sam Harmeyer, Jr, Elder (57/67 XPs, 5/6 FGs)
46……..Kevin Thibodeaux, Jr, Moeller (31/32 XPs, 5/8 FGs)
*Stats as a player at Lakota West
**Does NOT include stats as a freshman