Cox Laid Solid Foundation For Lakota West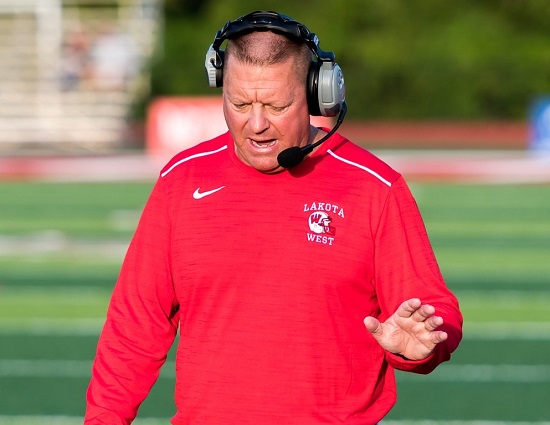 Former Lakota West head coach Larry Cox (photo by Justin Sheldon/TriStateFootball.com)
Larry Cox had a clear vision of what Lakota West football was going to be when he became the schools first head coach. Now that his run has ended, the future will determine what his impact truly was on the program. Two weeks ago, Cox stepped down after 21 years of guiding the Firebirds. He told Mike Dyer of WCPO.com the decision was because of philosophical differences (with the athletic department).
Cox, a graduate of Badin High School and Miami University spent two years as the head coach at Bellbrook before moving to Lakota West in 1997. It wasn't an easy start at West. After Lakota High School split into two schools, Lakota East and Lakota West most of the upperclassmen who were athletes decided to go to East. Lakota West was very young at the varsity level in the first couple of years for Cox.  By '99 they had matured and had their first winning season at 7-3. It was also the first of 12 campaigns for the Firebirds finishing above .500 under Cox. He ended his run at West posting a 114-103 mark (127-110 overall).
Lakota West would make the first of its five playoff appearances in '04. In '14, they shocked the state becoming the first and only #16 seed (to date) to beat a top seed when they knocked off #1 Centerville in the first round of the playoffs. The Firebirds picked up the schools only two postseason victories on their way to a semi-finalist finish that year. Twice Lakota West was Greater Miami Conference co-championships (with Colerain) under Cox in '09 and '14. They only time that the Firebirds beat Colerain was in '99.
Not only did Cox love Lakota West he had a great passion for the conference. He hand a large hand in putting together the GMC Signing Day Ceremony which has now blossomed into a top-notch event hosted by Beacon Orthopaedics every February. Even though it had a short-lived shelf life, Cox also coordinated a GMC luncheon preview at the original Montgomery Inn to kick off several seasons.  He wanted the GMC to play on a grand scale as one of the premier public school leagues not only in Ohio but the entire country.
There has been a wealth of talent that has put on the pads for West. Three of those, who have played for Cox have gone on to play in the NFL – John Conner (NY Jets), Jordan Hicks (Philadelphia- currently a starting linebacker) and Ryan Kelly (Indianapolis – currently their starting center). Hick and Kelly returned to Lakota West and hosted a youth football camp last summer with Cox playing a major role in getting that done.
The recent college landscape has been littered with former Firebirds. Cox took pride and pleasure in getting kids amazing offers and opportunities at the next level. He has seen his players sign with the likes of Alabama (Kelly), Texas (Hicks), Florida State (Xavier Peters), Pitt, (Tyler Bentley), Virginia (CJ Stalker), West Virginia (Sean Mahone), Michigan (Nolan Ulizio), Louisville (Josh Chichester) and Kentucky (Conner, George Asafo-Adjei, Mikel Horton, Kyle Meadows). Other than, Conner and Chichester, the rest of this recruiting success with all of those other former Firebirds has come in the last seven years or so.
One always wants to leave the position they are vacating in better shape than when they got there. More than two decades ago, Cox had a grandiose vision for this school in the exploding burb of West Chester. He built this program up from nothing and now it is in a great position to thrive moving forward. The wins may not have shown it the past couple of years but make no bones about it, Lakota West football is set up for long-term success because the efforts expended by Cox.