2018 Snapshot: La Salle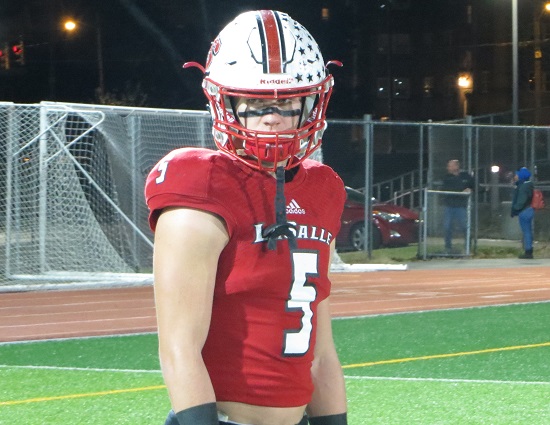 La Salle LB Jarred Uran (photo by Greg Shoemaker/TriStateFootball.com)
The past four years have been the most prosperous in the 56-years of La Salle football. The Lancers have amassed 50 victories in that span and are coming off a fourth consecutive season of 10 wins or more a feat the program had never accomplished from 1962 to 2013.
The good fortunes for La Salle don't appear to be ending anytime soon. The senior class has played at the highest level in numerous grand affairs. Right behind them is an athletically talented group of juniors. The sophomore's upside has everyone on North Bend Road abuzz about the future of the red and white.
"Our defense should be an overall strength again this year. Our linebackers all have two to three years of varsity playing experience. The skill positions on offense will be very good and experienced. The kicking game should be solid," states head coach Pat McLaughlin. There are some concerns in the secondary and up front. "The offensive line has talent, youth and inexperience," McLaughlin says.
La Salle's problems are good problems. Still getting to November will be no walk in the park. The Lancers hope to benefit from having seven home games on the schedule. La Salle will be one of the top teams in Division II but the road to a fourth crown in five years will still run through Akron Archbishop Hoban, the reigning state champions.
Division II, Region 8
2017 RECORD: 10-3, 2-1 GCL South
COACH: Pat McLaughlin (10-3 at LaSalle, one year; 29-15 overall, four years)
HONOR ROLL
Jarred Uran, Sr, LB – A Second Team All-Ohio selection a year ago after getting in on 109 total tackles with three sacks. Uran is a "gamer." The bigger the stage, the more he rises to the occasion. He has offers from Akron, Ball State, Bowling Green, Eastern Michigan, Kent State and Ohio.
Drew Nieman, Sr, P/QB – Nieman's punting prowess earned him Second Team All-Ohio honors as a junior. He is one of the area's top special teams performers.
Garrett Bledsoe, Sr, LB – Very few players in Ohio go into '18 with more than 40 games played at the varsity level and Bledsoe is one of them. The anchor of the Lancers defense, he has recorded 248 total tackles and seven-and-a-half sacks during his career. Bledsoe was named Honorable Mention All-Ohio as a junior.
Jake Siebert, Jr, WR/K – An incredibly productive sophomore campaign saw Siebert get recognized as Honorable Mention All-Ohio (K) and the GCL South Kicker of the Year. He connected on 35/36 extra points, 10/13 field goals, caught 33 passes for 648 yards with six touchdowns and 89 points scored.
Brody Ingle, Sr, LB – Injuries slowed this ballhawk down last season. He still managed Second Team All-Southwest District merits. Ingle has verbally committed to Cincinnati.
Cam Porter, Jr, RB – Versatile and strong, Porter ran for 921 yards had 21 receptions for 161 yards with nine rushing touchdowns as a sophomore. He was named Honorable Mention All-Southwest District for the work. Porter has offers from Bowling Green, Iowa, Iowa State, Louisville, Minnesota, Toledo and Western Michigan.
Deon Campbell, Sr, RB/LB –  Brings a refreshing change of pace out of the backfield. Campbell was a Second Team All-GCL South pick as a junior.
Jabari Neal-Jackson, Sr, DL – A disruptive force on the d-line. Jackson registered five-and-a-half sacks on his way to Second Team All-GCL South accolades in '17.
OTHER RETURNEES
Collin Curnayn, Sr. DL – The coaching staff is expecting big output from Curnayn, expect him to answer the call.
Markell Harden, Jr, OL –  The Lancers will need Harden to take and even bigger step up this season.
Kean Schneiber, Sr, OL – Leadership will be a larger part of Schneiber's role this fall helping to guide a young line.
Luke Thiemann, Jr, LB –  A pleasant surprise in '18. Thiemann tallied 72 total tackles, had two sacks and snared a pair of interceptions. He is another good season away from setting himself up to be a GCL South defensive player of the year candidate heading into his senior year.
NEWCOMERS
One of the biggest transfers this off season was junior QB MJ Horton leaving Lakota West and landing at La Salle. Horton, who has offers from Louisville and Kentucky threw for 989 yards, ran for 134 and accounted for eight touchdowns (five pass, three rush) last fall. He brings an instant dynamic to the offense which will take the pressure off of Porter being the focal point and create more opportunities for Siebert. Classmate OL Malik Wright will get every chance to win a starting job blocking for Horton.
The sophomore class looks strong with WR/DB Devonta Smith, DB Jaylen Johnson, DB Lesa Jarmon and OL Gavin Robbins pushing for snaps. "We lost all four starters in the secondary. Six of Smith's 11 carries as a freshman went for seven yards or more. He will utilize that speed as a receiver this fall. "We feel great about a very young but extremely talented group there," McLaughlin quips about these youngsters. Seniors RB Kevin Howard and DL Rob Brown add depth and will have their moments in big games.
PLAYOFF HISTORY
(eight appearances, 17-5) – 2017, 2016 (State Champions), 2015 (State Champions), 2014 (State Champions), 2010, 2004, 2002, 1985
2018 SCHEDULE
Fri – 08/24/18 – at Colerain – 7:00 PM
Fri – 08/31/18 – MASON – 7:00 PM
Fri – 09/07/18 – LUTHERAN NORTH (MO) – 7:00 PM
Fri – 09/14/18 – at Scott County (KY) – 7:30 PM
Fri – 09/21/18 – ROYAL IMPERIAL COLLEGIATE of CANADA – 7:00 PM
Fri – 09/28/18 – MOELLER – 7:00 PM
Fri – 10/05/18 – ST. XAVIER – 7:00 PM
Fri – 10/12/18 – INTERNATIONAL SCHOOL of BROWARD (FL) – 7:00 PM
Fri – 10/19/18 – TRINITY CATHOLIC (MO) – 7:00 PM
Fri – 10/26/18 – at Elder – 7:00 PM
DEFENSE WINS CHAMPIONSHIPS
The La Salle defense heads into '18 having held its last six opponents (including three playoff tilts) to just 9.6 points per game. They started last season by holding eventual Division I regional champion, Colerain to just three points, then proceed to shutout eventual Indiana Class 4A state champion East Central and Division I playoff qualifier West Clermont.  The Lancers held 11 of their 13 foes to 18 points or less a year ago.
THE URAN, BLEDSOE, INGLE ERA
Since the day they walked onto the varsity field as freshmen, Jarred Uran, Garrett Bledsoe and Brody Ingle set the tone and stamped their mark on what the Lancers identity would become on defense. Since their first playoff game as freshmen, the trio has been at the forefront a unit that has clamped down on a stellar list of opponents. Since that contest, La Salle has gone 28-5, held 26 of those 33 foes to 18 points or less,
13 of those to seven points or fewer, with five shutouts, while yielding just 12.4 points per contest. Making this even more impressive is that 13 of those games were in the playoffs, three affairs were against Winton Wood as well as two tilts versus St. Xavier, Moeller, Elder Colerain, East Central, St. Charles and Massillon Perry in those 33 battles.
THE LANCERS GILDED AGE
Since losing their final seven regular season games of 2013, La Salle has gone 50-8 including a 17-1 mark in the playoffs and three Division II state titles.