CHL Returning A Slew Of Stat Sheet Fillers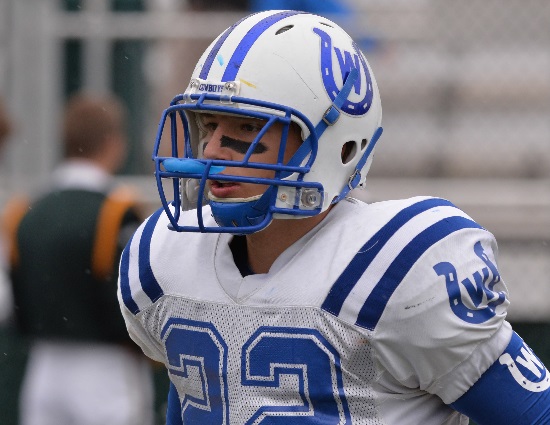 Wyoming RB/LB Pierson Rogers (photo by Mike Noyes/TriStateFootball.com)
Teams in the Cincinnati Hills league have never shied away from playing freshmen and sophomores. If you have talent, CHL coaches are going to find a way to get it on the field sooner rather than later. That can lead to some numbers worthy of recognition and respect by the time these players get to their junior and senior campaigns.
The conference returns quite a few veterans who have been stat sheet fillers over the past two to three seasons. The most impressive thing about this bunch, is how many of them are among the conference's leaders in both offensive and defensive statistical categories.
Here is a look at the top producers in the Cincinnati Hills League heading into 2018.
CHL: 2018 Active Leaders
PASSING YARDS
2,802…Wally Renie, Sr, Mariemont
2,516…Cole Dein, Sr, Indian Hill
1,702…Evan Prater, Jr, Wyoming
1,342…Tyler Richmond, Sr, Madeira
983…..Joey Edmonds, Sr, Wyoming
PASSING TOUCHDOWNS
30……..Wally Renie, Sr, Mariemont
25……..Cole Dein, Sr, Indian Hill
23……..Evan Prater, Jr, Wyoming
14……..Joey Edmonds, So, Wyoming
10……..Tyler Richmond, Sr, Madeira
RUSHING YARDS
1,898…Pierson Rogers, Sr, Wyoming
935……Markel Heard, Sr, Deer Park
827…….Evan Prater, Jr, Wyoming
644…….Wally Renie, Sr, Mariemont
594…….Cameron Moore, Sr, Reading
RUSHING TOUCHDOWNS
28……..Pierson Rogers, Sr, Wyoming
14……..Evan Prater, Jr, Wyoming
10……..Cameron Moore, Sr, Reading
10……..Wally Renie, Sr, Mariemont
9……….Markel Heard, Sr, DeerPark
RECEPTIONS
54………Joey Edmonds, Sr, Wyoming
53………Gabe Van Skaik, Sr, Reading
44………Charlie Cowart, Sr, Mariemont
28………Pierson Rogers, Sr, Wyoming
RECEIVING YARDS
765……Charlie Cowart, Sr, Mariemont
697……Joey Edmonds, Sr, Wyoming
669……Gabe Van Skaik, Sr, Reading
436……Pierson Rogers, Sr, Wyoming
RECEIVING TOUCHDOWNS
10……..Joey Edmonds, Sr, Wyoming
10……..Charlie Cowart, Sr, Mariemont
8……….Pierson Rogers, Sr, Wyoming
6……….Gabe Van Skaik, Sr, Reading
ALL-PURPOSE YARDS
2,434…Pierson Rogers, Sr, Wyoming
1,149…Markel Heard, Sr, Deer Park
907……Trey Lopez, Jr, Indian Hill*
900……Charlie Cowart, Sr, Mariemont

TOTAL TOUCHDOWNS
38……..Pierson Rogers, Sr, Wyoming
14……..Evan Prater, Jr, Wyoming
13……..Charlie Cowart, Sr, Mariemont
10……..Joey Edmonds, Sr, Wyoming
TOTAL TACKLES
222……Matt Megois, Sr, Madeira
218……Pierson Rogers, Sr, Wyoming
217……Cam O'Gara, Jr, Wyoming
198……Charlie Cowart, Sr, Mariemont
163……Tanner Cromer, Jr, Reading
160……James Smith, Sr, Wyoming
158……Steve Bledsoe, Sr, Taylor
157……Hasan Black, Sr, Wyoming
163……Gabe Van Skaik, Sr, Reading
133……Eli Cupp, Sr, Wyoming
126……Jalen Thornton, Sr, Indian Hill*
119……John Mark Williams, Sr, Indian Hill*
SACKS
17.0…..Tanner Cromer, Jr, Reading
13.5…..Eli Cupp, Sr, Wyoming
13.5…..Dimetrious Baylor, Sr, Indian Hill
9.5….…Pierson Rogers, Sr, Wyoming
8.5….…James Smith, Sr, Wyoming
7.0….…Gabe Van Skaik, Sr, Reading
6.5…….John Mark Williams, Sr, Indian Hill*
6.0…….Charlie Cowart, Sr, Mariemont
6.0…….Jalen Thornton, Sr, Indian Hill*
FORCED FUMBLES
4………..Matt Megois, Sr, Madeira
4………..Pierson Rogers, Sr, Wyoming
3………..Steve Bledsoe, Sr, Taylor
FUMBLE RECOVERIES
7………..Matt Megois, Sr, Madeira
3………..James Smith, Sr, Wyoming
3………..Malcolm Foster, Sr, Madeira
INTERCEPTIONS
4………..Cam O'Gara, Jr, Wyoming
4………..Joey Edmonds, Sr, Wyoming
4………..Moe Mitchell, Sr, Wyoming
3…….….Pierson Rogers, Sr, Wyoming
KICKING POINTS
125……Luke Lundberg, Jr, Indian Hill (95/100 XPs, 10/14 FGs)
56……..Ryan Lienhart, Sr, Madeira (53/58 XPs, 1/2 FGs)
*Does NOT include stats from 2017 & 2016 playoffs