Playoff Appearances and Wins Earning SBAAC Respect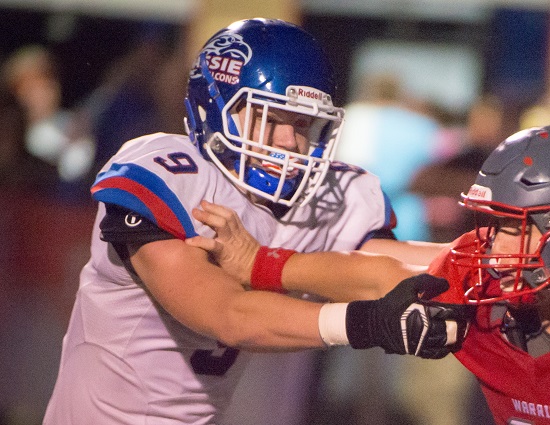 Clinton-Massie DE Thomas Myers (photo by Mitchell Cooke/TriStateFootball.com)
Two seasons ago the Southern Buckeye Academic and Athletic Conference pulled of a coup when they reeled in Clinton-Massie and Wilmington from the now defunct South Central Ohio League. The additions did what the league thought they would do, in their first season of play last fall. It bolstered the league's credibility in football. Facing an SBAAC school in the playoffs is no longer a guaranteed victory.
Prior to 2017 the 10 schools that made up the SBAAC combined to make 26 playoff appearances with just seven wins all time and no regional championships. Any aspirations of a postseason run for the SBAAC was usually by the end of the first weekend of November.
Clinton-Massie would change the conference's fortunes making it all the way to the state championship a year ago. They weren't the only ones making noise. The Falcons were one of three SBAAC American Division teams (the larger enrollment schools) to make the playoffs. New Richmond made its third consecutive trip to the postseason. The Lions advanced to the second round for a second straight year. Goshen was the only team to knock off Clinton-Massie in the regular season. That helped push the Warriors into the playoffs for the first time in eight years.
The conference still has some work to do. The SBAAC National has four of its six teams without a playoff win and two of those have never made the postseason. The SBAAC National has three schools without a November victory. With an elevated level of play in the league look for more of these SBAAC squads to breakthrough.
Here is a look at the Playoff History of SBAAC teams.
SBAAC AMERICAN
Clinton-Massie (17 appearances, 31-15) – 2017 (State Runner-up), 2016, 2015, 2014, 2013 (State Champion), 2012 (State Champion), 2011 (Regional Champion), 2010, 2009, 2008, 2007, 2006, 2005, 2004, 2003, 2002, 1998
New Richmond (seven appearances, 5-7) – 2017, 2016, 2015, 2009, 2001, 2000, 1999
Goshen (five appearances, 0-5) – 2017, 2009, 2007, 1993, 1990
Batavia (three appearances, 1-3) – 2012, 2003, 1999
Wilmington (three appearances, 0-3) – 2009, 2005, 2003
Western Brown (three appearances, 0-3) – 2014, 2013, 2008
SBAAC NATIONAL
East Clinton (five appearances, 2-5) – 2010, 2008, 2005, 2004, 2002
Williamsburg (five appearances, 0-5) – 2015, 2013, 2001, 1986, 1980
Blanchester (four appearances, 2-4) – 2016, 2006, 2005, 2000
Bethel-Tate (two appearances, 0-2) – 2017, 2015
Clermont Northeastern (0 appearances, 0-0)
Fayetteville-Perry (0 appearances, 0-0)